The TikTok-Famous Butterfly Haircut Is Still Going Strong In 2023
Body and volume for days.
@quecolour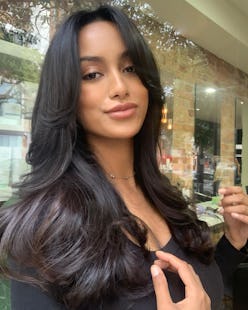 The popularity around the Farrah Fawcett cut, '90s supermodel blowout, and the jellyfish cut, prove that voluminous hair will never go out of style. If layers are your go-to method of adding movement and body to your look, you should consider the butterfly cut, one of 2023's biggest haircut trends.
Coined by hair stylist Sunnie Brook, the butterfly haircut has short layers around the top of the head to give the illusion of shorter hair and create volume. "The butterfly haircut is a very layered feathered haircut," says Jenna Spino, stylist at Maxine Salon in Chicago. "It has short layers on top, through the crown, that are blended through to longer layers on the bottom."
The continued momentum for the butterfly cut on TikTok (#butterflycut has been hashtagged more than 17 million times) might make you think it's a new cut, but Derrick Keith, celebrity hairstylist and Hairstory stylist says face-framing layers started in the '90s and grew in popularity with the Rachel cut from Friends. The layered cut has a shaggy texture and gets its name from the face-framing layers around the chin that mimic the insects' delate wings when they flutter. The longer layers that fall below the shoulders create the appearance of a long hairstyle.
Ahead, TZR reached out to a couple hairstylists for the inspiration behind the butterfly cut, what texture works best for it, and tips on how to style it.
What Are The Benefits Of A Butterfly Cut?
Trending upwards since summer 2022, the butterfly cut has cascading layers to give strands movement. "It's a fun cut to be able to fake shorter hairstyles, without cutting off all your length," Spino says of the layer placement.
Another benefit of the cut is it doesn't grow out awkwardly. "You're not going to necessarily know when it starts to grow too long, because the layers are very graceful, so it's not going to be obvious when your hair is too long," says Stephen Knoll, celebrity hairstylist and founder of Stephen Knoll New York. Even though it grows out well, Knoll recommends going in for a shaping every five to six weeks to prevent split ends.
According to Rodger Azadganian, the founder of äz Craft Luxury Haircare, face-framing layers add softness to the face shape and bone structure allowing you to accentuate the cheek bones and eyes. "It's a very versatile style, as it can be worn up or down because the length at the bottom is conserved and really works for any face shape and texture, adjusting the face framing for each individual client."
Can All Hair Types Try The Butterfly Cut?
Medium to thick density, wavy, curly, or straight, the butterfly cut works well for anyone. Keith recommends the cut especially for curls and thicker hair as it's great at removing bulk to give curls shape and movement. However, if you have short hair (like a bob), it might not be the best style because the experts agree it's best for shoulder-length hair to fully see the layering technique. Knoll also advises against the cut for thin hair. Due to the layers, it will make hair look even thinner and more sparse.
How To Maintain The Butterfly Cut
Aside from going to the salon for reshaping, upkeep is rather minimal for the butterfly haircut. Knoll recommends working in Stephen Knoll Ultra Shine Treatment Oil daily or whenever your hair needs an extra shine boost. Volumizing sprays or creams are another great product to have on hand. Azadganian suggests applying äz Craft Luxury Haircare Elevate Luxe Mousse on damp hair using a medium-to-large round brush to roll away hair in a twisting motion so the ends of the layers sweep outward. And for frizz, curls, or dry hair, remember to work in a smoothing serum to calm strands without sacrificing body or volume.
How To Style The Butterfly Cut
As the cut adds movement by enhancing natural texture and adding in layers, it is extremely versatile and can be worn down, pinned up, or in a ponytail. There are also a few ways you can achieve these styles: an air dry, a classic blow dry, or velcro rollers.
"To style you can simply air dry and finish with a texture spray, lifting the hair up and spraying to show off the layers," Spino tells TZR. Another option to style the cut is with a blow dryer like Trademark Beauty Easy Blo with a round brush and IGK's Big Time Volume and Thickening Mousse to create more fuller results. After cleansing your hair, prime strands with a heat protectant to smooth hair and avoid heat damage.
For extra volume, spritz in a root-lifting product or texturizing spray and take a round brush and blow dry hair upwards away from the face to give it height. You can curl the ends of your hair outwards with a round brush to further encourage the layers and bounce. For curls, Keith recommends using a diffuser to ensure curl definition and enhanced movement. "A wash and go will encourage the natural texture of the hair to its very best," says Keith who recommends texture sprays like Hairstory Undressed.
If a blow dryer and round brush does not work for you, you can also utilize hot rollers to your ends and layers. For at least 15 minutes, keep rollers in hair and add heat to let it set. After 30 minutes or more, take rollers out and flip hair upside down a few times to motivate movement and volume. And if you need a deeper curl, go over ends with a one-inch or one-and-a-half inch curling iron. Finish off with hairspray and an anti-frizz gel to keep flyaways at bay.