Now We Know The *Real* Reason Behind Zendaya's Dramatic Bob Haircut
Dimitrios Kambouris/Getty Images Entertainment/Getty Images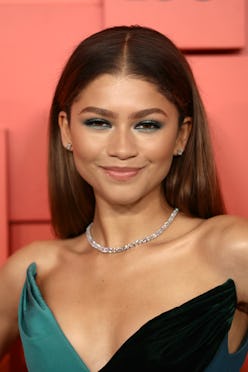 With so much secrecy surrounding the movie's production and plot, the first trailer for Luca Guadagnino's Challengers was going to be a YouTube-shattering arrival no matter what. But even with all the fanfare and swirling rumors, did anyone anticipate a film teaser this exhilarating? In just under 2.5 minutes, viewers see intense tennis matches, career-ending sports injuries, a steamy throuple makeout, tons of Uniqlo polo shirts, and more than one excellent hairstyle from the leading lady herself. Yes, the real star of the Challengers trailer is Zendaya's bob haircut, used in the movie to illustrate a multi-year time jump in the narrative. And based on the real-life filming timeline, it looks like this was the impetus behind Zendaya's headline-grabbing haircut back in late 2021.
In the trailer's brief clips alone, Zendaya is seen as a youthful tennis superstar with her natural, long, waist-trailing curls left both free-flowing and scraped up into a sleek braided ponytail — a very familiar hairstyle to anyone who played high school sports. Voiceovers in the trailer indicate the passing of several years, driven home by the mature, shoulder-cleaning bob worn by Zendaya's character. It's center-parted, impossibly chic, and illuminated with a fresh set of golden-toned highlights that look right at home on both a movie star and a star athlete alike.
In the real world, Zendaya chopped her curls into a medium-length cut in a rich red shade back in December 2021, remarking on Instagram that "it was time for a change." Just a few months later, on May 3, production started on Challengers with principle filming taking place in Boston. There on-set, Zendaya was spotted with her hair even shorter, cut into a classic, curly bob and dyed the honey-toned brunette seen in the trailer.
Zendaya's wig work is always incredibly natural-looking so it's impossible to say which frames or looks feature her "real" hair, but the timing of her cuts with production hint that Challengers is likely the reason she went for such a major haircut in the first place. What's absolutely certain, though, is her movie-star career — if the trailer is any indication, she's gunning for an Oscar next.