Human Hair Braids Are The New Wave For Good Reason
@olaynoel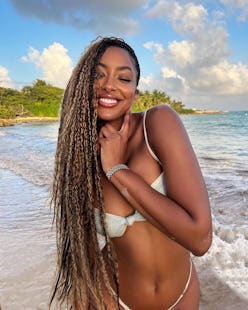 When it comes to braids, there are a number of options to choose from. This year alone has given a range of new hairstyles, such as the raindrop and stitch iterations that have both seen viral fame. But among the sea of choices, boho braids have become the breakout for summer protective styles. Light and airy with wispy curls strewn throughout, they've taken center stage as one of the most-requested looks. Within the natural hair community, their popularity has also created a lot of buzz around the idea of creating braids with human hair.
For many other protective styles, like wigs and weaves, human hair is essential for creating a seamless look. The goal is and has always been to create a look that has movement, so using inches of naturally wavy, curly, or straight hair for sewn-in styles just makes sense. But previously, the thought of incorporating strands plucked from wefts or bundles was almost unheard of — that is, until now. More than just a way to protect and safeguard, braids are desired for their aesthetic and quality. So, the shift to human hair, which can provide a natural free-flowing look, feels organic. As a category, the style has grown. From characters on TV, to celebrities on the red carpet, today's braids are elevated with soft textures and loose curl patterns, and are well sought after.
Ahead, TZR chatted with two braiders to break down the benefits of getting braids with human hair and if it's really worth the expensive price tag.
Human Hair Vs. Synthetic Hair
Human hair braids are exactly what they sound like — they are crafted with human hair as opposed to man-made materials. "Synthetic hair has other variations, but the most popular used by far is Kanekalon," says Stephanie Hackett, celebrity stylist and lead braid stylist at the Brooklyn-based Ursula Stephen The Salon. With its soft feel and human hair-like texture, it became the standard for creating braided styles.
"Most Kanekalon comes pre-stretched (meaning it's been loosened to make the ends look less blunt and more natural) and can be beneficial because it's tangle-free, hot water-setting, and most importantly cost-effective," says Hackett. She continues telling TZR, that while synthetic hair offers a vast color range for braid hairstyles, human hair is best in natural hues and has a more lightweight feel and texture.
The Benefits Of Using Human Hair For Braids
As Hackett notes, "Kanekalon has become favorable over the years because it can give the style a long lifespan when properly maintained." But there are many benefits of opting for human hair, especially for particular styles. The boho look has been trending since the early spring and has shown no signs of slowing down now that we're deep into summer. This should come as no surprise since it delivers an effortless style that's floaty and light — two elements any good summer hairstyle needs — and ideal for beach vacations or days spent by the pool. And to get the most natural look, human hair is the way to go.
But it also makes a great option for knotless and traditional boxed braid looks thanks to its natural consistency. "The largest benefit to working with human hair is its lightweight texture," says Hackett. It "provides a range of versatility when creating styles," and can make the overall hairstyle easier to wear by decreasing the tension at the hair's root.
How To Maintain Braids With Human Hair
Regardless of which style you choose, caring for your human hair braids is going to require a lot more effort. Depending on the curl pattern of the hair used, there are certain products that should be avoided and others that should be added to your routine to maintain the hair. According to Ya, braid stylist and owner of Mamacita Braids in Hillside, New Jersey, a good leave-in conditioner is going to be one of the most beneficial products for prolonging your style. "When caring for your braids, it's best to approach it as you would your own hair so you'll need to wash and condition it more often than synthetic hair in order to keep it fresh," she says.
In that vein, Hackett also recommends regular appointments with your stylists to further extend the lifespan of your style. This is crucial for braids with human hair because the hair can easily split and break if it's not properly cared for.
Are Braids With Human Hair Worth The Money?
If you're accustomed to wearing weaves or sew-ins, you know the hefty price tag that's attached to quality human hair. Yes, that flowing mane comes with a cost, and the same rings true with braids. That said, you should consider just how much your style will set you back. "The cost of human hair braids is steep because you're not just paying for the service but also need to purchase the hair itself," says Hackett.
Cost per bundle varies but it's not unlikely that you'll be paying $400 or more for just the hair alone. Factor that into the price of the service, which as Hackett notes, can range from $700 upwards depending on the length and size of the braids.
But cost aside, human hair does offer a natural look that can't be matched. "It's the season for braids, gone are the years that one couldn't wear braids to the boardroom, red carpet, or even the White House," says Hackett. If you're looking for a way to upgrade your traditional knotless style that's stylish and effortless, human hair might just be the change you need.