The Black TikTok Creators Making Waves In Beauty Right Now
@bigheadjustice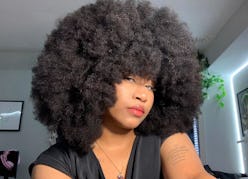 From the early days of YouTube, social media has always been a strong platform for Black creators in beauty to share their advice, tips, and opinions about the industry. Though it took a while for many OG creators to get their just dues, they paved the way for a new generation of vloggers and influencers. Currently, no social media platform is more commanding than TikTok. A hub for knowledge, inspiration, tutorials, and more, the app is also teeming with lots of Black creatives. And in terms of beauty, Black TikTok creators, are paving a lane of their own in every avenue of the industry.
Where beauty YouTubers focused mainly on creating makeup looks, reviewing product launches, and brand collaborations, TikTok has a range of content created by and geared towards Black people. From hair care routines to testing products on darker skin tones, and even skin care advice, the video-sharing app is a place where Black creators are shining bright. Whether you're new to the app or are looking to add some fresh insight to your feed, below are a few top creators to follow for quips on makeup, skin care, and all things natural hair.
Jaleesa Jaikaran
As a professional makeup artist and established content creator, Jaikaran had been sharing her passion for all things makeup on Instagram for quite some time before landing on TikTok. But on the video platform, she opens up with viewers, giving application tips and reviewing major brands to determine just how well they work on darker skin tones. The proud Trinidadian's page is also loaded with makeup inspiration, making it easy to get a pro look at home.
Tammi Clarke
If your love a good full-coverage makeup look, then you'll definitely want to check out London-based content creator Tammi Clarke. With a range of videos featuring popular looks such as soft glam, date night, and nude lips, her TikTok page is filled with inspiration. There are also a number of product reviews and videos of her testing viral trends. But for the most part, Clarke's content feels like a modern version of classic YouTube beauty videos that are more focused on creating an amazing makeup look.
Javon Ford
Cosmetic chemists are the backbone of the beauty industry. The lane of science is thriving on social media, and Javon Ford is at its forefront. After studying at Howard University and working in the cosmetic industry, Ford took to the app to share his knowledge about common products and the myths that surround them. His videos span a range of beauty topics from skin care and makeup to natural hair, and empower viewers to not only be educated on ingredients but also be aware of how certain products may look and affect darker skin.
Dr. Howard-Verović
The New York City-based dermatologist frequently drops anti-aging gems for all ages and shares tips for common skin care concerns such as eczema. With her down-to-earth personality, watching her videos feels like you're getting advice from a friend who also happens to be a top dermatologist. Aside from her skin care quips, she's also the founder of the scalp-care brand, GIRL+HAIR, which offers products to help maintain natural hair underneath extensions.
The Life Of Deb
For a fresh take on styling natural extensions, check out The Life of Deb's page. From long styles to short looks, she frequently posts tutorials and styling videos that are easy to recreate at home. Among the inspiring hairstyles, the content creator also sheds light on what it's like to wear natural hair in a corporate setting. This message alone makes her page a must-see for those who face adversity at work daily.
Justice Jackson
As a longtime content creator, Jackson has been sharing her tips and advice for growing healthy natural hair since the days of YouTube. What sets her apart from other natural hair creators is her afro, which she fully embraces. On her TikTok, she gives viewers insight into managing their own hair when their curls are tightly coiled and showcases styles that will help them embrace the power of the fro.