Milan Fashion Week's Top Spring 2024 Trends Speak To Every Aesthetic
TZR; Getty Images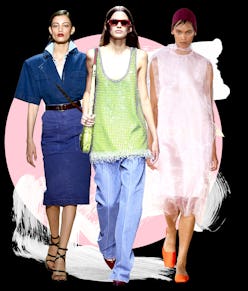 Milan Fashion Week hosted the biggest runway shows and fashion spectacles we've seen in years. For starters, all eyes were on Gucci for Sabato De Sarno's debut collection. The Valentino alum replaced Alessandro Michele as creative director in January 2023, and the glamorous simplicity of the newcomer's vision did not disappoint. Likewise, another first came from Tom Ford successor Peter Hawkings, who presented his first work for the brand — it felt, well, very much like old Tom Ford à la hot pants and glamorous party looks. These major maisons, along with other Italian luxury houses, set the stage for the Spring/Summer 2024 trends coming out of Milan, which are as varied as the lineup itself.
Color, for one, will be a major part of the fashion storytelling for labels like Emporio Armani, Ferrari, Versace, and Fendi this coming spring. You can expect to see that iconic "Ferrari" red everywhere as a leather dress, a cozy knit sweater, or even as a handbag next season; meanwhile over at Versace, Donatella leaned into cotton-candy shades. Models walked down the runway in minty green, baby pink, and soft blue ready-to-wear, with Claudia Schiffer closing the show in a metallic green slip dress. The colorblock hues at Fendi, on the other hand, will speak to those who want to mix and match multiple shades in one look.
VersaceVictor VIRGILE/Gamma-Rapho via Getty Images
Del CoreArnold Jerocki/Getty Images
Elsewhere in the trend lineup, you'll find that designers were feeling adventurous with their latest collections. Del Core and Bottega Veneta translated this energy into creating sensory pieces — you'll likely want to touch this confetti-like Del Core miniskirt in person or stroke Matthieu Blazy's pom-pom dresses. At Vivetta, Roberto Cavalli, and Etro, whispery feather details played the starring role in their ready-to-wear pieces, giving texture and a sense of uniqueness to the clothes. And over at Prada, Miuccia Prada and Raf Simons balanced out any heavy textures with more fluid, lightweight pieces made from organza. The dresses simply floated on the models in fluid, almost jellyfish-like movement.
The aforementioned trends are just the beginning of what will populate your closet in the next six months or so. Ahead, TZR rounds up the top themes to note, so buckle up for the ride and start making that shopping wishlist.
Duty Calls
Max Mara Victor VIRGILE/Gamma-Rapho via Getty Images
Brunello CucinelliCourtesy of Brunello Cucinelli
As you think about what to wear on the weekends, turn to an unlikely part of your wardrobe for inspiration: the workwear section. Labels like Bottega Veneta, Fendi, Max Mara, and Brunello Cucinelli (to name a few) all made a convincing case to work boardroom essentials into your leisure outfits. Whether you pair a polished jacket with your linen white shorts and knee-high tights or wear an oversized blazer as a dress, your 9-to-5 staples will take on new meaning come Saturday morning.
We're Invested
MM6 Maison MargielaCourtesy of MM6 Maison Margiela
Don't underestimate the power of the vest as it's an extra layering piece that can make your outfit feel more exciting and dynamic. Diesel's Creative Director Glenn Martens presented an intriguing denim-on-denim... on denim look in his collection, while Bally's Design Director Simone Bellotti debuted an edgy and supple leather bomber-like vest styled with a polka dot miniskirt. There are so many ways to wear the silhouette, so a word to the wise: Invest in one now.
Light As Air
Emporio ArmaniVictor VIRGILE/Gamma-Rapho via Getty Images
SportmaxVictor VIRGILE/Gamma-Rapho via Getty Images
Up and down the runways, you may have noticed a few brands like Prada and Sportmax showcasing pieces that embodied a sense of airiness thanks to breezy, lightweight fabrications. And since no one wants to wear clothes that weigh them down in the spring and summer months, we expect to see this look everywhere once temperatures start to rise.
Fly Away
VivettaJustin Shin/Getty Images
Roberto CavalliArnold Jerocki/Getty Images
Marco RambaldiErnesto Ruscio/Getty Images
There are many ways to incorporate texture in clothes or accessories, but few are as fun and fanciful as adding in feathers. Across Etro, Vivetta, Roberto Cavalli, and Marco Rambaldi, the fine whispery detail poked out from their ready-to-wear for a standout fashion moment — the ultimate alternative, in our opinion, to sparkle. Who needs sequins when you have plumage?
Good In The Hood
Alberta FerrettiGiovanni Giannoni/WWD via Getty Images
Diesel Courtesy of Diesel
VivettaJustin Shin/Getty Images
The hooded dress trend took 2023 by storm (everyone from Jenna Ortega to Anne Hathaway rocked it on the red carpet), so don't expect this look to die down anytime soon. Whether it's a removable scarf situation, as seen at Vivetta, or attached to the actual garment, the head covering makes one feel safe and cozy in their clothes.
Fringe Again? Yes.
Jil SanderCourtesy of Jil Sander
Tom FordCourtesy of Tom Ford
Although a fringe is hardly a novel presence on the runway, designers like Giorgio Armani, Bottega Veneta, and Prada have found fresh ways to work this element into their spring looks. One of our favorites? The lime-green coat at Gucci that had stringy accents strategically placed on the sleeves and the bottom of the outerwear.
Big Shoulder Energy
Max MaraVictor VIRGILE/Gamma-Rapho via Getty Images
The Attico Giovanni Giannoni/WWD via Getty Images
Consider this for a confidence boost: next season's parade of strong shouldered jackets and shirts. The load-bearing silhouette will (metaphorically) help you deal with whatever energy's pressing down on you. Plus, for those who commute to work on the train, there's nothing like taking up space, literally, to get some distance from strangers.
Topsy-Turvy
MM6 Maison MargielaCourtesy of MM6 Maison Margiela
VersaceGiovanni Giannoni/WWD via Getty Images
Emporio ArmaniVictor VIRGILE/Gamma-Rapho via Getty Images
For next year, designers take a more out-of-the-box approach to designing tops for their customers. At MM6 Maison Margiela, models came down the runway in white wire-like pieces that poked out from underneath longline vests, Versace presented a beaded floral creation paired with white pants, while Emporio Armani debuted a net top with colorful dots. If you're wondering: What do I wear underneath these things? The answer is easy: a T-shirt or nothing at all.
Rosso Corsa
Andreādamo Estrop/Getty Images
FerrariJustin Shin/Getty Images
Try looking for red shoes right now, and you'll see that many styles in this shade are sold out or in limited quantities. That's because the hue is having a moment across fashion, and luckily the trend will trickle into next spring. From Bally and Ferragamo to Andreādamo and The Attico, brands are betting big on "ferrari red" to be the color everyone adds into their closets.
Party Til Dawn
Philosophy Di Lorenzo SerafiniOzan Yilmaz/Getty Images
Missoni Courtesy of Missoni
The "going-out top" continues its hot streak in super sparkly, sequin designs (take that, Gen Zers and your fun pants). The beauty of this idea is that you can go more simple and plain on the bottom (for instance, jeans or basic trousers) since everyone's attention will focus on your shimmery upper half.
Something's Off
FerragamoJustin Shin/Getty Images
Tod's Victor VIRGILE/Gamma-Rapho via Getty Images
Bottega VenetaCourtesy of Bottega Veneta
You may have noticed at Diesel, Ferragamo, Tod's, and Bottega Veneta that some of the clothes didn't quite track. What you're seeing is a designer's deconstructed take on ready-to-wear: maybe a waistband was "peeled" back to reveal another waistband or a vest had an extra flap or a part of the sweater seemed to be coming undone. Pieces that look a bit "off," is exactly the conversation starter you need next spring.