This Fall, I'm Ditching My Black Shoes For A More Vivid Style
@yunibuffa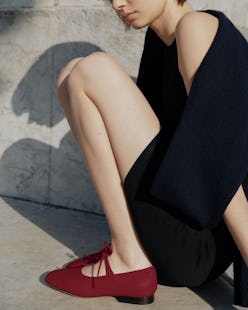 We may receive a portion of sales if you purchase a product through a link in this article.
In case you somehow missed it: Red is having its main character moment in fashion this year. First, the fiery hue popped up on the Sandy Liang and Proenza Schouler Fall/Winter 2023 runways. Then in recent months, the tomato girl aesthetic took over TikTok, with everyone wanting to wear primary color-heavy coastal Italian-inspired outfits. Not to mention, sometime in-between, head-to-toe rouge looks, including opaque tights, began trending on my Instagram feed. With all of my algorithms serving me so many ways to wear red, I'll admit it: I'm influenced. The caveat? Wearing such a bold shade can be intimidating, especially if you shy away from brights. The simple way I plan on embracing this look, though, is by throwing on a pair of red shoes.
The style is surprisingly versatile. If you're a minimalist who only wears neutrals, then red footwear will add that nice little bit of color down below. Meanwhile, if you have a closet full of patterned garments meant for mixing and matching, fiery flats or heels will surely coordinate with any printed piece you own. No matter where your personal style lands — or whatever occasion you're dressing for — there is surely a crimson option to complete your outfit.
Ahead, I share 10 pairs I have my eyes on.