The '80s Are Back, As Illustrated By The Strong Shoulder Trend At PFW
Victor VIRGILE/Gamma-Rapho/Getty Images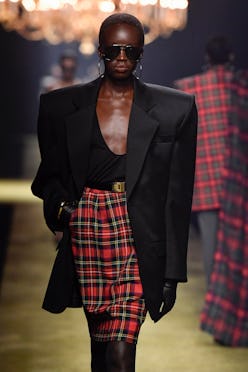 You've heard it time and time again: Fashion is cyclical, meaning once-popular styles will eventually reappear — and sometimes when we least expect it. Take, for instance, the industry's recent obsession with all things '90s and early aughts. Not to sound like a broken record, but Y2K-inspired styles just can't quit, from low-rise jeans to, more recently at MFW, cold-shoulder tops. Now, designers' latest collections seem hark back to key styles from the '80s, with the strong shoulder trend at the forefront. Simply look to the Paris Fashion Week Fall/Winter 2023 runways, where luxury fashion houses like Balmain, Saint Laurent, Givenchy, and Courrèges are honing in on the silhouette in an exaggerated way.
Oversized shoulders are taking on many forms in the City of Lights. Creative Director Anthony Vaccarello at Saint Laurent, for example, tapped into the silhouette by way of super-structured, elevated blazers reminiscent of a linebacker's required uniform. (Sports, but make it fashion!) Likewise, Givenchy's Matthew M. Williams sent models down the runway in exaggerated office-approved blazers and ankle-sweeping coats. Taking a more casual approach to the '80s look was Courrèges. The French fashion house gave gigantic shoulders the daytime treatment, presenting edgy leather jackets and slouchy, relaxed hoodies with voluminous sleeves.
Princess Diana Archive/Hulton Royals Collection/Getty Images
Daniel SIMON/Gamma-Rapho/Getty Images
Though they're ruling the runways this week, strong padded shoulders have a long, powerful history. Initially invented in the late 18th century as a form of protection for American football players, the look didn't enter mainstream fashion until the 1930s, when Marcel Rochas pioneered power shoulders, with Coco Chanel soon following suit. Fast forward to the '80s, and dramatic shoulders were donned by working women; the pads nodded to the sharp suits men wore into the office. The oversized style transitioned into nighttime wear when women gravitated towards cocktail dresses featuring the prominent design — finished off with puffed-up hair and bright eye shadow, of course. During the decade, the look was favored by the likes of Princess Diana and Oprah.
Now that you've received a quick history lesson on the style, take a look at the strong shoulder trend on the Paris Fashion Week runways, below. Then, perhaps comb through the racks at your local thrift store for a similar piece to wear.
Balmain
BalmainVictor VIRGILE/Gamma-Rapho/Getty Images
At Balmain, Olivier Rousteing played with multiple strong shoulders, incorporating them on everything from high-shine turquoise tops to form-fitting jackets. These '80s-inspired looks are perfect for a fall wedding or event or perhaps even a Saturday night out if you're feeling daring.
Saint Laurent
Saint LaurentVictor VIRGILE/Gamma-Rapho/Getty Images
Thanks to Saint Laurent, expect dramatic blazers to dominate your office next fall. Note: The luxury label is a long-time fan of the silhouette, as exhibited by the strong shoulders included in its Fall/Winter 2019 collection. This season, the offerings are, clearly, a statement on their own so tone down the look with relaxed jeans if HR permits.
Givenchy
GivenchyGEOFFROY VAN DER HASSELT/AFP/Getty Images
GEOFFROY VAN DER HASSELT/AFP/Getty Images
GEOFFROY VAN DER HASSELT/AFP/Getty Images
At Givenchy, structured, pointy shoulders were a key theme in the brand's elegant collection. Consider adding the timeless yet statement-making coats into your cold-weather outerwear rotation next fall. PSA to the NYC gals: Chances are no one will stand in your way as you file into a packed subway car.
Courrèges
The use of dramatic shoulders brought an unexpected element to the otherwise pared-back leather jackets and oversized hoodies at Courrèges. And rather than the structured shoulders seen at the aforementioned labels' shows, the French designer went for a more rounded shape. Think of these toppers as the perfect off-duty look.