Bottega Venetta's Spring 2024 Show Takes Classic Workwear Off The Grid
And we'll follow wherever it goes.
Daniele Venturelli/WireImage/Getty Images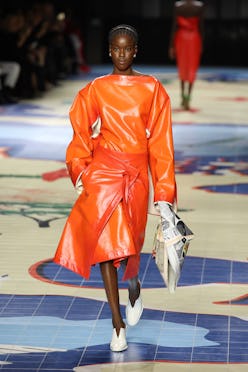 It seems somewhat fitting that as we settle into the third week of fashion month that Bottega Veneta would present a meditation of sorts concerning those constantly on the job. This is a time of 14-hour days, stressing over getting dressed, and constant deadlines for so many in the industry, a moment when we're all starting to feel a little undone... or at least in dire need of a getaway. The models on the Italian brand's Spring/Summer 2024 catwalk evoked a similar state of mind: Striding out in various states of undress, their workwear reshuffled with seaside-inspired details, they looked like very chic 9-to-5-ers who suddenly found themselves shipwrecked.
A luxe LBD with one shoulder pushed off to the side; a bejeweled top and slide-on heels with no pants plus an oversized beach bag; elegantly draped dresses crafted from rope-y netting and straw-like pom-poms — the key pieces seemed to speak to the busy urban dweller finding their way to an island environment, by choice or not. (The venue, which was painted as a map covered with animal life, and the constant newspaper references — including as the material on a standout hobo bag — also suggested some sense of climate displacement dread.) Meanwhile, there were plenty of city-slick staples, like peplum leather dresses and slouchy knits, cleverly given an eclectic vibe by way of a fringe-y texture, pastel plaids, and swirling patterns. Underscoring the show was an air of global wandering, be it by way of leisurely oceanic walks (see: the teeny black singlets) or jetset travel (all the elegant, Katharine Hepburn-deserving trenches).
GABRIEL BOUYS/AFP/Getty Images
Daniele Venturelli/WireImage/Getty Images
But if the clothes set a tone of far-flung travel, the accompanying bags drove the point home. Some of the looks were paired with what can best be described as the most elevated laundry carryall to ever exist — structured, leather, and nonchalantly thrown over the shoulder — with various cubicle dweller staples sticking out the top, like a button-down and aforementioned print rags. Then there were the label's signature Intrecciato offerings: available in nearly every color (except for, notably, the bright Kelly green creative director Matthieu Blazy's predecessor was so well known for), more than a few of the pieces were updated with a rustic spear-like top handle… just the thing, perhaps, for catching fish should you find yourself washed up on a faraway shore?
Daniele Venturelli/WireImage/Getty Images
Other standout purses included rope-like woven baskets, giant pillow-esque hard clutches, and silly little swishy numbers that won't serve many purposes beyond looking cute at a boozy summer party. This, however, well illustrates the true brilliance of this seemingly high-concept collection. Pulled together and presented at once, it tells a very compelling story that pulls your imagination one way and another. But break the outfits down and you find that, at their core, they're really just a bunch of incredibly cool pieces you can confidently rework time and again. And I'd take that over an exotic trip to paradise any day.
Keep scrolling ahead for a sampling of TZR's favorite looks.