I'm Wearing My Oversized Blazers As Dresses & You Should, Too
@arielzeena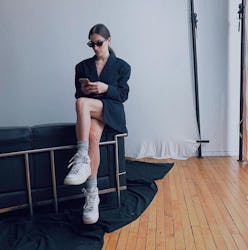 We may receive a portion of sales if you purchase a product through a link in this article.
If it were up to me I would probably never wear pants again. OK, that might be a bit of an exaggeration, but if I learned one thing from this past New York Fashion Week Fall/Winter 2023, it's that we are entering the epoch of bare legs and a big top. And while brands like Sergio Hudson, Sandy Liang, Christian Siriano, Prabal Gurung, and LaQuan Smith all showed different iterations of underwear/hot pants on the runway, one designer took the look a step further: Over at Simkhai, Emily Ratajkowski closed the show wearing nothing but an oversized, patterned suit jacket, and a chunky flat boot — sans trousers, jeans, or leggings. The Blazerdress era, as I've decided to name it, hath arrived.
As for how, exactly, to wear your blazer as dress? I've been doing it for quite some time now, and can attest it's easier than you may think. (It's not like I'm explicitly saying that I was ahead of the curve or anything, but I will let you make that call.) There are so many stylish and simple ways to pull this look off. All you need is a good oversized blazer that is long enough to provide good coverage. I bet some of the styles that you already own will double as a mini dress; you just haven't dared to try it yet.
For instance: I recently paired my thrifted grey wool blazer with a thin vintage belt to cinch my waist, and knee high black boots — oh, and of course I can't forget about my patent leather mini Jodie bag. The combination is so minimal and requires little effort, which if you're like me, is important because I'm always in a rush. But this is just one option of many. So, in case an oversized blazer is not something you already have in your wardrobe — or you just want some additional styling tips — I put together four easy ways to master the look below.
With Sneakers
I'd say I wear sneakers about 95% of the time; it just depends on which ones I'm in the mood for. A go-to of mine are classic white' or formerly white, high top Air Force 1s. This is a fool proof way to look like the coolest person in the room, if I do say so myself. Top it all off with a silver chain belt to add some shape.
With Gold Jewelry
You'll probably end up taking off your shoes by the end of the night, but a blazer, maybe one with an earthy color, heeled sandals that wrap around the ankle, gold plated jewelry and a glass of wine is the right formula for a fun evening.
With A Collared Shirt
Pairing a crisp white collared shirt underneath a tailored blazer is a fantastic trick for looking polished. Add a tall chunky black boot and you're ready for work, drinks, an impromptu party invite — wherever life and happenstance takes you.
With Combat Boots
Here I am doing the Lord's work trying to make blazer dresses happen! I'm wearing one of my favorite blazers from The Frankie Shop paired with a plain white T-shirt, black combat boots with silver hardware, a nude baseball cap, and (not pictured) my Loewe balloon bag.