Move Over, Mini Skirts — Next Spring Is All About The Hot Pant
Short shorts go the distance.
Victor VIRGILE/Gamma-Rapho/Getty Images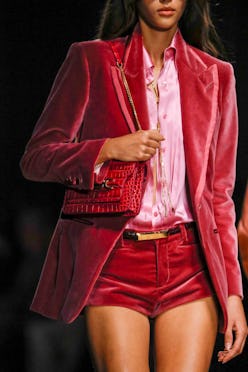 At its very core, the direction of recent fashion has been all about the legs. They've been playing peek-a-boo through completely sheer skirts, and looking extra long in itty bitty minis. Mega platforms have elongated gams to the extreme; and in some cases, style insiders are putting their pins completely on display via a purposely pants-free moment. Now, at Milan Fashion Week Spring/Summer 2023, it seems this omnipresent look isn't going anywhere, but it is taking a slightly different form. Enter: the emerging trend of short shorts — there will be a lot to choose from next season.
At Tom Ford, the brand offered up a parade of saucy leather hot pants, complete with coordinating blazers and louche blouses unbuttoned dangerously low. (It seems that even without the label's namesake designer at its helm, his famously provocative legacy lives on.) Max Mara, on the other hand, took a cozier route with jewel-tone and camel sweaters paired with barely-there bottoms in the same color schemes. And No.21 served up what can best be described as a more glammed-up version of Carrie's hot adulteress outfit when she lost Aiden's dog Pete — IYKYK!! — via silky track trunks mixed with a see-through sparkly top sans bra (but it would be easy enough to add one in). Finished with a pair of white pointy-toe flats, it felt like just the thing to throw on for a high summer party when you just need to look fabulous, but definitely not like you tried to.
Max MaraVictor VIRGILE/Gamma-Rapho/Getty Images
Tom FordVictor VIRGILE/Gamma-Rapho/Getty Images
One of the more deft displays of how to pull off dress code-flouting shorts in a more polished way came via Sabato De Sarno's debut Gucci show. The designer centered much of his collection around the teeny silhouette by balancing it with easy, elegant tops (picture crisp white shirting, well-tailored jackets, and slinky polo knits) as well as structured sweatshirts. In general, the combinations had the same nonchalant "Oh, this old thing? I just threw this on" appeal as the sporty layered separates at Miu Miu last February, although where those outfits had a touch of quirk, these ones felt straight up rich and luxurious. And in these "stealth wealth"-focused days (or on any day really?) who doesn't want to look like that?
GucciDaniele Venturelli/Getty Images
Daniele Venturelli/Getty Images