Prada Keeps Up The Momentum With Another Buzzworthy Show
Its Spring 2024 collection was full of viral elements.
Giovanni Giannoni/WWD via Getty Images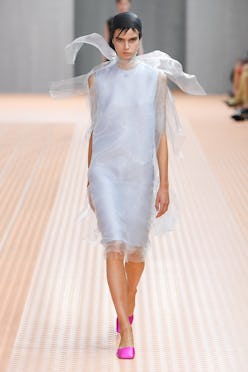 If any doubts remained as to whether the partnership between co-creative directors Miuccia Prada and Raf Simons is a successful one, the Spring/Summer 2024 collection should silence such qualms. The dynamic designer duo delivered an exceptional 47-look collection that more than simply fused their artistic sensibilities — it amplified them.
While there were no show notes revealing inspiration or references for the collection, the idea of movement was clearly on the co-creative directors' minds as there were multiple interpretations of how that translates when it comes to the construction of clothing. Some stand out pieces? Ethereal, frothy gazar shift dresses that left you mesmerized, perhaps even hypnotized, as you watched pieces of organza trail behind like a dandelion taken away by the wind — not a far assumption as flowers have been a big theme for the brand, with its recent fall campaign and activations centered around blooms. Then, there was a sashay of fringe belts that ranged in colors from deep burgundy to tinsel-like gold and silver, some with metal eyelets, which you know the fashionable crowd will wear sans shorts at next season's fashion week.
Surely, these were the highlights, and perhaps the most editorial (wait three months and an A-list celeb will be wearing one of the pastel shift dress on the cover of a glossy magazine), but for the discerning Prada devotee, the Barbour-inspired jackets, floral printed fringe blouses, and exquisitely tailored trousers and tap-shorts, a continuation of the men's collection that was shown this past June, will be in high demand. Mrs. Prada has the gifted prescience for what women want to wear and a track record to prove it, and these designs did not underdeliver in that regard.
Daniele Venturelli/WireImage
The square toe satin mules, for one, which seemed like a softer iteration of the shape rather than the stark, angular design we saw just a few years ago, came in delightful candy-colored hues such as fuchsia, peridot, and tangerine. For those inclined to more height, there were pointy toe stiletto versions which also came in Dorothy red and chocolate brown. If there was a defining shoe for this fall season, it's the origami and floral kitten heel pump seen on everyone from editors and stylists to influencers. Prada will surely continue its reign next season with the deliciously colorful offerings.
Daniele Venturelli/WireImage
Daniele Venturelli/WireImage
Victor VIRGILE/Gamma-Rapho via Getty Images
But there's more — at least on the handbags front. A reinterpreted evening purse with a mythological figure as its fastening, originally designed by Mario Prada, the founder of the namesake brand and Mrs. Prada's grandfather, that will come in leather and re-nylon. For a daytime affair, there were buttery leather top-handle totes with a belt as a fastening that's offered in an array of neutral tones, and large carry-alls with starburst galaxy embellishments, also in the aforementioned re-nylon fabric (which makes for a stylish work bag that can actually fit your laptop!).
Practical and fantastical, the whole presentation was truly a feast for the senses. Scroll on to see a sampling of the best looks.