The World's Top Models Joined Forces To Celebrate Tom Ford's Final Collection For His Brand
ANGELA WEISS/AFP/Getty Images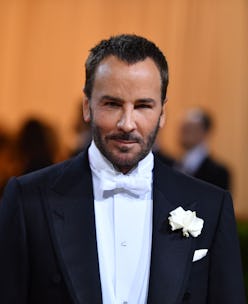 The secret is out: Tom Ford may be bidding farewell to the fashion industry. On April 26, the veteran designer quietly announced via Instagram that he'll be parting ways with his namesake label. "Tom Ford, in his final collection for his eponymous brand, has turned to his archives and reissued his favorite looks from the past 13 years," the post's caption reads. While it's yet to be confirmed if this Fall/Winter 2023 Archive Collection will, in fact, be his last hoorah in the design world, insiders are speculating it is.
That's because Estée Lauder purchased the Tom Ford label for $2.8 billion in November 2022, and Ford was supposed to stay on in his role through the end of 2023. As he's leaving the brand earlier than planned, one can't help but wonder: Is this it for the designer? Also, who is his replacement? The latter answer came sooner than expected.
According to WWD, the brand's current menswear designer Peter Hawkings will be creative director. "Peter began working with me 25 years ago as a menswear design assistant at Gucci and rapidly worked his way up to become the senior men's designer at the company when he left to join me at the Tom Ford brand," Ford said, according to WWD. "He is an incredibly talented leader with tremendous industry experience, and his appointment gives me confidence that my commitment to creating fashion products with the highest level of design and quality will continue."
Ford's right-hand man just so happens to be his doppelgänger, too (take a gander at the photo of Hawkings below for evidence). They also seem to share a similar sense of style — like, for instance, a penchant for orange shades and impeccable suiting. Clearly, Hawkings is the perfect person to fill Ford's shoes.
Meanwhile, Estée Lauder tapped Guillaume Jesel as the president and CEO of Tom Ford. Jesel has led Tom Ford Beauty since 2014 and was promoted to president of Tom Ford Beauty and Balmain Beauty last September. WWD adds that he'll oversee all verticals in this new role and report to Lauder executive leaders, including Jane Hertzmark Hudis, executive group president, and Tracey T. Travis, executive vice president and chief financial officer.
As for Ford's final fashion collection — he went out with a sartorial bang. The lineup was released via campaign imagery shot by Steven Klein and the designer tapped renowned models such as Joan Smalls, Amber Valletta, Karlie Kloss, and Karen Elson to model his latest pieces. The collection itself contains re-editions of Ford's most memorable runway looks, like the broken mirror sheath he created for his Spring/Summer 2014 collection — Kloss wears it in the campaign — and the body-hugging colorblock dress from Spring/Summer 2016, which Valletta wears in the video. Additionally, Ford brought back a few iconic red carpet creations, like Gwyneth Paltrow's white dress at the 84th Academy Awards and Zendaya's pink breastplate and skirt outfit from the 25th Annual Critics' Choice Awards.
For those who need a refresher on Ford's celebrated legacy in fashion, here's a quick rundown. He kicked off his career in 1990 at Gucci, where he was appointed the label's creative director in 1994. During his 14-year tenure at the brand, Ford revived the Italian fashion house, taking it in a more daring, risqué direction. From there, he took the reins at YSL in 1999, when Gucci acquired it. While at the helm, Ford created buzzed-about moments, like when he revitalized the off-the-shoulder look in the brand's Fall/Winter 2001 collection. In 2006, the renowned designer introduced his eponymous menswear, accessories, and beauty label to the world. Then, in 2010, Ford debuted his first women's collection — and the rest is history.
Estée Lauder hasn't announced when Hawkings will debut his inaugural collection, but stayed tuned for more updates.