Milan Fashion Week Fall/Winter 2022 Street Style Commands Your Attention
Valentina Frugiuele/Getty Images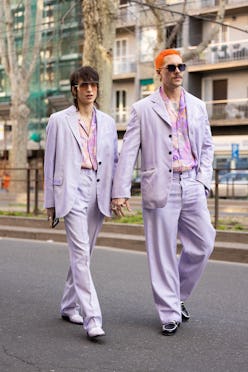 You can find the next round of incredible Fashion Month outfits in Milan. After tastemakers and industry legends like Anna Wintour took in the runway shows in New York City and London, they headed to Italy for the next round of events. The street style at Milan Fashion Week Fall/Winter 2022 was a mix of aspirational outfits and looks you can actually recreate. The OMG pieces included a multicolored striped feather top and tinsel-like gold pants while the more everyday classics encompassed black blazers and oversized beige sweaters. Overall, the city's fashion-savvy residents and visitors seemed to favor minimal, pared-down looks.
As trendsetters bounced from one show to the next (the schedule contained presentations from the likes of Versace, Bottega Veneta, Prada, and Fendi), the streets of Italy were flooded with coordinated ensembles in neutral colors like beige, brown, and gray. The front row at Fendi, for instance, was dominated by revamped takes on suiting — think knee-length blazers and denim tailoring. Meanwhile, the Gucci runway show attendees seemingly conspired to wear equestrian-themed outfits to the event.
Before any more fashion spoilers are given out about the ensembles, however, scroll ahead to take a peek yourself. These are the best street style outfits from MFW.
Day 5
Anne Hathaway arrived at Giorgio Armani's fashion show arm-in-arm with Roberta Armani. Both opted to wear dark, pared-down looks.
Actor Rainey Qualley attended DSQUARED2's Fall/Winter 2022 runway show. She wore a white printed mini dress, an oversized striped hoodie, and a pair of matching platform booties.
Tamu McPherson paired her denim co-ords with crystal-bedazzled sandals, plus a Fair Isle cardigan sweater underneath, for a maximalist take on the Canadian tux.
This guest knows that a three-piece tailored ensemble — a waistcoat, a jacket, and a pair of trousers — makes for an easy yet swanky outfit.
Model Chantal Monaghan attended Giorgio Armani's Fall/Winter 2022 show in wide-leg jeans, a baby tee from Alexander McQueen, black boots, and a gray trench coat.
Olivia Valin wore a set of tweedy leopard-print co-ords, plus a black stud-embellished hoodie, to the DSQUARED2 fashion show.
Marta Sanchez Castaneda and Elbio Bonsaglio demonstrated the power of a coordinating look in nearly identical lilac outfits.
This model expertly combined two seemingly clashing patterns into one cohesive look. Here, the trendy shacket officially received its MFW stamp of approval.
Katya Tolstova made her way to Giorgio Armani's Fall/Winter 2022 show in a Luisa Spagnoli dress and a leather coat from BOYAROVSKAYA on top. She finished off her outfit with a duo of braided accessories — a cowboy hat and belt — from Luisa Spagnoli and Bottega Veneta, respectively.
This guest wore a full look of kaleidoscopic heart-print garments and accessories from MSGM.
Caroline Ebo and Jamilla Strand both wore graffiti print looks to the DSQUARED2 fashion show. Ebo donned a chromatic knit sweater, while Strand wore a pair of black and white scribble print platform boots from the brand.
Gilda Ambrosio's multi-patterned look was hard to miss. She teamed her tiger stripe pants with a cow print teddy coat and a cowboy hat.
Grazia Italy's Head of Fashion Sara Moschini was spotted in a blue Tory Sport turtleneck with a Vernisse floral skirt, a brown checkered blazer, a pair of white MVP Wardrobe boots. She carried a chain shoulder bag from Stella McCartney.
This guest attended Giorgio Armani's runway show in a bright yellow A-line coat and a houndstooth tweed crossbody bag from Chanel. She brought her pets along for the ride, too.
Day 4
Head of Fashion at Grazia Italy Sara Moschini attended Marni's Fall/Winter 2022 show in a green trench coat and carried a feather-trimmed handbag. She wore a pair of black high-heeled booties from Casadei.
Remember the celeb-approved La Maille Pralù cardigan from Jacquemus? This guest wore it to Milan Fashion Week with blue wide-leg jeans and a black bomber jacket, plus a cream-colored newsboy cap and a Barbie-pink crossbody bag to accessorize.
The Fall/Winter 2022 season will be all about extra long pants, according to Amalie Gassmann. She teamed her ivory-hued, flower-embossed bottoms with a matching blazer, a cheeky "Thank You for Shopping With Us" handbag, and a barely-there bra top.
This savvy showgoer adopted "the more, the merrier" approach to accessorizing to create an attention-grabbing street style look.
Lisa Aiken, the fashion and lifestyle director at Neiman Marcus, wore a green cutout dress with a plunging neckline and teamed it with a white bag and a pair of zebra print heels.
For day four of MFW, Sai De Silva wore a white long-sleeve shirt with hot pink neon print, plus a pink layered tulle skirt, and a pair of black satin Medusa Aevitas pumps from Versace.
This guest went all-in on the accessories and wore a jumbo-sized stripe hat, mustard yellow socks with black block heel mules, and carried two handbags.
Take after this stylish showgoer and pair your next all-black OOTD with accessories in unexpected, eye-catching colors.
Chriselle Lim made her way to the Philosophy Di Lorenzo Serafini fashion show in a body-hugging asymmetrical dress, black leather gloves, and shiny pointy-toe boots.
Bettina Looney wore a shiny leather coat with extra roomy sleeves and a pair of colorful tie-dye pants. She carried a houndstooth tweed 30 Montaigne handbag from Dior. Her red, rhinestone-embroidered pumps peeked out from underneath her baggy bottoms.
This guest strolled down the Italian streets in a pair of psychedelic floral print pants. She teamed the joyful bottoms with a yellow turtleneck sweater, chunky platform boots, and a lime green handbag from BOYY.
This showgoer zeroed in on two-tone suiting and accessorized with a medley of silver chains.
Day 3
The front row at Gucci's Fall/Winter 2022 runway show followed an equestrian-inspired theme — and this showgoer's OOTD is proof.
This MFW guest opted for a subtly daring look: a crochet crop top, plus a pair of matching pants with thigh-high slits. The light brown teddy coat added an elegant touch to this outfit.
Nataly Osmann wore a shiny leather look that felt minimal and edgy at the same time to attend Tod's Fall/Winter 2022 runway show. She demonstrated her knack for clever accessorizing with a neon orange tote bag, boxy black frames, and a pair of strappy pointy-toe pumps.
Niki Wu Jie and her fellow showgoer made the case for ab-revealing halter-neck tops. According to the duo, you should pair them with low-rise baggy pants and oversize outerwear.
This guest's velvet co-ords will remind you how the soft, cushiony fabric can instantly add a touch of luxuriousness to any look. She completed the OOTD with a white mini Diana bag from Gucci.
According to Karina Nigay, statement collars and cowboy hats are here to stay for 2022.
To create a look that feels stylish, elegant, and smart at the same time, take note of Sai De Silva's clever denim style hack. She balanced out the flamboyant print on her Etro top and blazer set with everyone's trusty wardrobe staple: blue jeans.
This guest's "harness" visor fell in line with the day's equestrian theme. She paired it with floral-print Balenciaga suit, while her friend wore a harness-like strappy corset.
This showgoer leaned into the oversized tailoring aesthetic and teamed her cream-colored blazer and pant ensemble with a pair of chunky dad sneakers. The yellow detailing on the lapel was a subtle yet impactful touch.
This guest took equestrian-inspired dressing to the next level with billowy trousers, knee-high riding boots, a black harness visor, and a caramel brown bag from Gucci.
Bettina Looney made her way to Missoni's runway show in a casual, oversize look. She matched her menswear-inspired button-down shirt with Jacquemus' Le Chiquito mini bag in a similar blue hue.
This showgoer's nose ring from Gucci perfectly coordinated with her rhinestone-bedazzled corset and GG logo pants.
Nina Suess picked up on a disco theme and wore a set of glittery, midriff-revealing co-ords outside the Sportmax fashion show. On top, she layered a semi-sheer coat with jumbo-sized pockets all over.
Take this Milan Fashion Week outfit as a gentle reminder of the incredible versatility of classic pinstripe tailoring.
Day 2
This guest channeled all the vibes from Miu Miu's Fall/Winter 2021 runway show via skiwear-inspired pieces like a puffer skirt and pants. She paired the olive-hued quilted pieces with a matching blazer (tucked into the skirt), plus shiny gloves and a green cap for additional impact.
Vogue's Editor-in-Chief Anna Wintour made her way to Max Mara's runway show in a tricolor midi dress, an ultramarine leather coat, a pair of snake print boots, and a necklace in complementary hues.
Michelle Elie attended Prada's Fall/Winter 2022 fashion show in denim co-ords. She completed the look with a navy blue jacket, a pair of angular sunnies, and a brown bag adorned with chains and charms.
Ahead of the Max Mara fashion show, Bella Hadid wore a pair of gray Bermuda shorts with black knee-high boots and carried a black Chanel logo tote. (Take note of how she styled her gray jumper like a scarf and wore it over her shoulders.)
Wearing your pants (or overalls) with a pair of matching boots is a clever fashion hack to adopt for 2022.
Xiayan Guo wore a full Prada outfit to attend the fashion house's runway show on Feb. 24. Her look consisted of a glittery-gray cropped shirt and a matching pleated skirt, plus a pair of black Mary Jane heels and a silver leather Cleo handbag.
Vogue Paris's Head of Editorial Content Eugenie Trochu wore a cheetah print coat.
Gili Biegun wore a brown leather jacket from AERON, a purple croc-print shoulder bag, and a pair of white platform mules outside the Max Mara fashion show.
Susie Lau donned a multi-striped skirt, plus a brown leather jacket and matching Chelsea boots. For accessories, she toted a yellow crossbody bag from Sunnei while making her way to the brand's Fall/Winter 2022 show.
This MFW attendee made a strong case for sultry yet relaxed tailoring (her blazer was held together by a single strap.) She finished the look with a pair of towering platform sandals and tied a thin string choker-style around her neck.
Actor Larsen Thompson was spotted in puffy sleeves from Annakiki, high-waisted flared pants, and she carried the newly released Dior Vibe hobo bag. She attended the Annakiki runway show alongside Gavin Casalegno, who wore a markedly casual getup: a pair of baggy black pants, a red zip-up jacket, and a black turtleneck sweater underneath.
Take note of Caroline Daur's styling trick and match your shoes to a pair of gloves.
Day 1
Condé Nast International Fashion Editor Chiara Totire wore a two-tone teddy coat and a pair of loafers with fringe detailing. Underneath, she wore a black turtleneck top and a partially unbuttoned beaded skirt.
Julia Fox made an appearance at Diesel's Fall/Winter 2021 runway show during Milan Fashion Week. She sat front row in a tangy-orange look, which she matched her shoulder bag to.
Chriselle Lim arrived to the Fendi show in a white, knee-length waistcoat with side slits and layered a matching long-sleeve coat on top. She completed the look with white wide-legged pants, a pair of square sunnies, and a light pink Peekaboo bag.
Sai de Silva hustled over to Alberta Ferretti's show venue in an ultra oversize trench coat, white wide-leg pants, neon green Amina Muaddi pumps, and a raffia-panel Alby bag from Alberta Ferretti.
This showgoer's OOTD channeled a Rick Owens-like vibe thanks to the purposefully haphazardly adorned straps and a multi-layered draped skirt. Her athletic sneakers and a studded black-and-red crossbody bag from Prada gave the look a sporty touch.
Model Didi Stone wore a fuzzy jacket with pink, orange, and white stripes. (Did someone say Neapolitan ice cream?) She paired her outerwear with silky wide-leg pants and a teeny Fendigraphy bag in a matching pastel pink shade.
Alexandra Guerain wore a bra top underneath her blazer, offering a sultry take on the classic tailoring. All of her pieces came from Fendi.
Leonie Hanne attended Alberta Ferretti's Fall/Winter 2022 runway show in the most fun, gold tinsel pants from the label. (Jennifer Aniston wore the same pair back in August 2021.) Hanne styled the shiny bottoms with a white oversized blazer and carried a gold metal Valentino Minaudière handbag to match.
This guest demonstrated her expertise in outerwear layering by styling a black shiny leather coat under a deep purple cropped jacket. Her green ostrich leather bag with a neon orange interior provided a pop of color.
Alice Barbier wore a set of roomy denim co-ords with Fendi lettering all over to attend the brand's runway show. She finished with a baby blue Fendi First clutch and a pair of white square-toe sandals.
This guest donned one of the boldest, most avant-garde looks at MFW. The combination of a fluorescent green leopard dress (plus leggings underneath), black leather jacket, and shiny combat boots would fit right in on the streets of New York.
This guest arrived at the Diesel runway show in a set of beige-to-blue gradient shirt and pants. On top, she layered an oversize V-neck jumper and toted a brown Pouch bag from Bottega Veneta.
This showgoer took wardrobe basics and used them to create an unconventional, street style-worthy look. She layered a blue, halter-style shirt on top of her white button-down and paired her light gray trench with an orange cap and clutch for pops of color.
This article was originally published on