12 Dreamy Dress Trends Fresh From The Fall 2023 Runways
A look for every event on the calendar.
Victor VIRGILE/Gamma-Rapho/Getty Images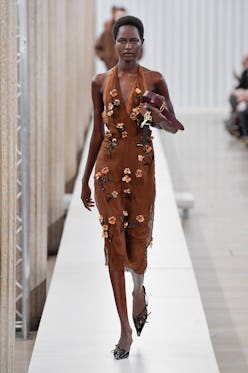 We're one week out from the official end of fashion month, and there's still a lot to digest. Have you taken a peek at the up-and-coming shoe silhouettes that strolled down the runway? Spoiler: over-the-knee boots and wedges were popular. How about fall's next It bag? We're betting big on Prada's geometric-shaped carryall. Moreover, are you up to date on the Fall/Winter 2023 dress trends? If the answer's no, you've come to the right place. TZR takes a deep dive into the styles you'll see everyone wearing next autumn — and they are good.
QQ: What's your fall calendar looking like? If you have wedding after wedding, designers' newest collections have a number you can wear for the special occasion — regardless if you're in the bridal party or simply attending as a guest. For instance, Off-White's hooded cold-shoulder number would make for an unexpected look. Or, for something more dramatic, there was Victoria Beckham's dress with a glamorous, super-long train.
And while we're on the topic of looks for special occasions, consider dipping your toes into the sheer — or "naked" — dress trend. The see-through style may be a smidge too risqué for a wedding, but it'll certainly fit the dress code for a birthday celebration or bachelorette party. This season, powerhouses like Coach, Fendi, and Gucci all delivered their own approach to the transparent look.
Of course, designers presented plenty of low-key styles you could wear to the office or on the weekends, too. Case in point: Leather dresses were a theme across all major fashion cities. At Loewe and Isabel Marant, long-sleeve leather dresses got the mini treatment, while Proenza Schouler went with a strapless gown in the lavish material.
Read up on one of these trends and more below.
Not All Heroes Wear Capes
HermèsVictor VIRGILE/Gamma-Rapho/Getty Images
Michael KorsTaylor Hill/FilmMagic/Getty Images
Channel your favorite superhero — or maybe just Gwyneth Paltrow at the 2012 Oscars — with a cape dress. While the look sounds like something a cartoon character might wear, the latest crop of styles seen at Hermès, Markarian, and Michael Kors feel far too refined to read as a costume.
Leather Weather
Isabel Marant Victor VIRGILE/Gamma-Rapho/Getty Images
Proenza SchoulerVictor VIRGILE/Gamma-Rapho/Getty Images
The buttery material is, of course, an obvious choice for a jacket or pants — but don't underestimate the impact of a leather dress. Should your autumn wardrobe lack one, there's no shortage of options coming up next season: Look to Proenza Schouler, whose fire-engine red strapless leather gown is the ultimate show-stopper, or Loewe and Isabel Marant — both created elegant shirt dresses that are casual enough for everyday occasions.
Full Stretch
GivenchyVictor VIRGILE/Gamma-Rapho/Getty Images
MissoniVictor VIRGILE/Gamma-Rapho/Getty Images
Simple yet striking, ruched dresses have been getting a lot of attention over the past few seasons. Now, it looks like they've reached full-fledged It dress status, as shown on the catwalks of Missoni, Altuzarra, and Givenchy. The look, which is accomplished by scrunching fitted fabric to create an artfully folded effect, doesn't need much accessorizing — the eye-catching texture speaks for itself.
Hello, Doily
RodarteVictor VIRGILE/Gamma-Rapho/Getty Images
Simone Rocha Victor VIRGILE/Gamma-Rapho/Getty Images
Lace dresses evoke romance — and the latest looks seen on the catwalks this season were no exception. Rodarte and Simone Rocha leaned into ethereal, timeless black-and-white iterations while, on the other end of the spectrum, Erdem presented the delicate material in a vibrant yellow hue.
Hood News
AhluwaliaVictor VIRGILE/Gamma-Rapho/Getty Images
BalmainVictor VIRGILE/Gamma-Rapho/Getty Images
A-listers like Jenna Ortega, Katie Holmes, and Michaela Coel have been wearing hooded dresses on the red carpet for a while now — and the look is now continuing to pick up steam for fall. On the runways, labels like Ahluwalia, Balmain, and Off-White experimented with the moody, downtown-cool look.
Shoulder Show
Miu Miu Victor VIRGILE/Gamma-Rapho/Getty Images
Think halter dresses are reserved for the summer months? Think again. Brands gave the silhouette a cold-weather touch by way of matching arm warmers (Khaite), signature autumn hues (Miu Miu), and velvet (Dundas). That said, come chilly weather, carrying a cropped jacket or sweater to throw over your shoulders is always a good idea.
In Full Transparency
GucciVictor VIRGILE/Gamma-Rapho/Getty Images
Fendi Daniele Venturelli/WireImage/Getty Images
Designers have confirmed that the see-through dress trend that won't quit is definitely sticking around another season. At Gucci and Coach, sheer numbers were worn with only panties underneath. Fendi, however, took a more modest approach by layering in a full coverage slip.
Blazing A Trail
Collina Strada Victor VIRGILE/Gamma-Rapho/Getty Images
Victoria Beckham Victor VIRGILE/Gamma-Rapho/Getty Images
PradaDaniele Venturelli/WireImage/Getty Images
Sure, floor-sweeping styles may not be the most practical — but they sure make an entrance. At Collina Strada, the addition of extra-long fabric made mini dresses feel super special, while Prada presented an extra-long gown in a crisp poplin fabric. And at Victoria Beckham, the silhouette had an extreme high-low hemline that felt like a nod to the early aughts.
Short Story
Acne StudiosVictor VIRGILE/Gamma-Rapho/Getty Images
ValentinoVictor VIRGILE/Gamma-Rapho/Getty Images
FerragamoJustin Shin/Getty Images Entertainment
The mini dress trend prevails! However, brands are continuing to riff on the teeny tiny style with stand out details: Acne Studios went with edgy frayed edges, Valentino opted for light-catching texture, and Ferragamo leaned into high-shine vinyl. Regardless of your preferred aesthetic, team the look with over-the-knee boots for an autumn-ready outfit.
Hips Don't Lie
ChloéVictor VIRGILE/Gamma-Rapho/Getty Images
Bottega VenetaVictor VIRGILE/Gamma-Rapho/Getty Images
Exaggerated, puffed-up hips were all over heavy hitters' collections this season. Look to Chloé for a more subtle approach (via a basque waist), and Bottega Veneta or Versace for something that brings the drama.
One At A Time
Christian SirianoJP Yim/Getty Images Entertainment/Getty Images
ChanelVictor VIRGILE/Gamma-Rapho/Getty Images
One-shoulder dresses have been making waves for a while now, but there are plenty of updates worth trying next season. For starters, Christian Siriano went for girlish charm by presenting a silky gown with cascading ruffles. Meanwhile, Burberry sent a textured number down the runway, made from what appears to be multi-color feathers, and Chanel tapped into its hallmark tweed fabric for the ultimate cozy, cold weather party look.
It's A Cinch
Courtesy Of Carolina Herrera
Giorgio Armani Estrop/Getty Images Entertainment
Courtesy of Alexander McQueen
Fall's chicest way to accentuate a dress? Put a belt on it. At Alexander McQueen, Giorgio Armani, and Carolina Herrera, the accessory quietly added a bold point of interest to matching floor-length gowns without distracting from the overall look. Pro tip: Recreate the effect at home by keeping both pieces within the same color scheme.