I Wore The Naked Dress Trend To The Oscars
Here's how I made it work.
Angela Melero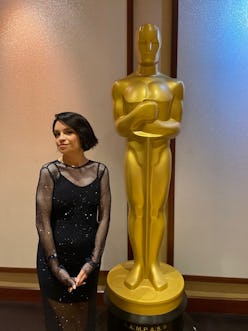 We may receive a portion of sales if you purchase a product through a link in this article.
The Oscars hold a very special place in my heart. Since I was a little girl, my mother and I would religiously observe the event, ordering takeout, tuning into the pre-show festivities, and daydreaming about the outfits we'd wear if we ever had the opportunity to attend. For years, the program was an unattainable pipe dream for this little girl from the San Fernando Valley — that is, until I finally landed an invite to the 95th Academy Awards. In planning my look for the momentous occasion, I found myself gravitating away from my typical princess-style silhouettes and towards a very unlikely trend: the naked dress.
To better explain how I came to this style move, which is pretty off brand for me personally, I must first walk you through my fashion strategy for the evening. While an over-the-top, extravagant gown may seem like a top choice for an event like the Oscars, I ultimately didn't feel it was the appropriate choice for a media guest like me. An A-lister and/or nominee walking the red carpet certainly warrants a standout fashion moment (here's looking at you, Allison Williams and Rihanna), but as a lowly, non-famous member of the audience, I thought it best to err on the side of simple elegance.
Now, those two words are likely not the ones that come to mind when envisioning the naked dress trend that's sweeping Instagram and TikTok feeds at the moment. The sheer look typically skews bold and provocative, with barely there shapewear or undergarments worn underneath.
However, when I spotted a stunning longline netted rhinestone dress at the ultra-luxe Fleur Du Mal boutique in Los Angeles, I knew the beaded masterpiece came with endless possibilities and deserved a red carpet moment. To make it a bit more formal, I opted for a simple black slip dress to wear underneath that kept me from showing too much skin. Also, considering the head-to-toe embellishment of the gown, it didn't need much in terms of accessories as it was a statement item on its own. I went with my go-to black strappy sandals, a vintage beaded clutch, and metallic winged earrings from Mignonne Gavigan. So, believe it or not, it only took a few minutes to pull my Oscars outfit together.
In entering the famous Dolby Theater for the big night, I felt quickly overshadowed by the jaw-dropping gowns gracing the carpet and even the general admission line I was ushered through. This is truly a night in which people embrace their most glamorous selves. But, my confidence in my subtly glitzy look quickly recovered as I was stopped by multiple people complimenting my choice: "Oh, wow, that's a great dress," "You look great in that," "I absolutely love that gown."
Now, to be clear, self-assurance and a sense of worth should always come from the inside and your personal opinion of yourself takes priority always. But on such a memorable night like this, it admittedly felt good — nay, great — to get a little validation.
It's safe to say I walked with a little strut in my step as the night progressed and I went from the Oscars ceremony into the lively Governor's Ball after-party. My glittery dress was a hit and made me feel like a star in my own right. And while it was not the fanciful ball gown I envisioned on the family couch as a little girl, it was the perfect embodiment of who I am as a 37-year-old woman: confident, poised, and ready for a good party. Such is the power of the naked dress.
Ahead, shop my outfit and get ready to make your own red carpet dream a reality this year.