All The Cool Kids Will Be Wearing Coach's Fall/Winter 2023 Collection
Coach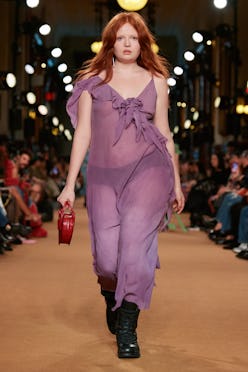 Coach's creative director Stuart Vevers has his finger firmly on the pulse of what every cool kid in America wants to wear right now. In fact, since taking the helm in 2013, the acclaimed British designer, whose resume boasts the likes of Louis Vuitton and Marc Jacobs, has taken the 82-year-old luxury fashion house in a more playful, Gen Z-focused direction. So much so, in fact, it seems for Coach's Fall/Winter 2023 collection, Vevers made a detailed list of what styles are hot among the hip New York crowd — and checked it off one by one. And while the trend-heavy runway show could have easily read like a walking TikTok feed, it managed to strike the perfect balance of timeless and modern.
"Fall was inspired by our belief that when you show up as you really are, you inspire others to do so, too," said Vevers in the official show notes. "The collection presents an authentic interpretation of the heritage and house codes that define Coach, redefined through the next generation's concept of individuality and expression. There's a straightforwardness that reflects where we're headed in the future. To bring this to life on the runway, I envisioned an intimate gathering at the Armory that would not only celebrate freedom of self-expression, but the spirit of getting together and having fun that, to me, is the heart of fashion and of New York City."
To capture that party vibe, Coach teased its show on Instagram with a video of glistening star confetti sprinkled into what appears to be a retro-looking sound system. The caption read: "What happens when downtown kids go uptown? First, they take over the aux... 🪩" Another teaser image simply read: "BYO Fun." Well, fun was most certainly brought. Inside the moody, dimly lit historical Upper East Side Park Avenue Armory halls, feel-good music was bumping as guest filed in, warmly greeted by hot toddies and chocolate cherry desserts.
Coach's runway shows have become known for their star-studded guest list over the years, specifically young up-and-coming Hollywood celebs. This season, Riverdale's Cami Mendes and Not Okay's Zoey Deutch were spotted front row, along with rappers Lil Nas X, who starred in a campaign for the brand last fall, and Ice Spice.
In true Coach fashion, the label kicked off the show with a medley of leather looks — the first being a timeless, ankle-grazing trench. The topper was worn almost like a dress, showing models' bare legs peeking from underneath. On the opposite end of the spectrum, two models, back to back, wore midriff-baring matching leather skirt suits, consisting of cropped button-down toppers and low-slung maxi skirts. And for the adventurous dressers, consider trying on the label's itty bitty leather shorts on for size.
There were plenty of buzzy styles for those hitting the downtown party circuit, too. For starters, Coach tapped into 2023's naked dressing trend by way of sheer maxis. However, the style was less sultry and leaned more on the sweeter side, thanks to cute ruffles and romantic 3D floral details. Also prominently exhibited throughout the collection was high-shine, made-you-look metallic, seen on fur-trimmed jackets, maxi skirts, and knee-high boots.
"A gathering that matches our American fashion language with a youthful, forward-looking energy. The refinement of floor-length leatherware, lovingly crafted from leather scraps," the show notes read. "The joyful ruggedness of fluffy shearling workwear, encrusted with crystals. The expressive charm of bags in shiny, colorful leather, in shapes to match your whims. A glimmer of sparkle."
Yes, one would be remiss not to mention the handbags, as they've been a signature for the brand, since its inception. During Coach's Spring/Summer 2023 show, its cult-favorite Tabby Bag, took centerstage, and subsequently became a TikTok sensation. However, the carryalls this season ran the gamut from mini crossbody bags to fit-everything-you-own totes. "Using the way Coach bags have been proven to last and be lovingly worn for generations as a reference, my vision is for craft and circularity to someday be synonymous at Coach," read the notes. "Each season, we continue to invent new methods for working with repurposed and recycled materials — layering onto our innovations from previous seasons to continue to build this vision and help these materials become staples throughout our business." One standout look in the collection? The neon-hued shoulder bags, which were embossed with the label's signature C logo.
Keep scrolling to see a handful of must-see looks from the show, all of which you'll spot on trendsetters all over the city come fall.