Loewe Gets Back To Basics For Fall/Winter 2023
Lived in clothes you'll want to, well, live in.
Pascal Le Segretain/Getty Images Entertainment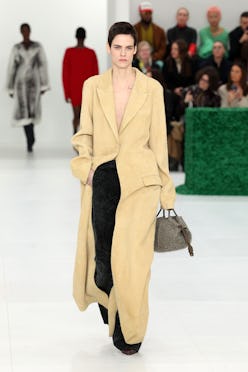 Jonathan Anderson, he of balloon shoes and anthurium mini dresses, can hardly be classified as minimalist. The designer is, however, a man of restraint. Since stepping in as Loewe's creative director 10 years ago, he's adapted his super conceptual style to the Spanish house by way of knowing exactly when to go all in on an edgy, dramatic idea — and where to hold creative flourishes back for effect. This sense of push and pull is no simple act to pull off, but Anderson makes it look easier and easier with each passing season.
For Fall/Winter 2023, the designer has struck a particularly masterful balance of understated and slightly off-kilter, even for him. A good portion of the collection is centered around neutral and seemingly basic staples (a black leather dress here, a grey knit skirt suit there) that upon closer look reveal subtle, purposefully rendered folds and draping. The effect is that of clothes one has loved and worn day in and out, naturally creased and pressed in exactly all the right places. This is good, smart, and highly sellable fashion: Designs inspired by quotidian activities, but reimagined in a fresh and romanticized light.
The brand's show notes describe the look as, "An idea of elementality: one piece, and that's it, reduced to the bluntest shape possible, A single detail or a gesture creates the silhouette: folded arms, a pin gathering volume, a bag chain holding a drape, folds caught mid-way, boots that collapse."
Pascal Le Segretain/Getty Images Entertainment
Still, the true charm of Anderson, and Loewe by proxy, lies in bold visual delights, big and small. For this show, that came by way of soft, blurred out digital prints — including florals and spectral clothing forms — cartoonishly boxy, rounded silhouettes, and feather-covered separates. Downy accents and trims have certainly been an ongoing theme throughout the last several weeks of shows, but these full plumage pieces felt a few fashionable steps removed from a full-sized pigeon costume. (A deliberate choice, no doubt, as Anderson's main line includes a viral clutch shaped like the little grey city bird.)
That said, this editor's prediction is that the accessories will be the sleeper hits when this collection hits the market. The bags include a giant and beautifully roomy leather carryall, begging for a very chic weekend away, as well as a sweet new style called the "Squeeze," featuring a squishy handle and donut chain detail (pictured above). Meanwhile Anderson turned his attention to the sort of shoes one wears so often that they stay by the front door, waiting for a quick dog walk or oat milk run: think shaggy felted Chelsea booties, slouchy pull-on-and-go boots, and more than a few (of course!) clogs. These enticingly cozy, lived-in styles held their ground against the line-up's tallest, most teetering heels — and why wouldn't they? With camera phones in our pockets and world of social media on which to share photos, the entire world has become a runway — and we want to walk on it comfortably.
Keep scrolling for a selection of looks from the collection.