Show Some Skin This Summer With Gen-Z's Favorite Top
It'll become a wardrobe staple.
@patbo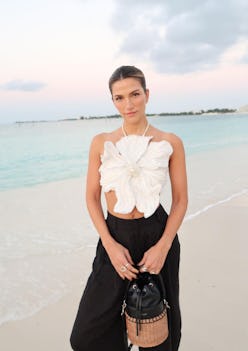 We may receive a portion of sales if you purchase a product through a link in this article.
Clever cutouts, microscopic miniskirts, and plunging necklines — cumulatively, the dominant trends of summer 2023 serve as a love letter to the body. Since spring 2022, this era of sultry fashion has become so much more than just putting flesh on display in the name of shock value. It heralds a more intuitive, thoughtful approach to celebrating the human form. Consider the onslaught of halter top outfits that have graced your Instagram feed over the past two years as temperatures rise and the app's beloved trendsetters revive their warm-weather styling skills. In a testament to the strategic art form of an elegant skin reveal, the industry's in-crowd are now utilizing halter-style blouses to show off their shoulders, collarbones, and backs for all to see.
"For the past couple of years, we have been wearing comfort clothing," says Sherri McMullen of the eponymous luxury retailer, referring to the all-encompassing loungewear craze of 2020 and beyond. "Now people are interested in showing more skin for summer." This year's collections from brands like Chanel, Alessandra Rich, Simkhai, and ANDREĀDAMO debuted individualistic halter tops that wrapped around each models' neck to create various sensual and playful silhouettes.
Alix Freireich, co-founder of indie label Maiden Name, echoes McMullen, saying halter tops possess an innate romantic quality that appeals to those keen on a sultry sartorial attitude. She postures the sleeveless blouse's sensual spirit is due to its signature wrap-around neck design, which naturally draws focus to the wearer's décolletage. "I definitely loved a dELiA*s halter top in middle school for this very reason," jests the designer.
Furthermore, McMullen says nostalgia also plays an instrumental role in the halter top's resurgence since the style was a signature of the '90s and '00s. Tyler McGillivary, founder of the eponymous, maximalist It label concurs with McMullen and says this cultural craving for familiarity makes sense given the turmoil of recent years. "People are reaching for the past right now — there's a comfort in looking back to something assured and familiar," offers the designer — and that includes the halter top styles from your youth.
Creative director and fashion stylist Manny Jay says Gen Z plays an active part in keeping halter tops active in this year's trend rotation. "This revolutionary generation is re-exploring halter tops by playing with vintage fabrics, slightly different silhouettes, and a variety of colors and patterns," says Jay. After the rise in minimalism and elevated basics, Jay says younger generations are now reaching for statement piece tops once again, halters being one of the more popular choices. Unlike other bodice options, Jay says this style molds itself to fit into countless different silhouettes, motifs, and aesthetics, — they've even been found on the menswear runway recently (see Saint Laurent's Spring/Summer 2024 menswear collection).
Ahead, discover eight halter top outfits to try out this summer. From tennis court-ready to soft and romantic, each ensemble below speaks to a different aesthetic and comes with a TZR-curated edit of pieces to shop.
For A Friday Night Out
"I have always had a soft spot for a going-out top, even if that means something different these days," says Maiden Name's Freireich, referring to a halter-style blouse as a fabulous hero piece in a nighttime ensemble. A sharply tailored blazer, form-fitting trouser, and slingback heels make for excellent accompaniments to a party-ready strappy, sleeveless top.
Dopamine-Boosting Retrofuturism
Because of the halter top's association with Y2K and 90s-inspired fashion, bold colors are often a highlight in the design. Fuchsia, sienna blue, neon green, and yellow achieve a dopamine-boosting, throwback feel when paired with the timeless outline of the halter top. For a full Lizzie McGuire moment, opt for a vibrantly colored halter, artistic chunky pants, Polly Pocket platform sandals, and of course oversized, eccentric jewelry.
Beach Day
Whether you need a beach outfit for an upcoming getaway or are merely fantasizing about a sandy escape, a sleeveless halter top is the perfect element to complete your oceanic fantasy. Furthermore, a blouse in a sprightly blue shade, one of summer 2023's leading color trends, will turn dreaming of the beach into a reality. And, if you're so inclined, perhaps dabble with fashion's ongoing interest in oversized jewelry via a sizeable pair of earrings? A body necklace also found its way into this beachy rotation.
Soft Romance
Halter tops effortlessly exude romantic energy whether they're bodycon or free-flowing. They're also very easy to dress up or down — a perfect staple for your date night wardrobe rotation or a fancier night on the town. As for styling an idyllic blouse, McMullen suggests exploring the piece's versatility, saying, "it could be styled with anything from jeans to a very elegant skirt." To add some spice to your final outfit, experiment with contrasting textures and shapes — these trending leather cuffs will add a soft utilitarian aura to an already airy look.
Elevated Whimsy
Call it an effect of the recent maximalist phenomenon, but whimsical, almost childlike outfits have become ever-popular amongst fashion's in-crowd. For spring and summer, the eccentric attitude manifests via playful prints, extreme vibrance, and, as the McMullen founder points out, playful appliqués. "I personally am drawn to a halter style with a bit of embellishment to pair with a spectacular skirt — like Carolina Herrera's Floral Appliqué Top," she describes.
At-Home Lounging
Yes, you have your more formal halter tops, the ones detailed with intricate adornments or fabricated out of saccharine silk taffeta. But the sleeveless number is just as ubiquitous in the casual loungewear space, too. The transformative Me + Em halter pairs well with muted and comfortable separates, like dark trousers and cozy slides.
A More Modest Mood
"If you are not as comfortable showing skin or if you are in a cooler climate, you can pair a layering piece underneath [a halter top], like a simple tee or a sheer bodysuit, or play with outerwear options like boleros, trench coats, blazers, or even shawls," offers McMullen. The combo requires a bit of thoughtful styling execution — e.g., playing with proportions, materials, and colors — but the effect is undeniably chic.
Sporty Tenniscore
A crisp white halter top makes for an ideal opportunity to play with a sporty tenniscore moment. Team a strappy, wrap-around blouse with a pleated white skirt, slip into a pair of stark white tennis sneakers, and channel your inner Naomi Osaka. You can, however, leave your racquet at home.