Prada Takes On The Capsule Wardrobe For Fall/Winter 2023
Basics get the Italian runway treatment.
Daniele Venturelli/WireImage/Getty Images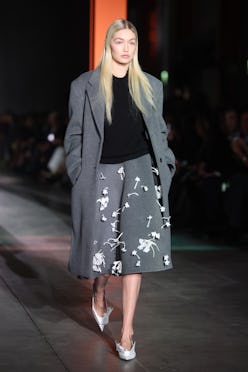 It's been three years since Raf Simons and Miuccia Prada joined forces to co-creative direct Prada, and (at least from the outside) the partnership seems to be going swimmingly. Together, the pair are brilliant at making high-concept clothing that's also quite easy to wear — and fashion girls and boys are certainly taking advantage. Lately, it feels like you can't log onto social media without seeing one of the brand's zippy slingback heels, sleek white tank tops, or crisply tailored car coats, all emblazoned with that unmistakable triangle logo (which got a buzzy revamp for the designers' first show together in September 2020). Now, for Fall/Winter 2023, the duo are introducing something equally covetable: easy, minimalist work- and daywear — and perhaps a few options for an off-the-clock party as well.
Streamlined sheath dresses, crisp shirting, and slim trousers were all major areas of focus of this runway, complete with plenty of relaxed knitwear, boxy jackets, and fisherman coats to layer on top. In a retail landscape where nearly every brand is selling some sort of "capsule wardrobe" one can interchange with the rest of their closet, this line-up stood out for its inherent versatility. Even the minis and full, bridal-like skirts, both of which can be tricky to wear, felt very doable when teamed with understated sweaters and outerwear.
"Uniforms are sartorial representations of care and responsibility, transformed utilizing the aesthetic language of eveningwear," it says in the show notes. "Wedding dresses, symbols of love, become everyday attire, their skirts proposed with sweaters as a new form of quotidian dress. This exchange, between the notion of the everyday and occasion wear, the familiar and the exceptional, gives a different importance to both."
Daniele Venturelli/WireImage/Getty Images
Simplicity aside, this was a collection put together by Raf Simons and Miuccia Prada, purveyors of arty and eclectic touches. And there were plenty of those, too, albeit skillfully integrated to set the basics apart from something you could just pick up from Uniqlo. Long and short white skirts were detailed with intricate floral appliqués — likely Simons' touch; a series of elegantly draped dresses boasted blurred out geometric prints — that has Prada's fingers all over it. Also hidden in plain sight? Mega models Gigi Hadid and Kendall Jenner, who blended right in with the other talent by way of their slicked-down hair and fake white-ish eyelashes.
Another benefit of the clean and uncomplicated clothes was that that they allowed for the footwear to stand out. Available in glossy white, black, and a few juicy candy colors, the shoes were adorned with sharp, origami-like flowers and tabs. But despite the party-ready decoration, the overall vibe of the designs was a familiar nod to the commuter pump in all its pointy-toed, sensible heeled glory. Factor in in the angular, hard-case handbags all over the catwalk, and you have the ultimate look for a 2023 power luncher. Because hey, if you have to go back to the office even a few days a week, why not do it in true style?
Keep scrolling for a selection of key looks from the show.