Fall/Winter 2023 Bag Trends Worth Adding To Your Collection
Go ahead, get carried away.
Victor VIRGILE/Gamma-Rapho/Getty Images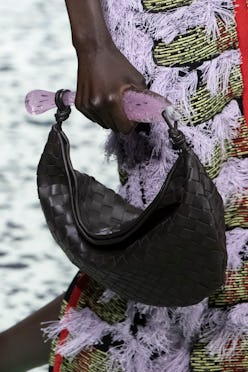 Curating a well-rounded handbag collection is essential and will make your life much easier. For one, you need a spacious, pocket-heavy tote for the office and quick trips out of town. And on the weekends, a medium-sized carryall is a non-negotiable. Of course, there's nothing wrong with dabbling in bags that err on the side of unpractical, too — you know, the night out-appropriate micro minis that can only store your wallet and keys, if that. Are you currently lacking one of the aforementioned styles? Not to worry: the Fall/Winter 2023 handbag trends have you covered. This season, the collections had a little bit of everything, from unique geometric shapes to fit-it-all duffles.
First off, some powerhouses reinvigorated the classic bucket bag by way of cutouts, like at Etro, and sharp pleats, as seen at Ulla Johnson. (Fun fact: Did you know Louis Vuitton was one of the first houses to create bucket silhouettes, back in 1932?) Other designers, including Lanvin, Tod's, and Victoria Beckham, tapped into timeless looks by experimenting with luxurious croc-effect textures.
And while micro mini bags aren't necessarily going anywhere, they may be taking a tiny step back from the spotlight, if the catwalks this season are any indication. Indeed, many designers are doing a complete 180 and offering XXL silhouettes that could arguably store a good portion of your wardrobe if needed.
Keep scrolling to find the 10 biggest handbag trends from the Fall/Winter 2023 runways across New York, London, Milan, and Paris.
Full Plait
FendiPietro D'Aprano/Getty Images Entertainment
Bottega Veneta Victor VIRGILE/Gamma-Rapho/Getty Images
Braided styles are popping up everywhere as of late, including the Fall/Winter 2023 runways. Bottega Veneta, Fendi, and Altuzarra all kept the look simple by opting for neutral colors and classic shapes, making for incredibly versatile options.
The Bigger, The Better
LoeweVictor VIRGILE/Gamma-Rapho/Getty Images
Jil SanderJustin Shin/Getty Images Entertainment
BalmainSAVIKO/Gamma-Rapho/Getty Images
The runways have declared 2023 the year of the oversized carryall. There was an onslaught of larger-than-life totes on the catwalks, including at shows like Loewe, Jil Sander, and Balmain. The best part about these roomy options is you'll never have to worry about not having enough space for your daily necessities ever again. Laptop? Check. Book? Check. Full 10-step makeup routine? Check, check, and check.
Croc On
LanvinVictor VIRGILE/Gamma-Rapho/Getty Images
Tod'sVictor VIRGILE/Gamma-Rapho/Getty Images
Victoria BeckhamVictor VIRGILE/Gamma-Rapho/Getty Images
Timeless yet of-the-moment, croc-effect bags are poised to be everywhere in autumn. At Lanvin and Victoria Beckham, the textured purses were splattered with rich green shades. Tod's, on the other hand, presented a versatile caramel brown version. Tip: Team the luxe material with another animal print piece for a fresh fall look.
Up The Fuzz
GivenchyEstrop/Getty Images Entertainment
Designers are tapping into their playful side, as illustrated by the furry bags at Givenchy, Burberry, and Sandy Liang. Whether you lean toward sleek neutrals or in-your-face bold shades, these cuddly picks are sure to make a statement.
Gather Round
ChanelVictor VIRGILE/Gamma-Rapho/Getty Images
GCDSVictor VIRGILE/Gamma-Rapho/Getty Images
CormioEstrop/Getty Images Entertainment
For nights out on the town that don't require a spacious tote, consider designers' newest take on mini bags: circular shapes. At GCDS, round styles were showered with sequins and resembled cartoon characters because, why not? Funky streetwear favorite Cormio fused sports and fashion by showcasing a soccer ball bag. Then there was Chanel, who went with a black and white bag inspired by the camellia flower, boasting the label's double C iconic logo.
Paint The Town Red
Courtesy Of Alexander McQueen
Miu MiuVictor VIRGILE/Gamma-Rapho/Getty Images
Louis Vuitton Victor VIRGILE/Gamma-Rapho/Getty Images
I'd be remiss to not include red in this trend report — it was the front-running color throughout fashion week, after all. If your handbag collection is lacking a little flash, consider adding a fire-engine red style from Alexander McQueen, Miu Miu, or Louis Vuitton.
Pyramid Scheme
MM6 Maison MargielaVictor VIRGILE/Gamma-Rapho/Getty Images
PradaVictor VIRGILE/Gamma-Rapho/Getty Images
ValentinoVictor VIRGILE/Gamma-Rapho/Getty Images
Another notable novelty shape? Triangular bags. The geometric look was spotted at MM6 Maison Margiela, Prada, and Valentino, all of whom took a bold approach to the silhouette by showcasing cheery colors and high-shine finishes.
Ahead Of The Pack
Max MaraVictor VIRGILE/Gamma-Rapho/Getty Images
Off-White Taylor Hill/Getty Images Entertainment
It looks like labels want you to take a spontaneous weekend jaunt — and, of course, bring their on-the-go bags along for the journey. Khaite and Off-White went with a roomy, square-shaped tote, while Max Mara signed off on duffle bag-looking styles.
The More, The Merrier
Emporio Armani Victor VIRGILE/Gamma-Rapho/Getty Images
ChloéVictor VIRGILE/Gamma-Rapho/Getty Images
Proenza SchoulerVictor VIRGILE/Gamma-Rapho/Getty Images
Always carrying multiple bags? You've been ahead of the curve, because it's now runway-approved — and highly encouraged — to hold more than one purse at once. Designers like Chloé, Emporio Armani, and Proenza Schouler went for two styles together, but who says you can't rock three? Try opting for a variety of sizes to balance out the look.
A Drop In The Bucket
EtroVictor VIRGILE/Gamma-Rapho/Getty Images
HermèsVictor VIRGILE/Gamma-Rapho/Getty Images
As mentioned, major houses reimagined the iconic silhouette through their own lens. At Etro and Ulla Johnson, bucket bags got a makeover by way of sunny hues and brand emblems; meanwhile, Hermès debuted an unexpected sculptural shape. In other words? If you're hoping to invest in a bag you'll carry season after season, look no further.