How To Wear Silver & Gold Jewelry Together Without Clashing
Courtesy of Justine Clenquet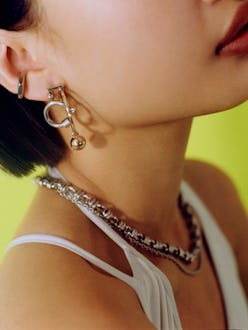 You've likely accumulated a treasure trove of metallic baubles like silver, gold, and rose gold — to name just a few — as you've jumped from one jewelry trend to the next. With the fast-paced nature of the trend cycle, the pieces that aren't en vogue, per se, are likely left to gather dust in your jewelry box. But that doesn't always have to be the case. Once you know how to wear silver and gold jewelry together, you'll be able to get an equal amount of wear out of all your pieces. And considering that pairing the two metallics together has long held an unjust reputation of being a fashion faux pas, mixing the two metals feels exciting and rebellious. Thus, for those who consider themselves style iconoclasts, the two-tone metallic look is a modern trend you'll definitely want to join in on.
At the first mention of the idea, you might think that sporting two-tone jewelry is simple — duh, all you need to do is wear the metallics simultaneously. However, when you start experimenting with your pieces, you'll quickly discover it's a little more complicated. Take, for example, if you wear too much of a single metal in an ensemble. An abundance of one, either silver or gold, can occasionally feel loud and unbalanced, enough so that it may even distract from your actual outfit.
In the hopes of helping you avoid any styling pitfalls, TZR compiled a selection of jewelry pieces that make it easy to embody the contrasting metallic look. Some of the ahead items feature a joint silver and gold design, which means all you have to do is throw on the piece, and you've already mastered the two-tone look. Other baubles, however, feature just one metal but are rife with metal-mixing potential. For instance, a minimalistic piece like Aurate's golden twisted ring would pair perfectly with a statement piece in silver — say, a pendant necklace or Bagatiba's sculptural cuff.
Find an assortment of silver and gold pieces, below, that'll help you master the mix-and-match metals look.
We only include products that have been independently selected by TZR's editorial team. However, we may receive a portion of sales if you purchase a product through a link in this article.
Mejuri is a fashion girl fave for a multitude of reasons. First, the jewelry brand offers high-quality pieces at affordable price points (the majority of its best-selling pieces range from $100 to $250). Second, Mejuri boasts an ever-expanding stock of timeless and minimalist staples like this two-tone link earring.
Far too often, anklets are left out of the jewelry discourse. Not only does this golden flat chain from Leliamae make a case for why ankle accessories deserve a spot in your jewelry box, but it also would be incredibly easy to style with silver pieces. Wear your anklet with a silver-gold necklace (like the few featured on this list) or with a silver statement bracelet.
If you're drawn to abstract, sculptural silhouettes in your jewelry, Bagatiba's Silver Orb Cuff is the bracelet for you. Since it's a relatively understated piece, mixing metals couldn't be easier.
Missoma has an ever-expanding crop of celebrity fans who continue to endorse its sleek offerings. Meghan Markle, for one, has worn the brand's understated pieces for years, and she continues to do so. This fused cuff bracelet is a manifestation of the silver and gold jewelry trend that, in Missoma's typical fashion, adopts a minimal look.
Stella McCartney's mismatched curb-link earrings make for an inventive and artful display of both silver and gold. Pair this with a necklace made of a similar-looking chain in either of the featured metals.
If you gravitate toward affordable and minimalist jewelry, Gorjana is likely already on your radar. And if it's not, allow this silver and gold necklace set to introduce you to the jewelry brand's understated and timeless aesthetic.
In contrast to a more minimal chain-link piece, this Bottega Veneta necklace makes a strong style statement. Style the dramatic piece with a pair of barely-there stud earrings to balance out the bold impact.
Sun & Selene's warrior goddess-inspired graphic hoops are dainty, intricate, and expressive. In addition, $80 is an accessible price tag for a piece of jewelry that's about to become your new, wear-everyday pair.
This translucent heart necklace from Meghan Markle-approved brand Mateo elevates the admittedly trite romantic motif to a refreshing, luxe level. The diamond-encrusted heart is set within crystal quartz and hangs delicately from a 14kt yellow gold chain.
Bring the dance floor vibes with you, wherever you go, in this Disco Choker from indie brand Serendipitous Project. The party piece taps into the trendy 1970s jewelry resurgence with its vintage mirror ball pendant and chunky choker design. Plus, the necklace already combines the two metal shades, meaning there's no additional styling needed on your part.
This fluid pair of studs from contemporary brand Uncommon Matters is a fun twist on traditional silver and gold jewelry — literally. These one-inch drop earrings are a simple yet effective metallic statement that would pair well with either a casual, loungewear-heavy day look or a dressed-up night ensemble.
Eden's Harvest is a New York City-based digital boutique that carries an assortment of handmade pieces. This flora-inspired necklace is a twist on the golden paper clip chain trend with its rings of freshwater pearls and dangling strand of quartz. The mixed mediums and varying hues present an easy opportunity to integrate silver into your look.
Every jewelry box needs a simple and easy-to-stack ring. This golden twisted style from Aurate, an affordable fine jewelry brand beloved by it-Girls, would work well with items in coordinating warm hues or even in shiny silver.
With their pavé diamond tips, these gold drop earrings from fine jewelry designer Lorraine West make it easy to integrate touches of silver into your look. Pair with a silver herringbone chain bracelet or chunky metallic rings to nail the iconic combo of metals.
Made of sterling silver and 18kt yellow gold discs with a hammered texture, this necklace from Ippolita is an effortless embodiment of how to wear silver and gold jewelry. Since the slim coins are evenly spaced throughout the chain, you never risk overloading on either of the two metals. Let the two-tone necklace shine on its own, or pair it with delicate stud earrings in either hue.
Crafted by French designer Justine Clenquet, this two-tone chain bracelet is a mix of metals that simultaneously plays with opposing hard and soft aesthetics. If you want to add even more clashing shimmer to your arms, pair your bracelet with a silver ring or metallic bangle.
If you fear clashing when you mix gold and silver together, this delicate diamond-adorned chain by Roberto Coin will assuage your worries. The necklace's hair-thin chain-links and teeny tiny diamonds make for an elegant combination of metals that will give your décolletage some subtle sparkle.
These wavy golden hoops from celebrity and influencer-approved jewelry brand Wolf Circus are made from 100 percent recycled gold. Not only are they eco-friendly, but they're also easy to style, too. Dress up your ears with a pair of smaller, silver huggie hoops for an adjacent clash.
David Yurman is a jewelry legend. This luxurious curb-link ring is made of sterling silver and presents the chance to create more high-end drama with your other gold pieces.