The Timeless (& Affordable) Jewelry Brands You'll Be Wearing For Years
Mejuri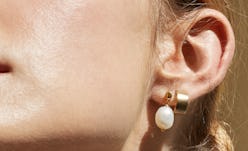 Like any other area of fashion, jewelry comes with its own set of trends for each season. However, as you continue to develop a carefully curated selection of baubles, you might find yourself more inclined to invest in classic, elegant options to wear for any occasion. After all, like those you may have inherited from your grandmother or mother, these could be the very pieces you end up passing down to your loved ones. That said, if you're hoping to add some new options into your jewelry box, there are plenty of affordable timeless jewelry brands to consider.
No matter what type of jewelry you're looking for, finding the right brands can be the toughest place to begin. So, to give you a head start, ahead are some chic, affordable brands that should be at the top of your list. With pieces ranging from dainty, everyday earrings to bracelets and vintage-inspired necklaces, you're sure to find something to add into your jewelry collection with these brands like Mejuri, Adornmonde, and more.
Parpala
Based in San Diego, Parpala aims to create delicate and minimal jewelry that can be worn on its own or built upon each other. Look to this brand for dainty coin necklaces or rings like the $32 Thread Ring. And with pieces like these, you'll feel as if you picked them up at a vintage bazaar while on vacation.
Mejuri
For those timeless pieces that won't require a second thought, head to Mejuri. With classic pieces that nod to current trends like pearls, you'll find styles that are modern while maintaining the ability to transcend time.
Ready-Made
Ready-Made's Elevated Essentials collection is filled with everything from rings and bracelets to necklaces and pendants, and will add just the right amount of glimmer to your ensembles. The best part about this collection is that you can easily mix and match your favorite pieces.
Adornmonde
Whether you're looking for elevated pendants, an updated version of the classic pearl necklace, or something else, Adornmonde is sure to have it. From sleek hoop earrings to crystal-embellished options, the brand's mix of gold and silver jewelry and affordable baubles deserves your attention.
Ettika
With a wide range to choose from, Ettika has pieces for every type of style. Opt for the $40 Keepsake Kyocera Opal & Gold Plated Necklace for everyday occasions, or wear one of the brand's rings stacked with your other go-to styles.
Maria Black
For pieces that feel both timeless and unique, look to Maria Black — a brand that carries styles that feel like works of art. With options like the Pond Earring, $120, that has nature-inspired details or a bracelet as simple as the $138 Sunrise Bangle, these will easily be the conversation starters of your outfits.