David Yurman Launched New Holiday Candles — & Yes, They're As Pretty As The Jewelry
Courtesy of David Yurman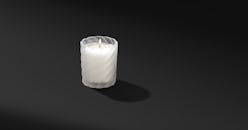 If a David Yurman bracelet is on your wishlist of things you want but will probably never receive, here's the next best thing: David Yurman's new holiday candles. Didn't know the brand made scented goods? Well, you do now — and they're almost as pretty as the jewelry itself.
And, thankfully, they're a lot more affordable. The newest additions to the brand's candle lineup, which are exclusive to David Yurman boutiques and DavidYurman.com, will run you $95 each. While sadly not as shiny as, say, the Cable Classic Bracelet with Pearls and Diamonds, each one does come in a vessel made with the brand's sculpted Cable motif in an homage to the iconic David Yurman design.
But obviously, being candles, the scent is important, too — and the brand clearly delivered on that front. While its initial offerings — which included combinations like berries and rose as well as gardenias and jasmine were decidedly more floral, David Yurman took a warmer approach with its holiday launches.
The first candle, named Cypress, is perfect for minimalists; it's a fresh mixture of yellow cypress and citron combined with hints of redwood bark, balsam, and Canadian cedar, and is festively housed in a frosted white jar that'll fit in with simple holiday decor in a stylish, subtle way.
Equally as stylish, but moodier in both color and scent, is the Amber candle. With notes of Italian bergamot, birch leaves, and, of course, dark amber (and undertones of vetiver and patchouli), it comes in a black glass vessel that will look just as good with your everyday decor as it will with some chic decorations.
Though it may be unexpected for a luxury jewelry brand like David Yurman to be offering scented home products, it's perhaps not that surprising, considering just how many stunning candles have hit the market as of late. Louis Vuitton is one of the most notable brands to launch its own collection of luxe candles that are almost too beautiful to burn (and they seem to be doing well, since the label just added a set of miniature candles and two new scents to the lineup). And other design-forward candle brands have recently popped up as well: Otherland, founded in 2017, has been making serious waves on Instagram as of late, and even minimalist dinnerware brand Year & Day just launched its own super-simple, aesthetically pleasing candles.
But while the market is getting crowded, David Yurman's new additions can clearly hold their own — so you better scoop them up fast to beat the rest of the candle-obsessed crowd.