Burberry's Fall/Winter 2023 Collection Marks The Dawn Of A New Era
Daniel Lee's debut for the heritage brand was a vibrant triumph.
Jeff Moore - PA Images/PA Images/Getty Images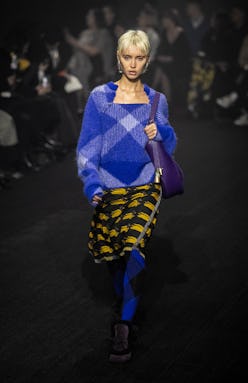 Like the words splashed across the graphic tees displayed at Burberry's Fall/Winter 2023 showcase, it's certainly a time of "change" and "growth" for the heritage brand. Marking Daniel Lee's debut as the newly appointed creative director, the highly anticipated collection, which drew the likes of Rosie Huntington-Whiteley, Anna Wintour, Bianca Jagger, and Naomi Campbell to the front row on Feb. 20, showcased the label in a colorful new light. A light that insiders say is bringing Burberry back to its British roots — with two English leaders at the helm for the first time in years — whilst celebrating the diversity of the country and its people.
"It's not just about the magic touch, if you like, but the understanding of what the brand DNA is," the also new CEO Jonathan Akeroyd told Business of Fashion in November 2022 in reference to Lee's vision. "When we say 'dialing up on Britishness,' it's a completely different dial up from what it was...This will just feel much more relevant."
Relevance, as it happens, is Lee's specialty, which he more than proved during his previous tenure at Bottega Veneta. In just three years, the designer brought the brand into its "New Bottega" season with iconic bags like the Pouch clutch, which became the fastest-selling bag in the history of the Italian label, and the viral Lido mules.
Perhaps it comes as no surprise that accessories took center stage at his first showcase for Burberry. Faux fur shoulder bags, oversized two-toned totes, and rose-shaped clutches were seen in vibrant jewel tones of emerald, amethyst, and citrine. In a more unexpected turn, models (which included nepo babies Iris Law and Lennon Gallagher) meandered the maze-like runway clutching tartan-clad hot water bottles, which were likely a nod to Burberry's early years at the turn of the 20th century as a leading technical outerwear brand. "Bags draw on the outdoor aesthetic that Burberry is known for, saddle bags and satchels in sturdy colours and fabrics carry an initial 'b' that also forms its fastening," read the official show notes. "Details are considered and functional."
NIKLAS HALLE'N/AFP/Getty Images
NIKLAS HALLE'N/AFP/Getty Images
Also, an acknowledgment of the brand's heritage was the presence and thoughtful reimagining of the iconic trench and outerwear. Burberry's hero piece truly received the Lee treatment, designed in an oversized silhouette with faux fur-trimmed lapels. The brand's car coat was set against whimsical rose prints and the signature Nova check, in lively palettes that span virtually every color of the rainbow — a far cry from the traditional red, black, white, and beige color way.
Gareth Cattermole/BFC/Getty Images Entertainment/Getty Images
Ki Price/WireImage/Getty Images
And while signature brand codes were certainly alive and well in Burberry's fall/winter collection, the lens in which they were presented felt like a true departure. Lee's designs celebrate a diverse, colorful, energetic, and dare we say rebellious vision of the British landscape and its inhabitants. This rang true in the carefree use of feathers in outerwear, print play, and high-low mixing of casual graphic streetwear with formal wear (which harkened back to vintage Vivienne Westwood) that all featured subtle nods to English culture. "A homegrown thread is reinforced by pleated tartan-inspired kilts over trousers, chunky Aran and argyle jumpers and British motifs, including the English rose," read the show notes.
It appears Lee's goal is to make Burberry a brand that touches all generations and backgrounds, creating a more playful and approachable space for self-expression. If this is the case, then his latest collection is a true triumph and joyful glimpse of good things to come.
Ahead, experience the new Burberry for yourself, as TZR rounds up key highlights from Lee's promising debut.