NYFW's Biggest Trends Usher In A New Era Of Wardrobe Staples
Start your wishlist here.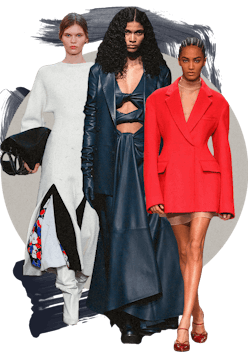 The beauty of New York Fashion Week is that you can, on some level, anticipate a few things, be it a slightly trippy (and super entertaining) event at Collina Strada or an It girl-filled crowd at Khaite. But the runways are always filled with delightful surprises. And this February, designers had plenty of tricks up their sleeves. For one, while pink has been the color du jour in recent collections, labels like Sandy Liang and Carolina Herrera traded in the feminine hue for fiery red. Moreover, jackets, which have skewed oversize for awhile now, got the cropped treatment by way of labels like Heron Preston, Prabal Gurung, and Simkhai. Another shocking shake-up? Buzzy up-and-comer Luar took the coveted closing spot this week with a line-up of power suiting and puffed up outerwear. Needless to say, the trends at NYFW Fall/Winter 2023 reflected the week's expansive and varied collections.
For autumn, designers are delivering of-the-moment styles for every facet of your life — beginning with the essentials. Sleek basics were a reoccurring theme: see Proenza Schouler, who exhibited elevated layering, and Tory Burch's updated office staples (with a few cocktail hour looks thrown in). On the other hand, Eckhaus Latta, Maisie Wilen, and LaQuan Smith presented going out looks by way of sultry sheer, skin-revealing cutouts, and itty bitty hemlines. And if you're not quite ready for the Y2K revival to slow down, you'll be pleased to hear low-rise silhouettes were out in full force, too, thanks to cult-favorite brands like Dion Lee and Coach.
Below, read up on the top 12 trends that dominated the runways.
Leather Weather
Gabriela HearstRodin Banica/WWD/Getty Images
AltuzarraGeorge Chinsee/WWD/Getty Images
Private PolicyArturo Holmes/Getty Images Entertainment
Sure, leather for fall isn't exactly groundbreaking — but, expect to see unexpected takes on the buttery fabric. A few of TZR's fave iterations? Gabriela Heart's strapless dress, the monochromatic looks at Altuzarra, and Private Policy's printed jacket.
Go Low
CoachGiovanni Giannoni/WWD/Getty Images
Whether you love or hate 'em, it may be time to face the fact that low-slung silhouettes are sticking around for a while. (Sorry, I don't make the rules!) Here's some good news, though: Most hip-baring styles this week were in the form of maxi skirts, like Coach's denim style, Sandy Liang's khaki iteration, and Dion Lee's leather number. In other words? Your time might be coming to an end, micro minis.
Heavy Metal
Heron PrestonGiovanni Giannoni/WWD/Getty Images
SukeinaDia Dipasupil/Getty Images Entertainment
Simkhai Giovanni Giannoni/WWD/Getty Images
A slew of labels leaned into exaggerated hardware, such as oversized buckles (Jonathan Simkhai) and oversized coat closures (Heron Preston). But perhaps most prevalent of all were exposed zippers, an updated late aughts look seen at Sukeina, ASHLYN, and Eckhaus Latta.
Goth Chic
RodarteSean Zanni/Patrick McMullan/Getty Images
AdeamVictor VIRGILE/Gamma-Rapho/Getty Images
In your Wednesday Addams era? So are your favorite labels, including Rodarte, Adeam, and Willy Chavarria, who all showcased gothic, moody styles. Don't forget to complete the look with smudgy eyeliner and a swipe of deep purple lipstick.
Shoulder Show
Carolina Herrera Theo Wargo/Getty Images Entertainment
AltuzarraGeorge Chinsee/WWD/Getty Images
Kim ShuiFernanda Calfat/Getty Images Entertainment/Getty Images
Off-the-shoulder styles? In 2023? Nope, you're not dreaming. Throw it back to the good ol' days (the 2010s, specifically), and introduce the décolleté displaying neckline for any occasion. At Carolina Herrera, the silhouette felt romantic and sweet; Altuzarra and Tory Burch offered more understated options. And if you're hitting the party circuit, let the slinky, stretchy pieces at Kim Shui be a source of inspiration.
Cut It Out
Puppets & PuppetsRodin Banica/WWD/Getty Images
LaQuan SmithGiovanni Giannoni/WWD/Getty Images
LuarHippolyte Petit/FilmMagic/Getty Images
Skin is most definitely in. This season, though, designers like Puppets & Puppets, LaQuan Smith, and Luar are rethinking how to bare it all, placing cutouts in unexpected places (hips, stomach, chest — you name it).
Trail Blazers
Brandon Maxwell Victor VIRGILE/Gamma-Rapho/Getty Images
Jason WuJP Yim/Getty Images Entertainment
A blazer is the epitome of timeless. So rather than reinvent the wheel, brands honed in on exquisite tailoring and strong shoulders to create the ultimate suit jacket. Who was most successful? TZR's vote goes to Brandon Maxwell, Proenza Schouler, and Jason Wu.
Warm & Fuzzy
Ulla JohnsonJP Yim/Getty Images Entertainment
Heron PrestonGiovanni Giannoni/WWD/Getty Images
Your morning commute is about to get a whole lot cozier, thanks to the onslaught of faux fur and shearling jackets spotted at shows like Ulla Johnson and Heron Preston. Moreover, if you're one to experiment with fashion, Khaite invites you to dabble in an ultra-fuzzy skinny strap top (yes, that's a thing now).
24/7 Celebration
Tia AdeolaArturo Holmes/Getty Images Entertainment
This season sashes feel more after party than pagent circuit. We're calling it now: The festive detail from Tia Adeola, Collina Strada, and Sandy Liang is poised to make a major splash at all manner of celebrations.
Free The Nipple
Eckhaus LattaRodin Banica/WWD/Getty Images
Christian CowanArturo Holmes/Getty Images Entertainment
ICYMI: Instagram now allows exposed nipples on the app, and designers are toasting the movement by way of naked dressing — emphasis on naked. Practically every new collection (see: Christian Cowan, Eckhaus Latta, and Tanner Fletcher for starters) included models swathed in sheer, sans bra.
Swish, Swish
Michael Kors JP Yim/Getty Images Entertainment
Car wash wipers got the high fashion treatment, thanks Proenza Schouler, Michael Kors, and Khaite — all of whom debuted skirts cut to long ribbons for maximum ease of movement. (And, if you think they looked fun walking down the runway, just wait until one hits the dance floor.)
Side Pieces
Kim ShuiFernanda Calfat/Getty Images Entertainment
Prabal GurungFernanda Calfat/Getty Images Entertainment/Getty Images
Asymmetric hems are one style that goes in and out of the trend cycle at lightning speed. But according to the catwalks, they're back for fall. Try the eye-grabbing look via a flirty skirt (seen at Kim Shui), of-the-moment mini dress (a favorite at Maisie Wilen), or metallic cocktail look (check out Prabal Gurung).