Chanel's Fall/Winter 2023 Collection Pays Homage To The House's Iconic Flower
The camellia just got a whole lot chicer.
Chanel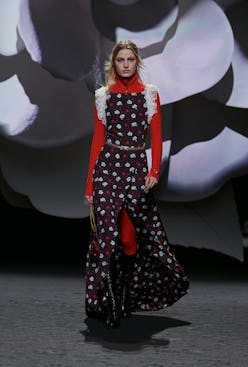 The inspiration behind Virginie Viard's Fall/Winter 2023 collection for Chanel didn't stem from a specific person, destination, or memory. No, it centered on an image with deep ties to the French maison: the camellia, Chanel's iconic house flower. "[It] is more than a theme, it's an eternal code of the House," says the brand's creative director in a statement. "I find it reassuring and familiar, I like its softness and its strength." The emblem has popped up in almost every Chanel collection since the 1920s and there are several stories about how Coco first fell in love with the flower.
Legend has it that Coco initially became obsessed with the blossom after reading Alexandre Dumas' "La Dame aux Camélias," a story where the protagonist wore a white camellia. Another proposed narrative is that Coco preferred camellias because they lack any scent, which means they would never interfere with her famous perfume: Chanel No. 5. The tales sound compelling, but what was even more wonderful was how Viard took this well-known motif and deftly reinterpreted it throughout her 66 looks for next season.
The Chanel bloom, made up of 25 petals, was printed onto enveloping coats, appeared as 3D embellishments on knitted shorts, and popped up as the de facto graphic pattern on dresses. These joyful floral touches all felt romantic and soft, never too saccharine. Additionally, anyone can proudly wear this Chanel emblem without feeling like they're buying into the hype of a logomania trend — such is the skillful touch of Viard.
And just when you thought Viard couldn't possibly do more with the camellias... she did. The flower decal was on the front and back of a pale-pink purse and the black sandals; meanwhile, models wore white hair clips in the shape of the bloom. Elsewhere in the collection, tiny dots gathered together to paint an outline of a camellia on black boots. Upon a closer look at the footwear, you'll see the design is coupled with Chanel's other iconic logo, the interlocking Cs, to create an eye-catching pattern. And, just in case you missed it: The motif was worked into "lacy" bike shorts — a throwback staple of Madonna's Material Girl era — which are likely to be a hit for next season.
In the show notes Viard states that she wanted her latest line-up to "be in motion" and have a delicateness to it. Her vision came through as models walked the runway in looks like a white lace blouse styled under a slinky dress, and a camellia-adorned sweater tucked into a pair of voluminous quilted pants that swished with every step. All you effortless cozy dressers out there, this show should be on your moodboard. Every look felt wearable, elegant, and undeniably cool.
Victor VIRGILE/Gamma-Rapho via Getty Images
As you make your wishlist of the pieces you'd like to purchase for next autumn, take a look at TZR's favorite outfits from Viard's new collection, below.