Louis Vuitton's Fall/Winter 2023 Show Just Confirmed This Major Accessory Trend
Bring on the skinny belts.
Vianney Le Caer/Invision/AP/Shutterstock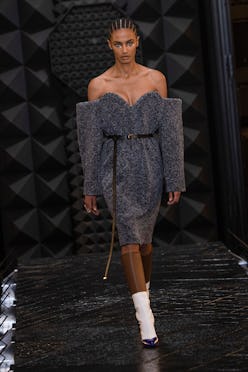 One can always expect a spectacle at a Louis Vuitton presentation. From the suggestive "monster flower" installation at the Spring/Summer 2023 show to the elaborate labyrinth within the Impressionist art collection at Paris' Musée d'Orsay for Fall/Winter 2022, setting the scene is clearly of utmost importance to creative director Nicolas Ghesquière. Louis Vuitton's Fall/Winter 2023 showcase was no different. This season, the designer teamed up with French artist Philippe Parreno (who was also responsible for the aforementioned floral-themed display) for an "immersive sensory experience" full of striking textures and shapes.
"The idea was creating a reflection of current state of modern Paris and France and kind of creating this live document of the street," reads a video narrative in the brand's Instagram teaser leading up to the show. "We talked about capturing these ghosts, this vibration of this moment in Paris." The show set (once again within the Musée d'Orsay) featured matte black geometric patterns that lined the runway, perfectly reflecting the details employed in the artsy clothes. Indeed, creating visual interest with structure was the goal of this collection, with unexpected contours, lines, and configurations employed on otherwise traditional fall staples.
Classic sheath midi dresses featured tubular sleeves, triangular and circular bib-like detailing, and exaggerated sweetheart cuts for a cool Judy Jetson effect (especially when paired with cool, wrap-around light-up shades). Hitting the same futuristic note were the A-line, fit-and-flare dresses with sharp, pyramid-like skirts.
Vianney Le Caer/Invision/AP/Shutterstock
Outerwear was reimagined with lapel-less blazers and oversized sherpa bombers featuring blocked leather sleeves, shoulders, and pockets (not to mention the occasional coordinating fuzzy Bermuda shorts, for an ultra-wintery take on the short suit). Cool moto jackets reflected the same geometric pattern used for the catwalk backdrop, keeping with the modern-art-meets-Parisian-street-style theme.
Vianney Le Caer/Invision/AP/Shutterstock
The use of accessories was noticeably emphasized. Long, thin waist belts (which are positioned to be the trend du jour this year) were used to create shape in voluminous pleated blazers, dresses, trench coats, and cozy knit sweaters. Meanwhile super-lengthy crocheted scarves topped vest suits and micro-mini sweater dresses.
Vianney Le Caer/Invision/AP/Shutterstock
And the party didn't end there. A fresh new boot entered the chat: a riding silhouette. Sure to be seen on every celebrity and influencer come fall, it featured an interesting color-blocked shaft and black toe, creating the illusion of stockings stuffed into a classic pump. Other notable styles included ruched leather ankle and knee-high silhouettes and multi-tone booties with corset lacing.
See more of the collection in all its artful glory for yourself below.