London Fashion Week's Biggest Trends Don't Skimp On The Drama
But some also quite wearable.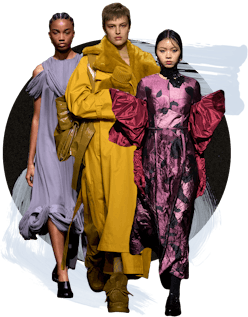 A palpable energy at London Fashion Week Fall/Winter 2023 began growing last Thursday when, ahead of the shows, A-list fans of the late Dame Vivianne Westwood gathered to pay tribute to her great talent. The guests (who included Marc Jacobs, Victoria Beckham, and Helena Bonham Carter) arrived decked out in the designer's punk-meets-proper-lady creations, setting an inspired tone for the days ahead. And oh, what days ahead it was set to be! After all, this season marked Daniel Lee's hotly anticipated debut as Burberry's new creative director, with his first show for the brand closing out the week on Feb. 20. And so, these two buzzy affairs set the standard for everything bookended in-between, and the new collections — as well as the trends that emerged from them — rose to the occasion.
One of the strongest themes to immediately materialize on the runway, was rising powerhouse women designers, starting with three must-sees. First there was Sinéad O'Dwyer, who examined classic silhouettes through inventive uses of ruching and fishnet details; then, Dimitra Petsa for her label Di Petsa, which built on its signature "wet" look with sheer paneling, silks, and crystal detailing. And Karoline Vitto, showing as part of the Fashion East talent incubator, offered a tour de force of metal work and sultry cut-outs. This trio proved to be the perfect lead-up to the seductive work of Dilara Findikoglu a few days later. The buzzy Turkish talent also outdid herself with an eerie line-up of subversively charged looks — think swathed, bondage-like lace and a knife-covered dress.
Simone Rocha Victor VIRGILE/Gamma-Rapho/Getty Images
Fashion East/Karoline VittoGiovanni Giannoni/WWD/Getty Images
Of course, there were also plenty of longtime favorites who did not disappoint. Master of modern surrealism, JW Anderson gave showgoers quite the small talk fodder with his, er, phallic invitation, and a subsequent collection inspired by the work of Scottish choreographer and dancer Michal Clark. Meanwhile Simone Rocha, referencing the Celtic harvest holiday Lughnasadh, took her romantic creations to a theatrical level with real hay. And, I'd be remiss to not to circle back once again to the Burberry of it all. Love or hate the youthful (and highly sellable) direction Daniel Lee took the brand with bold colorful plaids, graphic tops, and an updated version of its "Equestrian Knight Design," one can not deny the impact it is already having on trends.
See where these brands and other stand outs fit in the scope of the week here, where I've gathered nine key ideas to know from the LFW catwalks.
Best Be Bejeweled
Dilara FindikogluCameron Smith/BFC/Getty Images Entertainment
Di PetsaVictor VIRGILE/Gamma-Rapho/Getty Images
If you've been following along with TZR throughout the last few days, perhaps you already know the crystal embellishment was all over the runways. A noteworthy subset of sparkly trend? Pieces with built-in body jewelry, as seen delicately draped over the models at Di Petsa and Dilara Findikoglu. Perhaps the most commercially viable options, though, were at David Koma, who brilliantly worked chunky silver chains and brooches into going out dresses and blazers.
Plume Choices
Richard QuinnLuke Walker/BFC/Getty Images Entertainment
Dilara Findikoglu Cameron Smith/BFC/Getty Images Entertainment/Getty Images
16Arlington Giovanni Giannoni/WWD/Getty Images
Feathers have flown back into the zeitgeist, and there are so many interesting ways to wear them: Consider the avant-garde tufts at Richard Quinn, a marabou peplum inspired by 16Arlington, or a fully fledged dress à la Dilara Findikoglu.
Toga Party
JW AndersonVictor VIRGILE/Gamma-Rapho/Getty Images
ToveVictor VIRGILE/Gamma-Rapho/Getty Images
Roksanda Giovanni Giannoni/WWD/Getty Images
Channel your inner Grecian goddess with beautifully draped silhouettes that run the gamut from extremely elegant (ahem, Tove and Roksanda), to a bit artsy (JW Anderson... of course). Tip: To keep the look from feeling too on the nose, steer clear of gladiator sandals and go for a less expected shoe, like a mule.
Touchy Feely
Christopher KaneVictor VIRGILE/Gamma-Rapho/Getty Images
Nensi Dojaka Francisco Gomez de Villaboa/WWD/Getty Images
JW Anderson Victor VIRGILE/Gamma-Rapho/Getty Images
The London shows picked right up where the fur trend left off at NYFW with super plush to the touch pieces. Go glamorous with a crystal-covered chubby from Nensi Dojaka, or Christopher Kane's snuggly blonde jacket. Or, take your cue from JW Anderson, and trade in a simple black tube top for one made from stuffed animal-like fabric.
Flower Power
Susan FangJoe Maher/BFC/Getty Images Entertainment
Yuhan Wang Polly Thomas/BFC/Getty Images Entertainment
While rosettes where blooming everywhere this season (Yuhan Wang and Susan Fang are prime examples), the trend fully solidified at Burberry, where Lee made the traditional English roses a central motif for the house.
Neu Suits
Emilia WicksteadMatthew Horwood/BFC/Getty Images Entertainment
Eudon Choi Victor VIRGILE/Gamma-Rapho/Getty Images
SS Daley Victor VIRGILE/Gamma-Rapho/Getty Images
Behold, the most wearable option of anything I'm putting forth here: A swingy mid-length skirt paired with a matching blazer. However, the finished look can skew anywhere from poised and polished like Eudon Choi or Emilia Wickstead to cheeky and tomboyish — see SS Daley — so it's worth taking the time to see what speaks to you.
Here Comes The Sun
Richard QuinnLuke Walker/BFC/Getty Images Entertainment
Christopher KaneVictor VIRGILE/Gamma-Rapho/Getty Images
Let me begin by saying that there were likely just as many bold red looks at LFW as we saw in New York (read: a lot). However, should you want a second striking color to put on your radar, might I suggest turning your head toward the radiant shades of yellow at Burberry, Richard Quinn, and Christopher Kane.
Play Your Hand(s)
RoksandaGiovanni Giannoni/WWD/Getty Images
ErdemAitor Rosas Sune/WWD/Getty Images
Simone RochaVictor VIRGILE/Gamma-Rapho/Getty Images
Nothing ups the ante quite like a long glove — unless, naturally, it is paired with an equally memorable lewk, like the colorful blocked gowns at Roksanda, opulant shiny dresses at Erdem, and sheer confections of Simone Rocha.
Tulle Cool
Richard QuinnLuke Walker/BFC/Getty Images Entertainment
Admittedly, you can also count on Molly Goddard for some form of fluffy fabric — and she gave it to us yet again this week (this time sweetly paired with preppy knitwear). But when Richard Quinn and David Koma, both known for their body-con creations, got in on the balletic aesthetic, it shifted from one-off brand signature to bonafide trend.