2023 Belonged To The Celebrity Bob — But Which One Reigned Supreme?
Daniele Venturelli/Getty Images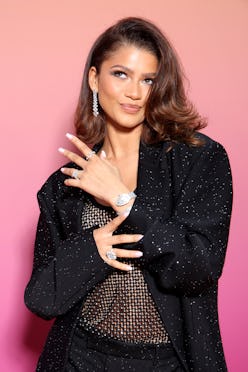 With just six weeks left in 2023 (I know, I know), it's time for some measured retrospection. It was a wild ride of a year in virtually every respect, including over in the beauty world. If you're an A-list star and you were looking to refresh your image, chances are you went for a shoulder-clearing cut this year. The best celebrity bobs of 2023 have very little in common outside of the universal attributes shared by all short haircuts, but they all instantly revitalized the wearer's aesthetics and livened up all of our news feeds in the process.
Some of the year's best overall chops were curly and some were especially close-cropped, while others pushed the limits of how long hair could be and while still considered a bob at all. There were shaggy versions and retro-inspired looks, and some faked us all out, revealing they were actually fobs — that's a faux bob, mind you. With so much haircut inspiration found on seemingly every red carpet, it's no wonder there was a trickle-down effect that rippled through the general public.
In honor of the year's top haircut, behold The Bobbies — 2023's very best bobs in all the vast, varied, celebrity-approved glory. And hey, six weeks is still plenty of time to get in on the action for yourself before the New Year rings in a fresh set of trends.
Selena Gomez's Shoulder-Length Bob
Technically, Gomez's long, shoulder-length cut comes in juuust under the wire — an inch longer and she'd be out of bob territory altogether. The perfectly straight center part is a sleek companion to her straightened style, reflecting the shine off her jewel-encrusted gown and chandelier earrings.
Jodie Turner-Smith's Flapper Bob
Turner-Smith showed up at a New York Fashion Week event with a retro-inspired cut so fantastic, it set the bar for everything celebrity beauty moment for the entire season. The key is in her short bangs and the overall length of the bob, with ends that skim her chiseled cheekbones.
Megan Fox's Red-Hot Bob
When Fox debuted a neon cherry-colored bob the same week as Halloween, plenty assumed it was all part of her costumes. But when the star was spotted jetting around the world on her book tour with the look still in tact, it was clear she was sporting the real deal.
Scarlett Johansson's Blut-Cut Bob
Like Gomez's cut, Johansson's borderline-length hair is barely a bob — you might call it a bobette, actually. The real draw here, though, are those blunt-cut ends that give her Cannes red carpet hairstyle a super clean, just-trimmed effect.
Zendaya's '90s Bob
Were this 1995 rather than 2023, you would probably refer to this long, tousled bob as "The Rachel." Now, you can just call it "The Zendaya." Note the way her long, bangs spill over one eye from a deep side-part and expertly fuse with the rest of her layers.
Taylor Swift's Fake Bob
Admit it — when the photos of her Eras Tour concert premiere surfaced online, Swift almost had you thinking her 1989 Era bob was back with a vengeance. In reality, the "Coney Island" singer employed an age-old trick, pinning her waist-length hair up under itself to simulate the look of a short-cropped cut.
Hailey Bieber's Flipped Bob
Can you believe Bieber's bob debut was this year? To be fair, it did happen at the top of 2023, but continues to resonate with fans well into winter. It's one of the shortest overall bob on this roundup, flipped out at the ends for some distinctly Y2K energy.
Viola Davis's Curly Bob
Full and fluffy with each individual ringlet so perfectly shaped, Davis' curly bob would be a short haircut Hall of Famer in any year, not just 2023. With only about an inch of space between the ends of her curls and her emerald-sequined gown, her head-to-toe red carpet look is incredible.
Kim Kardashian's Mushroom Bob
Sure, Kardashian's rounded, chin length cut is a divisive one. Fans deemed "mushroom bobs" the it-look of the moment, while others just saw a glammed-up Willy Wonka. One thing's for sure, though — she did cause a serious stir.
Lori Harvey's Side-Parted Bob
By now, Harvey is the undisputed queen of the deep side-part bob. There's not a hairstyle on earth — be it an updo or something more free-flowing — that's not made better by her classic, rounded cut and always-immaculate baby hair placement.
Zoe Saldana's Ombré Bob
Saldaña was kind enough to take fans on a behind-the-scenes look of the very moment she chopped her hair into a bob, but even that advanced preview wasn't enough preparation for how excellent the end result was. It also helps show off her stunning two-tone hair color, which transitions from a rich raven at her roots down to a shiny chocolate shade through the mid-lengths and ends.