Taylor Swift's Faux Bob Was Created For 1989, But It Also Feels So '20s Flapper
It never goes out of style.
Gotham/GC Images/Getty Images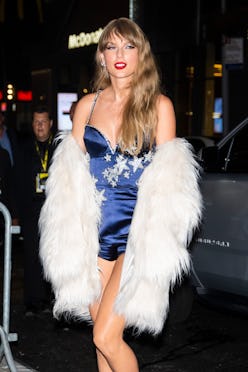 Add time travel to the long list of logic-defying feats Taylor Swift is capable of — it's right up there with selling a million records during release week. Fans knew that Swift surely had something special planned for the big Los Angeles premiere of her The Eras Tour concert film, but no one expected the superstar to show up looking straight out of 2014. Swift's faux curly bob was the perfect choice for the red carpet, an homage to her iconic short haircut that helped aesthetically define the original 1989 era. As she gears up for the release of 1989 (Taylor's Version) in just a few weeks, she's been all-in on the nostalgia promo, going with the same tucked-under hair trick for the new album cover, attending her premiere in a sky-blue gown, and making sure to squeeze in plenty of time with her squad. Really, all that's missing is her return to Tumblr — sadly, Swifties are still waiting for that day to come.
When Swift first stepped out onto the red carpet, Twitter was instantly alight with speculation that she'd actually chopped her long, waist-length curls into a shoulder-clearing bob the way she did back in 2014. At the time, it was a pretty major move for the aesthetically conservative star, and she later shared that it was a significant moment steeped in more than a little symbolism. Her 2023 version of the look features the same ultra-short length, but with much more texture than the original.
The faux-bob move is a decades-old trick, a way to enjoy the fun of a major chop without any of the actual commitment. Swift herself has tried it out a few times, but usually just for a shoot or music video. In real life, she seems dedicated to maintaining the waist-length hair she's been growing out since 2016's short-lived "Bleachella" incident.
Eamonn McCormack/WireImage/Getty Images
John Shearer/Getty Images
To cap off all the retro fun, Swift added some matching sky-blue eyeshadow to her usual cat-eye winged liner — naturally, her signature red lipstick made an appearance, too. When your premiere is so stacked with A-list friends — including Beyoncé! — what choice is there but to go all-in?
But there was something...else about last night's festivities that feels worth mentioning.
Recall just last week when this very reporter speculated that Swift's color-changing nail polish was a tiny easter egg indicating 1989 (Taylor's Version) would be a double album, featuring either an extra set of song with famous collaborators or she'd drop Reputation (Taylor's Version). In her Instagram post showing off her look, the caption is speckled with Rep song titles — "Look What You Made Me Do" and "Getaway Car" to be specific.
It's too soon to say if vindication is on the horizon, but it's looking pretty likely. In the meantime, there's a three-hour concert movie to see.