Eva Longoria Got A Jump On 'New Year, New Me' With A Transformative Haircut
@evalongoria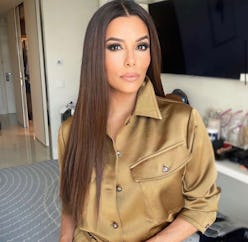 Word to the wise: if you've been ruminating on a major aesthetic shake-up, there's no need to hold out until January. There's no escaping the "new year, new me!" hullabaloo, but it is possible to get a jump on everyone else by debuting a fresh look right now. That's actually exactly what happened with Eva Longoria's bob haircut, a super-short chop that instantly adds so much extra elegance to her already-chic sense of style. The classic, shoulder-clearing cut has been a celebrity favorite all throughout 2023, but her new look will surely extend its glamorous reign well into next year too. And in classic Longoria fashion, she's doing it all with a winking nod that sets her hair apart.
Dressed in a houndstooth jacket, black sequins, and a festive dash of blood-red lipstick, Longoria looked like the consummate holiday party host when she debuted the haircut at the Academy Of Motion Pictures Arts & Sciences's annual women's luncheon. Attended by only the most celebrated A-listers, it's a see-and-be-seen scene perfect her big unveiling. Featuring a sleek center part, her shiny brunette hair falls just an inch or so above her shoulder, softly curling under for a timelessly rounded shape and lots of bouncy movement.
In up-close photos taken by Ken Paves, the celebrity stylist behind the exciting look, the cut's details are much clearer. Most prominent, though, is that fact that this is technically asymmetrical, with significantly shorter pieces in the front and longer strands though the sides and back. This gives Longoria's hair shag-adjacent elements. You might even call it a shob — a shag-bob — and it's especially interesting considering most asymmetrical cuts are done the other way around, with shorter pieces in the back.
Those sorts of front-angled bobs are synonymous with just one thing these days: an entitled request to speak to the manager. By now, you likely know all about the inherent misogyny baked right into a so-called "Karen cut" but asymmetrical bobs — both versions of it — still deserve full-fledged image rehab. With stars like Longoria demonstrating how incredibly glamorous they are, it shouldn't take much longer.
Of course, Paves and Longoria, throughout their long and fruitful professional partnership, have been known to play around with convincing-looking wigs and add-in pieces all the time, too. If next week you see Longoria with her long, flowing hair back in action, don't be too surprised.