Zendaya's '90s-Inspired Haircut Is Officially The Gold Standard Of Lobs
Dominique Charriau/WireImage/Getty Images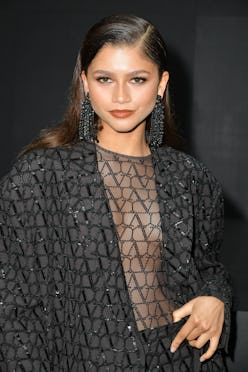 In case you've been mercifully spared from the social media discourse, a quick primer: Gen Z's feelings on bob haircuts are...divisive, to say the least. Too short and sculpted, and teens of the web might deem the cut cloyingly sweet, though they often use a much coarser term to describe the look. Then there are the versions that are so full, elegant, and shapely that they simply transcend. Those aren't even bobs — they're Roberts, and Zendaya's long, flipped bob is as good an example as any. Debuted oh-so-casually on her Instagram Story along with a quick little caption, Zendaya's new hair looks like a longer, more layered take on shoulder-skimming cut she's had for much of the year. Couple that with her rich, earthy shade of brunette and you have instant fall beauty inspiration, just in time for the start of the season.
In that original Instagram photo shared by the star, a few things stand out most prominently. First is the retro-style flip that keeps the ends of her hair perched right at shoulder-level, looking a bit longer than how she usually wears it. There's also the major layering that adds so much volume and movement, and the long, side-parted bangs hanging coquettishly in her face in the mirror selfie.
Really, it looks just like the iconic "Rachel" haircut, made famous by Jennifer Aniston in the '90s. Zendaya tagged celebrity hair artist Sarah Shears in her post, dolling out credit where it's due.
While the cut itself is more than attention-grabbing, the rich, new color is worth studying, too. Typically, Zendaya's hair is a lighter, breezier shade of brunette, often punched up with warm cinnamon or even a true copper. Upon scanning some official Pantone color palettes, this appears to be a true chocolate brown, grounded by plenty of dark, neutral tones.
It's extremely generous of Zendaya to treat her adoring public to both a stunning selfie and a dream cut-color combination for fall — but that's just the kind of woman she is. Call it aesthetic philanthropy.