Hailey Bieber's Dramatic New Haircut Completely Changes Up Her Look
Did anyone see this coming?
@haileybieber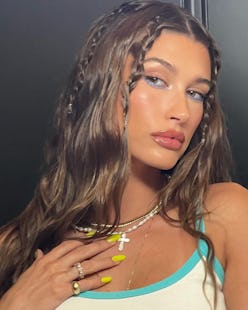 In true it-girl fashion, it was critical that Hailey Bieber wait until everyone else got their New Year New Me transformations out of the way before she unveiled hers. Starting 2023 with long, gold-tinged brunette hair that's become her signature — and the most requested hair color of the moment, according to the pros — Bieber is officially starting a new era with the debut of her shortest look in years. Hailey Bieber's bob haircut is already sending fans into a frenzy, and helping prove that, indeed, 2023 is the year of short, chic haircuts. Sharing the major new chop with her millions of followers, Bieber simply captioned her TikTok with "oops" and some knife emoji. As her camera pans up, you can fully appreciate the drama of the light brown blunt bob. The last time Bieber's hair was this short, it was 2019 and she still went by her maiden name, Hailey Baldwin. In fact, many TikTok commenters made jokes along those lines, heralding the star's return to form.
The new haircut seems to be already jogging Bieber's creativity. In the hours that followed the announcement, she showed off the look a few more times on Instagram Stories and took to the streets of New York in a swingy skirt and coat that, combined with the fresh bob, she described in a caption as Margot Tenenbaum-esque.
For months, there've been rumblings in the beauty world that 2023 would be the year of short, natural everything — short nails, short hair, and soft makeup that helps glorify the wearers exisiting features. As usual, though, it appears that Bieber is well ahead of the curve. But while she's majorly on-trend, she's also getting back to her roots. Before her 2019 wedding to Justin Bieber, she had short, choppy bobs in every shade of blonde and pink for years, both on the runway and off.
Oftentimes, a major celebrity makeover precedes some sort of other big announcement. Bieber's bob is pretty eye-grabbing on its own, but who knows what else she might have under her YSL sleeves?