Selena Gomez Just Out-Bob'd All Of Hollywood With Her Short New Haircut
@marissa.marino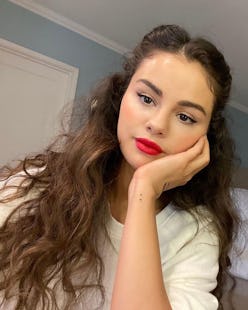 It sure sounds like Selena Gomez knows how to throw a party. At last night's Rare Impact Fund Benefit, a special charity auction event held to raise money for mental health and self-acceptance resources, Gomez made sure her high-profile guests enjoyed a whirlwind evening of drinks, dinner, and dancing as they bid on all sorts of cool items and experiences donated by her celebrity friends. In true hostess-with-the-mostest fashion, she arrived at her gala with a sleek, sophisticated new look that feels like the aesthetic version of hitting the refresh button on your computer browser.
Gomez's bob haircut is as neat and tidy as they come, trimmed to the exact length of her shoulders and parted down the middle for even more polish. Sleek, shimmering softness seemed to be the operative vibe with Gomez's entire benefit look, which featured an all-over silver and platinum color palette — jewelry, nails, and gown included — that practically made the star glow on the red carpet. Though Gomez has gone for the full bob a few times over the course of her long career, something about this chop and its timing feels especially revitalizing — something of a revival, you might say?
Celebrity hairstylist Marissa Marino is the creative behind her dramatic new haircut, a change that feels even starker when compared to the long, flowing waves Gomez wore to a Coldplay concert just a few days ago. In reality, though, the just-cut bob isn't too far from her natural hair length — it was only a few inches past her shoulders at her 30th birthday party last summer, making it unlikely that it all grew so much in just over a year.
But it's that willingness to go from one extreme length to the other that makes Gomez such a beauty icon in the first place. She's always up for trying something new, be it a as-yet-untried makeup look in Paris, a dramatic hairstyle, or the sparkly, spangly silver manicure Tom Bachik gave her for the Rare Impact Fund gala.
A brilliant example of beauty inside and out, her event just proves the importance of doing good over looking good — though she's clearly nailed both.