Jodie Turner-Smith's 'Great Gatsby' Bob Is Perfectly Retro, But Her Makeup Is In The Future
@jodiesmith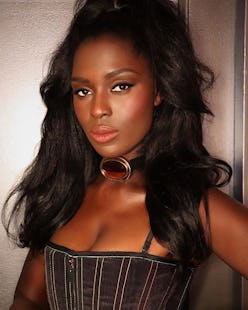 In case you hadn't already noticed (and frankly, it'd have to be willful ignorance at this point), bobs are having a moment. Of course, the haircut is a timeless one — but the short, chic look is capturing the heart of every stylish starlet on both sides of the pond. The best versions of the cut, though, don't all follow the same lockstep length and style. Jodie Turner-Smith's retro bob is much closer to something a sultry flapper would love than the sort of straightforward versions preferred by some of her fellow A-listers, and that's exactly what makes it so exciting. Debuted just last night in New York for a glittering party honoring J.Crew's 40th anniversary, Turner-Smith's jaw-length look just set the bar for all celebrity New York Fashion Week beauty moments — and she set it high.
The Murder Mystery 2 star gave fans a behind-the-scenes glimpse at her vintage-inspired hair-makeup combination over on her Instagram Story ahead of the event. Enlisting celebrated hairstylist Ursula Stephen to construct and style the super-short bob, Turner-Smith filmed quick video clips to show off the look's shine, structure, and micro-bangs arcing across her forehead. Thanks to the tapered ends that curl just under her cheekbones, the bob nails that retro, Great Gatsby feel. Meanwhile, makeup artist Pircilla Pae made the actor's eyebrows totally vanish, adding so much more drama to the bold look.
Naturally, coquettish come-hither eyelashes and a bright red lip helped cap off the vintage glamour — not to mention Turner-Smith's curve-hugging sequined gown. But let her entire look serve as the perfect example of how to take a white-hot trend and make it totally your own as well as an ideal guide to not looking costume-y. By going for invisible brows, a vinyl-shiny lipstick finish, and leaving her statement septum ring in, Turner-Smith is simply referencing the period rather than attempting a full-on Daisy Buchanan cosplay.
While the throwback-ish micro-bob might be the most exciting look of the year for some, it's one of many thrillingly experimental looks from Turner-Smith — she's a bona fide beauty icon at this point. But even after several years of slam-dunk haircuts, hair colors, and makeup styles, this bob just proves her creativity is legitimately endless.