Megan Fox Flipped Every French-Girl Beauty Trope On Its Head With This New Haircut
@dimitrishair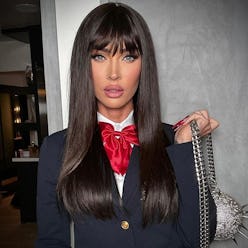 For someone like Megan Fox, the festive fun of Halloween feels more like a year-long affair. Her penchant for ultra-playful beauty looks — that includes her hair, makeup, and manicures, mind you — coupled with her working partnerships with some of the most creative pros in the industry means that she never has to save her best ideas exclusively for spooky season. Just look at Fox's bob with bangs, which flew under the radar amid all the holiday excitement. She first revealed the bright, neon cherry hair color and shoulder-clearing cut back in early September, but the new addition of those short, tousled bangs manages to freshen the whole thing up even further. Based on some just-released paparazzi pictures, it looks like the length, fringe, and head-turning shade of red are all here to stay — at least for a while.
When celebrity hairstylist Dimitris Giannetos first gave fans a look at Fox's cut-color combination in September, it marked her most major physical transformation in years — and possibly ever. Sure, she dabbled in platinum blonde and fall-friendly auburns, but those looks were largely short-lived and only involved a color change. This new makeover adjusted virtually everything about Fox's hair, a total 180 from her usual long, silky-straight raven strands with a center part.
The perfect length for wearing them fanned out for a classic fringe look or swept to the side for some 2005-era energy, her bangs are notably still short enough to show off her arched brows. The alluring shade of red — revealed to be a combination of Lime Crime hair dye in Valentine blended with a custom blend of other similar hues mixed up by Giannetos — makes a major visual impact, of course, but the bangs change everything. Just examine how different Fox's long bob looks without them:
The bangs add an undeniably coquettish flair to her look, only underscored by the dainty bow Giannetos affixed above one ear. Fox is open about her love for anime — one of her Halloween costumes this year was even a Death Note character — but this cool, cartoon-y color and image-redefining bangs look straight out of one of her beloved series.