Brown Nail Polish Is The Fall-Friendly Shortcut To Looking So Damn Expensive
Best manicure color ever?
@lilyjcollins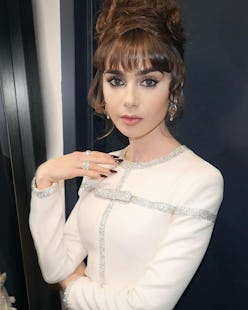 If that unmistakeable sensation of feeling polished and put-together could be bottled, it'd be an all-time best-seller. There's something to be said for the effortlessly undone look, sure, but with all this fanfare around quiet luxury and old-money elegance, sharp dressing and minimalist beauty choices are on everyone's minds. In a way, you actually can nearly bottle that feeling, too — nail polish goes a very long way toward feeling extra-groomed, especially when you choose the season's most sophisticated color. Look at all the celebrity-approved brown nail ideas populating all sorts of red carpets, fashion show front-rows, and zillion-follower Instagram accounts. It seems like every style-savvy star is getting in on the trend, but the beauty here is that there are so many different shades and styles to choose from and endlessly combine.
Brown nail polish is so understated that it'll confer that same classic appeal even if it's done up in elaborate designs or combined with other colors. Choose a soft, barely there shade for a cozy chinchilla finish like Hailey Bieber, coat nails in a chocolately glaze like Rihanna, or follow Lana Condor's lead and use a soft brown to make something super trendy like her aura manicure.
Ahead, get acquainted with the best celebrity brown nail looks and use them as a springboard to find your own style.
Rihanna
Behold, proof that Rih was actually an originator of the chrome nail trend. Back in the day, though, you'd probably just call it metallic. In this case, the futuristic shimmer stands out against the cool-toned shade of chocolate, painted over long, almond tips.
Suki Waterhouse
So soft and cool that it's nearly a gray, Waterhouse showed off her brown nails while wedged next to buddy Cara Delevingne at the Fendi Spring/Summer 2024 show. Even without tips or extensions, the milky shade looks phenomenal on her natural, short nails.
Jennifer Lopez
FYI, brown nail polish looks amazing on feet, too. Just in time for the holidays, Lopez unveiled this ultra-glossy pedicure, featuring tons of glistening Swarovski crystals concentrated just at her big toes for a luxe pop of shimmer that feels so her.
Lily James
Perhaps the most overtly chocolate-like shade on this list, James' brown nails were a brilliant choice with her bronze-and-silver metallic gown and just-dyed copper hair. She kept the color palette going with mocha-toned eye makeup, a precursor to the viral coffee beauty trend.
Kerry Washington
And speaking of coffee — Washington's manicures have always been well ahead of the curve, but she really outdid herself with this caramel-brown latte color at the Oscars. To perfect the warm, shimmery shade, Kim Truong combined CND gel polish in Sweet Cider with a glittery topcoat.
Kendall Jenner
You know nail art is truly minimalist when the low-key Jenner wants to give it a try. Her tortoiseshell French tips so delicately show off that unmistakable pattern, letting the shades of brown, orange, and black combine for a pop of color that still feels so fall.
Lily Collins
Can anyone else practically smell espresso beans? You might hear Collins' dark brown manicure also referred to as a walnut shade — its depth and all-over darkness is nearly a true black. As a result, it reflects shine incredibly well and looks so sleek.
Hailey Bieber
The subtlest shade of brown here, Bieber's take is so soft and translucent that her nail color is almost a true nude. To get her look, try layering one very light gel polish over itself again and again until you've built up your desired shade.
Lana Condor
Unexpected color combos are always a win, especially when they're designed with one of the most in-demand techniques of the year. Condor's aura nails first start with a soft periwinkle center, then blossom into cozy brown edges.
Vanessa Hudgens
Several celebrities have tried the glazed chocolate donut look over the past year, but few do it with the flair of Hudgens. She stayed true to her beloved extra-long almond nails, but gave her coco-brown nail polish a very hearty dusting of chrome power for blinding shine.