The Best Face Mists To Keep On Deck All Summer Long
Cavan Images/Cavan/Getty Images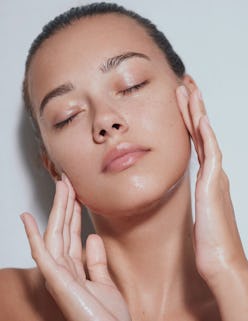 We may receive a portion of sales if you purchase a product through a link in this article.
Join TZR editors for Main Squeeze, the series dedicated to sharing beloved beauty products — be they bold, effective, or simply fun — that make our week just a little bit better. Ahead, Team TZR spotlights their favorite face mists of the moment.
In just a blink of an eye, June is already upon us. Yes, the spring days of May are gone and it's now time to usher in the warm, hazy days of summer. And while the season hasn't officially started, the weather has determined otherwise. The city streets are already bustling with floaty dresses, sandals, sunglasses, hats, and other signs of summer. But in the midst of planning seasonal travel and coordinating outfits, you'll want to also be fully stocked with beauty staples to keep your skin hydrated. Even on the muggiest of days, the best face mists can revitalize and refresh your skin to quickly take it from dull and lifeless to energized and dewy.
The beauty of these products lies in simplicity. Though originally developed to deliver a spritz of hydration, face mists have evolved to nourish and enrich the skin, soothe irritation, and even create a radiant glow. Whether housed in aesthetically pleasing bottles that add a pretty touch to your dresser and desk or in travel-friendly packaging, there's no denying the benefits a face mist can offer, especially during the summer.
After all, who doesn't enjoy the cooling feeling of water droplets hitting the skin on a hot day with the added bonus of enhancing ingredients and invigorating scents? Ahead, TZR editors share their go-to bottles for the most refreshing experience.
"Confession: I'm not a huge face mist fan because many leave my face feeling too wet. However, Chantecaille's pure rosewater is my exception. It's an ultra-fine mist that leaves my skin feeling refreshed, not soaked, and the natural floral scent is extremely uplifting. Since roses are packed with antioxidants, I also sometimes use this mist as a toner in the morning." — Erin Lukas, Deputy Beauty Editor, TZR
"This is my favorite hydrating mist and I always make sure I have it on me when I'm traveling. I like to give myself a quick spritz right before the plane lands, as the mist makes me feel more awake after a long flight. The rose scent is subtle and not overpowering, and the product generally sits well with my skin (i.e. it doesn't break me out or cause skin irritations)." — Marina Liao, senior fashion news editor, TZR
"I carry one of these mists when traveling for a dewy look that's natural and doesn't make me look like I woke up at 4 a.m. to make a 6 a.m. flight. It's formulated with vitamins to hydrate and replenish my tired skin, but I also love that the lemon and orange extract scent is so refreshing. It's the perfect pick-me-up after a long flight or train ride." — Jessica Fields, beauty writer
"This face mist is more like a serum in mist form. It's made with kakadu plum to brighten, hyaluronic acid to plump, and aloe to soothe. Plus, the coconut scent is incredibly calming. I use this throughout the day as a mental pick-me-up, and as a bonus, my skin look fresh and dewy, too."— Faith Xue, executive beauty director, lifestyle, BDG
"This face mist feels so luxurious every time I use it. Besides the right balance of rose scent (I don't like anything heavily scented), the actual spray mechanics in the bottle effuses the perfect ratio of mist over the face, which I must say I'm particular about. There's nothing worse than scrunching up your face unsure as to where the water will dart onto your face, or even worse, into your eyes." — Kathy Lee, editor-in-chief, TZR
"There are so many different uses for Tatcha's signature skin mist that I keep a travel-sized bottle on my person any time I leave my apartment. It gives my clean skin a hydrated, grippy surface for product application, helps foundations and powders all seamlessly blend together in a natural-looking finish, and it's the best mid-day makeup refresher. For those with dry skin like mine, it also helps keep makeup from settling into and further emphasizing fine lines." — Amanda Ross, beauty editor, TZR
"Featuring electrolytes, glacial water, hyaluronic acid, and niacinamide, this mist is formulated to prep the skin for the brand's cult-loved microcurrent device. But the hydrating mix of ingredients feels so nice and nourishing on my skin, I like to keep the bottle handy for mid-day refresh or anytime my face feels parched. It's perfect for super hot and dry summer days!" — Angela Melero, executive editor, TZR
"This classic face mist refreshes my skin as it gets dull and dry throughout the day, enhancing my glow. The scent is super light and energizing, acting as the perfect afternoon pick-me-up." — Maggie Haddad, senior social media strategist, TZR
"I love a face mist in the summer, especially Glow Recipe's Watermelon Glow Ultra-Fine Mist. Not only does it smell like a delicious piece of candy, but the formula gives my skin a nice dewy (read: not sweaty) finish. I like to spritz it on after applying makeup, as it helps my foundation look smoother." — Kelsey Stewart, associate fashion editor, TZR
"While some floral face mists can be a tad too heavy for literally spraying in my face, the gentle jasmine scene to this all natural formula is so intoxicating and refreshing — like inhaling the night air in a tropical garden." — Alison Syrett, deputy fashion editor, TZR
"Though a bit pricier than the average face mist, this option from Sunday Riley delivers every time I use it. Infused with peptides, it instantly refreshes while making my skin appear tighter and plumper. I often use it underneath makeup to make the application super smooth and enhance the overall finish of the look." — Jessica Fields, beauty writer, TZR