These Summer Travel Beauty Products Are Carry-On Friendly
@drunkelephant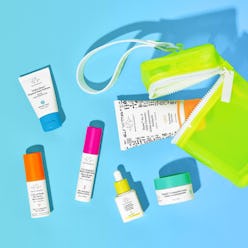 We may receive a portion of sales if you purchase a product through a link in this article.
With a job that allows me the privilege of frequent travel, I can say with some confidence that I'm a fairly seasoned flier. I truly have every aspect down to a science, especially packing. In fact, at this point, I'm proud to say I've mastered the art of the carry-on-only method. From Tetris-like organizing and space-saving folding techniques to my airtight head-to-toe beauty strategy of TSA-friendly products, I have this process down to a science. As I plan my next getaway to Bali, — my first real vacation in years! — the latter in particular is the least of my worries. In fact, I often keep my go-to jet-setting beauty products stocked, packed, and ready to go at a moment's notice.
Now, to be clear, just because I'm planning on a smaller scale (3.4 oz is the TSA-approved limit for containers of liquids, gels and aerosols), it doesn't mean I deny myself the comforts of home. At 37, I've developed a consistent and specific beauty routine that I like to stick to no matter where I am in the world, and this includes the formulas and brands I use daily. Because of this, my approach here is to prioritize two things: luxe on-the-go sets and multitasking products.
Many of the high-end brands I love and use on the regular offer complete travel-sized beauty sets that cater to every step of my skin and hair care routines, without taking up too much space in my carry-on. In the same token, two-in-one products are invaluable, especially when it comes to makeup, to keep things light. Think items like cheek and lip tints, tinted sunscreen as foundation, and eyeshadow palettes that deliver a number of looks (and can double as makeshift eyeliner or contour in a pinch!).
Ahead, I break down the products I'll have in tow as I hit the road — er, skies — this summer. All the products below are TSA-friendly and poised to make your life and travels as stress-free as possible.
Skin Care
This is the area in which I refuse to cut any corners. My skin health and upkeep is super important to me, especially during summer vacations when things like dry airplane cabins and extra-aggressive UV rays are key factors. First and foremost, I do not play when it comes to SPF, so I always pack multiple options for my face, body, and even lips. With my complexion in particular, I'm a big believer in doubling up and reapplying regularly, so I'll layer up with tinted and spray formulas throughout the day to keep my mug protected.
As for my regular skin care routine — which always consists of cleanser, serum, eye cream, moisturizer, face oil, and SPF, obviously, during the day — I opt for travel-versions from my go-to brands. I've been a big fan of Drunk Elephant's "Littles" kit, which includes all of the above and a night serum to boot. And Nécessaire also offers its complete Body Ritual in compact versions to keep my body hydrated from head to toe while I'm out and about.
Makeup
In my 20s, I tended to pack just about every item in my makeup arsenal, refusing to travel without high-coverage foundation, concealer, setting powder, and everything else I deemed essential for a fully glam face. These days, I'm much more laid back, and prefer to keep my makeup simple, especially when I'm on an easy breezy tropical vacation. So, I keep my product lineup pretty simplified while traveling, opting for multitasking items like the aforementioned SPF foundation and cheek-and-lip tint combos for a naturally radiant face while out of office. For the occasional nice dinner or night out, I'll keep a versatile eyeshadow palette handy to kick things up a notch when needed.
Hair
In recent years, I've fully embraced my natural wavy hair texture, so I stick to the essentials that promote effortless air-dried curls. Hydrating oils and texture-promoting creams and sprays are prioritized in my suitcase.
The only hot tool I'll typically allow in my carry-on is my blow-dry brush in case I want to switch things up and give my look a little va-va-voom. And if I want a sleek pony or bun, a strong-hold hairspray comes in handy to keep things intact. Of course, I never leave for vacation without dry shampoo — because, well, dry shampoo.