How To Sweat-Proof Your Makeup For Glowy (Not Slimy) Skin
@ceciliagorgon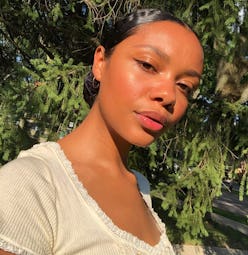 We may receive a portion of sales if you purchase a product through a link in this article.
It's tempting to go barefaced in summer as makeup plus heat is never an easy equation. But the warmer months are actually a perfect time to play with certain products, such as sheer cream blush and sun-beaming highlighters – and of course, to experiment with pop shades on lids. However, before creating any seasonally appropriate looks, it's vital to sweat-proof your makeup so your hard work doesn't melt off.
Whether you're attempting the popular "sunburned" cheek or lived-in eye, you need not fear the effects of a warm day on your summer makeup. A few simple strategic moves will ensure your blush won't streak and your eyeshadow won't smudge.
And when it comes to your base, the heat will add a naturally dewy look, but you can still benefit from a great all-over mist. "Using a light setting spray will keep makeup in place but will also blend everything together like a beautiful watercolor painting," says Nikki DeRoest, global artist for Bobbi Brown Cosmetics. "Just never forget your SPF!"
Along with DeRoest, TZR spoke to Gucci Westman and Violette to find out their pro tips on how to transition your makeup routine into the warm weather with ease.
How To Keep Foundation From Melting Off
Wearing foundation is nothing short of intimidating in the warmer months (just the thought of base makeup in direct sunlight is enough to want to take a shower). But approaching it with a bit of nonchalance — aka your fingertips — makes it not only feel lighter but also look lived in and less "done." Violette, Guerlain creative director of makeup and founder of Violette_FR, says that unlike hairstyling, makeup doesn't have to be super precise or technical, but should be applied rather instinctually. "You can spread foundation over the whole face, like a veil that evens out the complexion, or apply it in little touches like I do, under the eyes or on darker areas," she says, adding that she never applies foundation all over as it never looks natural. "Instead, I apply [it] with my hands by tapping a bit into targeted zones starting at the center of the face." Serrat explains that the warmth from your fingers will fuse foundation to skin, which will blend it while keeping it in place. She likes Guerlain's Terracotta Le Teint for reducing heat-induced shine.
Similarly, DeRoest says she likes to apply one or two pumps onto the face with fingertips (as if it were moisturizer), blending it into all the nooks and crannies as well as the neck (she skips blending too close to the brows to prevent any pigment from collecting in the hairs). If you want to use a brush, she says to go for it. "I like to do final blurring and blending with a clean foundation brush to keep it looking super-natural for summer," she says. When using this application technique, she chooses a formula with fuller coverage, such as Bobbi Brown's Skin Long Wear Weightless Foundation.
Gucci Westman, co-founder and creative director of Westman Atelier, known for creating year-round flawless skin, says she always starts by enhancing skin tone with her brand's Face Trace in Truffle (a buildable concealer) topped with her Vital Skin Foundation Stick. But to set it in place, she finishes with the brand's Vital Skincare Pressed Powder. "It will still look like you have a beautiful complexion that is not too 'makeup-y' and won't slide around in the heat," she says.
How To Prep Skin For The Heat
Do you even need that extra layer in the summer? All three makeup artists say yes. Since ruddiness is a year-round problem, DeRoest says she likes to prime skin specifically if redness needs to be toned down. Her picks for calming skin include Dr. Jart's Cicapair Tiger Grass Color Correcting Treatment and It Cosmetics Bye Bye Redness. But for those who simply aren't primer-people and just like to prep with moisturizer, she warns that heavy face creams should be pulled back in the summer prior to makeup application because they can get too dewy in heat.
Alternatively, you can also use a hydrating serum that won't weight skin down, which is exactly why Westman recently added a skin care product to her makeup line. "I always prep my skin with our Skin Activator because it's super potent gel-serum hybrid with hyaluronic acid, ECGC, and so many other skin-loving ingredients to help skin look and feel juicy and hydrated — so it's the perfect season-less base for any makeup application," she says. Additionally, it helps makeup sink in, creating gorgeous summer dewiness.
Violette also doesn't use traditional makeup primers, but agrees that skin prep is important. Like Westman, she created a product with the benefits of a calming moisturizer. Boum Boum Milk is an ultra-fine cream spray that acts as a toner, serum, and moisturizer to hydrate skin for a balanced canvas (mineral rich glacier water is a key ingredient).
How To Set Your Contour In Place
Contour fanatics don't need press "stop" when the weather warms up. And though it might seem counterproductive to add an extra layer in the warmer months, DeRoest says that setting powder is an important step when it comes to keeping your contour from shifting. "Start with a cream contour and set [it] with a powder contour [on top] — it's my all-time winning combination," she says. "I love Makeup by Mario's Sculpting Sticks and Bobbi Brown's Powder Bronzers with the large dome shaped bronzing brush from Ilia to set the cream."
Westman relies on a creamy contour stick, which she says is so easy to apply. "I use it by sweeping under cheekbones and depending on the look, I build from subtle to dramatic." She adds that you can also dab it on your eyelids for depth, and the sides of the nose to define. Blending it well will keep product migration at bay.
But for those who aren't well-versed in the art of contour, Violette says she strategically places bronzer on the natural shadows of the face — which she calls her version of creating definition. "After applying foundation, I apply light strokes of [powder bronzer] starting at the highs of my cheekbones, forehead, and ending at my nose which gives the face dimension with additional warmth that you can intensify." Since the warmer shades are settling into naturally darker zones, they're likely to wear well throughout the day.
How To Apply Highlighter So It Won't Shift
DeRoest says to apply highlighter on the tops of the cheekbones, always. "I don't find that area gets too disrupted by the heat, so you won't need as much highlighter all over as you would in the winter months," she says. She recommends a liquid formula over a cream so that it sinks in with ease. "Rare Beauty's liquid highlighter is amazing and can be set with the powder bronzer over the top or in other areas of the face if needed," she adds.
Similarly, Westman likes just a touch of highlighter in summer. She loves using a cream highlighter stick on the cupid's bow, cheek bones, and tear ducts for a "clean and refreshing look."
How To Apply Eye Makeup That Thrives In Humidity
All of the experts say that when it comes to summer eye makeup, you can go in a few directions. Violette, known for her boldly-lined lids, suggests tamping it down in the heat with pencils that stay put. She adds a tiny bit of an eye pencil, such as Guerlain's Intense Color Eye Pencil, to the outside lid and stretches it with her nail to lift, which also pulls the eye up. "Another trick I love is dabbing a brush in water before dipping in eyeshadow so you're able to glide it onto lids as if it were eyeliner," she says.
If you're committed to eyeshadow, Westman says to apply a pressed powder to your lids first to help set and extend the life of your eye look on a humid day. For summer nights out, DeRoest says she loves the "lived-in-creasy-shiny-eye-look." She suggests starting with a powder if you are worried that your makeup will move around, then using a long-wear gel eyeliner that can blend into shadow at the base of the eye. But she says the ultimate makeup hack is actually the weather. "Just let the day play out and the heat take its course!"
How To Make Your Blush Last
Similar to contouring in the summer months, Westman says that layering a cream with a powder over it is the move when it comes to cheeks.
DeRoest suggests applying the product with a sponge. "I always dampen a blending sponge with water to bring life and lightness to makeup," the makeup artist says, adding that she also uses a mist to keep things looking dewy and natural. She cites Tata Harper's Floral Essence as one of her favorites.
But if a powder or setting spray isn't for you in the heat, Violette says it's OK to skip both. "If you are generally oilier (or sweaty) you can do just a cream, but make sure it's a formula that still blends well over creamy foundations or concealers," she says. She loves Valentino's Eye2Cheek along with her own Bisou blush which looks super natural on its own.