This New K-Beauty Serum Is Like a Multivitamin For My Face
Courtesy of Sarah Y. Wu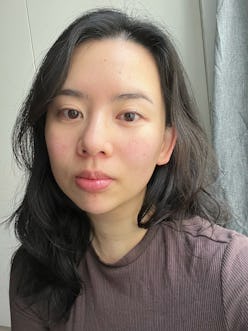 We may receive a portion of sales if you purchase a product through a link in this article.
In our series Trial Run, TZR editors and writers put the buzziest new beauty products to the test and share their honest reviews. This week, beauty writer Sarah Y. Wu is testing Superegg's Vitamin Collective Vitality Elixir.
Ever since dermatologists first told me that vitamin C serums are the gold standard for making your skin look all-around amazing, I've developed an obsession that can't be contained. From fruit-derived formulas to ones that smell like extra-ripe hot dog water, I've managed to amass a collection that honestly looks like I airlifted it out of Sephora. But when I heard about Superegg's Vitamin Collective Vitality Elixir, a new multivitamin serum, I realized I didn't own anything else like it.
Erica Choi, Superegg founder and esthetician, told me that her goal in developing Superegg's Vitamin Collective Vitality Elixir was to make a "one and done" serum that gathered multiple vitamins in a collaborative effort to hydrate, brighten, shield, and address common signs of aging (like fine lines). It also had to be suitable for all skin types, including sensitive skin that can't always tolerate higher concentrations of vitamin C.
During our Zoom call, she walked me through the formula as I watched sunbeams bounce off her face. If that was the kind of glow I would walk around with after testing this serum, I was fully on board. Ahead, my honest thoughts on the brand's buzzy new launch after rigorously testing it for a few weeks.
Fast Facts
Price: $65
Size: 30 ml/1 fl oz
Clean/Cruelty-Free: Yes
Best For: Those who want to treat dullness and signs of aging
Ingredient Highlights: Vitamins B3 (niacinamide), B5 (panthenol), C, E, F, and K3, astaxanthin, algae blend (sea moss and Haematococcus pluvialis), hyaluronic acid, tremella mushroom, chicory root
What We Like: Instantly brightens and hydrates, makes skin feel plump and smooth, absorbs quickly, gentle on sensitive skin, fragrance-free
What We Don't Like: While this is suitable for all skin types, dermatologists say some people with acneic skin can break out from vitamin E
Rating: 5/5
How TZR Keeps Score: 1/5: Making a return; 2/5: Keeping as a backup; 3/5: Finishing to the last drop; 4/5: Recommending to my group texts; 5/5: Already on auto-replenish
The Formula
Is it weird to say a serum is stunning? I'll say it anyway: The way Vitamin Collective's yolk-like oil microcapsules swim through its translucent base is mesmerizing. To create this fragrance-free formula, Superegg's team incorporated multiple clinically-proven vitamins: B3 (niacinamide), B5 (panthenol), C, E, F, and K. To these, they added an antioxidant-rich algae blend, hydrating hyaluronic acid and tremella mushroom, and barrier-strengthening chicory root.
You probably already know half the vitamins on Vitamin Collective's ingredient list. Vitamin C: the brightening, collagen-boosting star of skin care. Vitamin B3, or niacinamide, is known for balancing, calming, and brightening. Vitamin B5 (panthenol) is a popular hydrator, while vitamin E moisturizes and helps vitamin C fight UV damage. As for the lesser-known vitamins F and K, the former isn't a 'real vitamin'; it's a fatty acid that helps strengthen your skin barrier and calm inflammation. Vitamin K3, or menadione, is usually used in eye creams for its brightening benefits. Choi says it can also help boost elasticity, acting on fine lines and wrinkles.
"Combining multiple vitamins provides synergistic effects in the skin, giving better benefits than using a single vitamin alone," says Dr. Joshua Zeichner, M.D., a board-certified dermatologist in New York. "Moreover, combining vitamin E with vitamin C is known to enhance the stability of vitamin C."
According to Dr. Zeichner, this grouping of vitamins is ideal if you want one product that can help calm, soothe, brighten, and protect your skin. The only trade-off of formulating with multiple vitamins is the resulting strength. "Oftentimes, using more ingredients means that the concentration of an individual ingredient gets diluted out," he says. "The question is whether you want a multitasking product versus one that does a more narrow job."
Dr. Zeichner also approved Vitamin Collective's ingredient list to be used across multiple skin types. His one caveat was to exercise caution if you're prone to acne. "I'm always cautious in recommending vitamin E in people with acne as it may lead to breakouts," he says. Superegg has clinically tested this serum to be hypoallergenic and safe on sensitive skin and recommends it for all skin types, but if you have acneic skin and typically avoid vitamin E products, it's worth conducting a patch test first.
My Typical Skin Care Routine
My daily skin care routine has been described by friends as "over the top" and "excessive" on multiple occasions, but it works for me so I see no need to scale down. Also, those same friends then proceed to ask me for recommendations.
My general philosophy is to pair ingredients I know my skin likes (vitamin C, peptides, and niacinamide) with a large arsenal of at-home devices. After pressing snooze on my alarm, I'll lie groggily half-awake beneath the collagen-boosting lights of my favorite LED masks. To help smooth the lines under my eyes, I swear by the collagen-boosting powers of the Dr. Dennis Gross DRx SpectraLite EyeCare Max Pro. Besides filler, nothing makes a bigger difference on my neck wrinkles than the CurrentBody LED Neck and Dec Perfector. Next comes my daily microcurrent massage with the NuFACE Mini+, which imparts a just-got-a-facial sculpted lift. I then move on to essence, serum, moisturizer, eye cream, SPF, and face oil. Before I apply sunscreen and face oil, I'll go in with the Medicube Age-R Booster H, a device that makes every skin care product I own even better by boosting ingredient absorption. If you're thinking that I can't possibly have time to do my makeup and hair after this production, you would be correct. My makeup usually takes no more than five minutes, and best of luck to my hair.
My Experience & Results
From the first application, I instantly loved how light and refreshing Vitamin Collective felt on my face. It gave me that plump, bouncy-skin effect I look for in any serum and the fast-absorbing finish made it comfortable to wear. I also noticed that it helped fade the dark spots from my cheek and chin breakouts as effectively as my favorite vitamin C serums. It also felt noticeably more hydrating.
Choi says that if you really love your vitamin C serums, you can try cocktailing them with Vitamin Collective. Make sure you patch-test first if you have sensitive skin, since high percentages of vitamin C can cause irritation. I stuck to using Vitamin Collective without additional vitamin C. My skin looked perfectly happy and despite what my daily routine may suggest, I do know when to stop.
As for the otherworldly glow I witnessed firsthand during my Zoom with Choi? I'm happy to report my skin reached the same levels of luminescence, to the point that I couldn't stop staring at myself on team calls. Sorry.
Is Superegg's Serum Worth It?
Many of the single-ingredient vitamin C serums I previously used probably have a higher concentration of the ingredient than a multivitamin serum would. However, I found that the combination of the additional ingredients in Vitamin Collective delivered just as much of a visibly brightening and smoothing effect — with added benefits I wouldn't get from vitamin C alone. As a "one and done" product, it really hits the mark of making my skin look and feel better without overloading it and causing irritation. I'm galaxies away from a one-step skin care routine, but I do appreciate a product that multitasks. Is it worth it? Well, less than a month after I started using Vitamin Collective, I've already restocked. I just can't deal with the emotional fallout of running out.