Lean Into Summer With These 12 New Intriguing Fragrances
Find your next signature scent.
@fvalentineny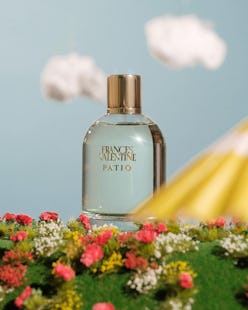 We may receive a portion of sales if you purchase a product through a link in this article.
There's an art to finding your signature scent. For starters, it needs to evoke feelings and memories, while also working with your body chemistry. Next, it should be seasonal and timely with the changing months and weather. Sure, there are some fragrances that deserve year-round wear, but summer's arrival brings a sense of freedom and lightness worthy of a new find. Spritzed all over or dabbed onto pulse points, a good fragrance can revitalize your mood and invigorate a sense of confidence as you move throughout the day. This is why finding a scent that is uniquely you is so important —and given that summer 2023's fragrances are a mélange of versatile options, it's much easier than you may think.
The secret is to lean into the moments, activities, and memories that best embody the season. Summer embraces the outdoors fully, and its fragrances tend to do the same – regardless of its fresh floral scents, woody undertones, or bright citrus notes. This time of year is also the season of adventure, so aside from classic juices, there is also a range of mysterious and alluring scents to be discovered.
Whether you're looking for a great date night perfume or a relaxing scent that is reminiscent of lingering sun-filled days, this season's options have you covered.
Below, the best summer fragrances to enjoy every exciting moment.
Best Summer 2023 Fragrance For Those Who Love The Color Green
Best Summer 2023 Fragrance For Hopeless Romantics
Best Summer 2023 Fragrance For Beach Lovers
Best Summer 2023 Fragrance For Family Affairs
Best Summer 2023 Fragrance For Girls' Trips
Best Summer 2023 Fragrance For Date Nights
Best Summer 2023 Fragrance For Nature Lovers
Best Summer 2023 Fragrance For Foodies
Best Summer 2023 Fragrance For Museum Dates
Best Summer 2023 Fragrance For Those Who Love Classic Florals
Best Summer 2023 Fragrance For Evening Weddings
Best Summer 2023 Fragrance For Picnics & Brunches
Best Summer 2023 Fragrance For Social Butterflies
Best Summer 2023 Fragrance For Minimalists
This article was originally published on