The Glow-Boosting Product Ava Lee Never Travels Without
For #jelloskin in any time zone.
Phoebe Cheong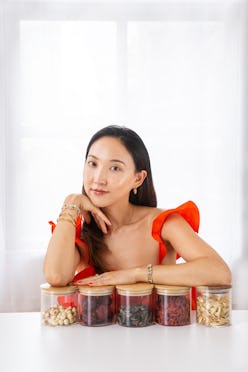 We may receive a portion of sales if you purchase a product through a link in this article.
When someone's selfie makes you scroll back, you want to know the beauty products responsible for the double take. Inquiring minds get answers with TZR's The High/Low series, where we ask our favorite tastemakers to reveal both the splurge-worthy and wildly affordable staples in their routines.
If you've ever seen a photo of blindingly glowy, plump skin on Instagram with #JELLOSKIN in the caption, you can thank Ava Lee for that. Also known as @glowithava on TikTok, Youtube, and IG, the skin care content creator popularized the term, which is exactly what it sounds like — bouncy, glistening skin that mimics the texture of the childhood-favorite dessert.
While the end goal of one's skin care routine is to achieve the look of gelatin-like skin, maintaining a healthy complexion goes beyond the topical products you slather on your face. Through her content and her byAVA line of antioxidant-rich tea elixirs inspired by growing up in Korea and China as well as her family's traditional recipes, Lee promotes a holistic approach to skin care.
"I emphasize what goes in the body as much as what you put on your skin to glow from within," Lee tells TZR. "Because of this, my skin care routine isn't as extensive as you think. I keep it minimal for my sensitive skin while I take longer to enjoy my tea ritual and prepare my collagen-rich foods."
The tie between healthy skin and lifestyle is why she gets the most beauty inspiration while visiting Seoul. "Every time I come here (at least once a year), I get inspired by the beauty trends," Lee says. "But I'm not always inspired by the newest trending product — I'm more often inspired by different lifestyle habits here or even how to appreciate ancient wisdom rooted in the culture."
With that, there are a handful of tried-and-true favorite products that Lee will always restock. Ahead, she shares her favorite splurges and affordable buys.
Ava's Favorites Over $25
Ava's Favorites Under $25