Uoma Beauty's Hydrating Powder Is My New Staple For An Airbrushed Look
A seriously flawless finish.
Courtesy of Jessica Fields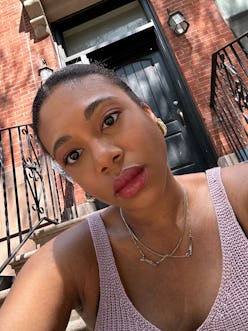 We may receive a portion of sales if you purchase a product through a link in this article.
In our series Trial Run, TZR editors and writers put the buzziest new beauty products to the test and share their honest reviews. This week, beauty writer Jessica Fields is testing Uoma Beauty's Hydroblast Finishing Powder.
My relationship with makeup is a little on the complicated side. To be clear, I wear it most days of the week, but my ideal look varies depending on my mood. Some days I prefer a more natural approach, which includes the use of a concealer for dark circles, a bronzer for a sun-kissed glow, and a touch of blush. Then there are the days when where I'll opt for a beat with more coverage, which means creating a complete base with foundation, concealer, and a deep contour for sculpting. But regardless of which look I decide on, I always finish with a powder. For me, the product is crucial for creating a clean, airbrushed finish and ensuring my makeup lasts throughout the day — especially in the summer heat. So you can only imagine how intrigued I was to hear about Uoma Beauty's Hydroblast Finishing Powder, a water-based loose powder designed to give an ultra soft-focused filter effect.
Released this month, the finishing powder is the latest addition to the brand's face products, which have been celebrated for their inclusive shade ranges since 2019. But on the heels of Uoma's now-viral Trippen Smooth Powder, used for setting and baking makeup, this cooling option is meant to set or finish makeup. All six of the available shades (which range from fair to deep) promise to smooth, blur, and mattify the skin while also giving it a boost of hydration.
Entirely in tune with my everlasting desire for an airbrushed look, this new powder was beyond enticing to me. Keep scrolling through to see my honest thoughts on how the buzzy brand's latest product performed when paired with my go-to makeup looks.
Fast Facts
Price: $40
Size: 10 g/ .35 oz
Clean/Cruelty-Free? Yes
Best for: All skin types and those looking for a lasting soft-matte finish.
Ingredient Highlights: 52% Water, 5% niacinamide, and hyaluronic acid
What we like: Hydrating; blurs the skin; keeps makeup in place
What we don't like: As a loose powder, the container isn't travel-friendly
Your rating: 5/5
How TZR Keeps Score: 1/5: Making a return; 2/5: Keeping as a backup; 3/5: Finishing to the last drop; 4/5: Recommending to my group texts; 5/5: Already on auto-replenish
The Formula
Truly innovative, Uoma Beauty's Hydroblast Finishing Powder is made with water, an ingredient you wouldn't typically find in powder products. But its inclusion is a big reason why this formula works differently than others. In order to deliver a cooling sensation that feels authentic and hydrating, Uoma went straight to the source. "What makes this formula so unique is the addition of water, 52% of it to be exact," says Uoma Beauty founder Sharon Chuter.
Along with water, it's also composed of powerhouse ingredients that are essential for smoothing and plumping the skin. Chuter tells TZR that hyaluronic acid and 5% niacinamide were included to help restore and strengthen the skin barrier. But these skin-friendly components also aid in the uniform application of this powder and its ability to immediately even tone in one motion.
My Typical Makeup Routine
On most weekdays, I stick to my no-makeup look and aim to simply conceal and add warmth to my face. With this routine, I begin with an SPF makeup primer, such as Kosas DreamBeam, to give my skin a slight glow, then add a creamy concealer and bronzer by NARS, and a dab of Rare Beauty's blush in the shade Love before dusting on a soft-setting powder. Though, now that we're moving into summer, I have added Charlotte Tilbury's Highlighter Wand in the medium Pillow Talk shade to this lineup to amp up the glow.
However, if my day includes a work event or two, as they often do, I'll go for a medium-coverage look that's composed of a natural finish foundation, cream contour to add the shadows back in, and the same bronzer, blush, and setting powder routine.
My Experience & Results
Since I volley between these two different looks throughout the week, I wanted to see how Uoma's Hydroblast powder worked with them both. To be honest I was new to using a finishing powder and have always opted for translucent variations to set my entire face for fear of transfer from skin-toned powders.
My freshly-applied no-makeup look with the powder.Courtesy of Jessica Fields
Mid-day check-in about four hours after application.Courtesy of Jessica Fields
But according to Chuter, the beauty of this powder is that it can be used for both setting and finishing. However, she does caution against using it to bake the under-eye area as the water in the formula can deepen the color of your concealer. So I completed my base makeup routine as usual and swapped out my soft-setting powder for Hydroblast.
Using a fluffy brush dipped into the Bronze Venus shade, I lightly tapped the Hydroblast powder onto my skin. I was immediately impressed with the cooling sensation that felt more like a light mist of water than the icy cool of menthol. It was, of course, very refreshing but it also felt like I was adding drops of skin-loving ingredients with each pat of powder. This was truly unique and the results of the application seemed more in tune with a skin serum than a makeup powder.
Once I finished applying it to my face, I took a look in the mirror and was again impressed with the airbrush smooth face that stared back at me. With just a light dusting, the Hydroblast powder had blurred the appearance of pores in problem areas across my cheeks and nose and had given me a soft-matte finish.
After using the powder for a few weeks, I was pleasantly surprised to see similar results for my medium-coverage makeup look. Even on the days when I used foundation, there was no transfer or break down as the day continued. What's more, the powder actually kept my makeup looking composed with little change mid-day.
My freshly-applied medium-coverage makeup look.Courtesy of Jessica Fields
Mid-day check-in about six hours after application.courtesy of Jessica Fields
Is Uoma Beauty's Finishing Powder Worth It?
With temperatures already climbing, I can see Uoma's Hydroblast finishing powder being beneficial to my daily makeup routine, especially on mornings when fuller coverage is needed. At $40, the 10g container provides a literal blast of hydration to the skin and requires just a small amount of product to seamlessly blur pores into a filter-like finish. If you tend to get oily in the summer or just like a soft, natural matte appearance, this product is definitely worthwhile. The only drawback is that the loose consistency of the formula isn't as suitable for traveling, but with these long-lasting results there's no need for mid-day touchups.