Ariana Grande & J.Lo Love This Luxury Hat Brand & Its Straw Hats Are Perfect For Summer
Enjoy the shade in style.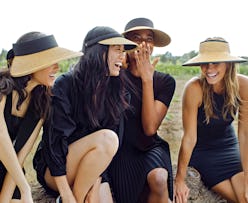 We may receive a portion of sales if you purchase a product through a link in this article.
No outfit is truly complete without the proper accessories — and with warmer weather approaching, this is the best time to consider the addition of a classic straw hat to your summer wardrobe and Eric Javtis is the brand to shop. Known for its elegant designs and impeccable attention to detail, the luxury hat brand has been seen on celebs like Ariana Grande, Serena Williams, Jennifer Lopez, Oprah, and Celine Dion. Its straw collection is outfitted with many classic-meets-modern styles — like colored bucket hats, leather-adorned visors, and oversized floppy hats — that will make for a sophisticated accoutrement to all your outfits this season.
Now, these aren't your typical run-of-the-mill caps that'll most likely fall apart after one season. Any headpieces from Javits' namesake brand are expertly crafted to offer great durability, and many of them have flexible constructions that allow you to pack them up into a beach bag or suitcase so you can take them anywhere you go, which makes the investment worth it. Plus, all the straw hats featured here offer ample shade and superb sun protection, blocking 95% of harmful UVA/UVB rays, which is always essential if you're hanging outside.
Below, find a handful of straw hats worth adding to your cart this season. Plus, you can use the code STRAW10 a checkout to save 10% on your order.
This Elegant Visor That's Lightweight & Adjustable
This two-tone visor with grosgrain edges has all the elegant vibes of Jackie O, but it's just as functional as it is chic. Its brim is wide enough to block sun rays without being too overpowering, and there's a detachable terry cloth forehead patch so you don't have to feel the straw material against your skin. The adjustable Velcro closure ensures it fits your head just right. The straw is made from Javits' signature Squishee® material, so it can be packed, rolled, or crushed and still be able to bounce back to its original state with no problem.
A Classic Straw Fedora You'll Have Forever
This straw fedora makes for an effortless accessory you'll have in your warm-weather and vacation wardrobes for years to come. The flexible brim turns up in back, and the elasticized inner band fits most head sizes. A grosgrain ribbon around the outside adds textural interest, and makes this appropriate for both outdoor activities and more upscale occasions; as one reviewer wrote, "It's perfect for golf and always looks stylish anywhere!" It comes in five color combinations, so you can find the style that suits your wardrobe.
This 2-Toned Visor That Comes In A Dozen Color Combinations
With a 4.9-star rating on the site, this iconic canvas and straw visor is one of the brand's most-loved styles. Its classic silhouette is perfect for outdoor sports and activities, as is the adjustable Velcro strap in back and terry cloth pad on the forehead that absorbs sweat and is detachable for easy washing. Its outer brim is made from the packable Squishee® straw material, and the upper is made from durable canvas. Choose from a dozen neutral color combinations.
A Classic Floppy Hat That Provides Tons Of Shade
This wouldn't be a proper story about straw hats if it didn't include a classic floppy hat. Hit your favorite beach or resort in this timeless wide-brim hat that has an outstanding brim of 6.5 inches, ensuring it offers ample protection for your face, neck, and décolletage area while making a dramatic style statement. Since it's made with the flexible Squishee® material, it rolls up nicely to fit in your beach bag, so you won't have to wear it while traveling to save space. It's available in seven colors, and it has an elastic inner band designed to fit most head sizes.
A Colorful Bucket Hat That's Totally On-Trend
This bright straw hat combines elements of trendy '90s and Y2K aesthetics with classic resortwear chic. Available in pretty hues of coral, red, yellow, black and white, and natural straw, and with an elastic inner band and subtle fringed edges, this hat makes for a bold statement piece while remaining timeless. This option is also made with the signature Squishee® straw fabric, so it's easily packable. Try pairing it with a matching bikini top and loose, breathable cargo pants for a cute throwback look this summer.
This Visor With A Luxe Leather Band
Similar to the Champ style above, the Tesio Champ has a packable straw brim, adjustable Velcro strap, and a washable terry cloth pad for extra forehead padding and absorption. But this one has a smooth leather-covered upper rather than canvas for an extra bit of luxury, making this ideal for the beach, tennis or golf course, and casual cocktails alike.
This article was originally published on