Forget Tahiti — This Lesser Known Island Delivers The Most Authentic French Polynesian Experience
Kyle Ledeboer/ Ascent Xmedia/Photodisc/Getty Images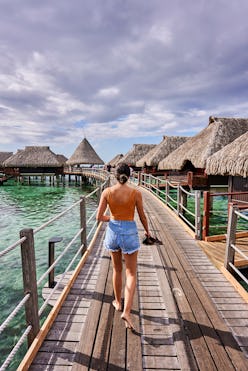 While not as prominent as its sister islands — Tahiti and Bora Bora — or as exclusive as Marlon Brando's private island Tetiaroa (home to the ultra luxe The Brando resort), Moorea might be the undiscovered diamond of French Polynesia. The small but mighty heart-shaped destination only measures some 10 miles across but packs a punch in terms of a truly authentic experience. And never underestimate the power of a strong backdrop: Moorea's eight voluminous majestic and lush mountain peaks, clear blue waters, and rich history and culture have made it a go-to for travelers, honeymooners in particular, seeking a more private and tranquil getaway.
Truth be told, I knew none of this upon setting foot on the isle's pristine beaches. I truly stepped into my four-day visit to the picturesque Sofitel Moorea Kia Ora Beach Resort with fresh eyes, open mind, and piqued interest in experiencing the property's overwater bungalows and stunning surroundings.
As luck would have it, of all the resorts on the atoll, Sofitel is arguably the most memorable. "The resort enjoys a secluded location on the picturesque white sand beach of Temae, the longest of the island, within a protected marine area," says general manager Sabine Lamberts on the resort's site. The property boasts the perfect the balance of Tahitian culture and hospitality and French flair. Think decadent dining on foie gras with guava chutney and local sips of Tahitian beers and "Ti Punch" while watching live Polynesian dancing or taking a flower crown-making classes.
Travel + Accommodations
Although Moorea does have an airport, the best bet for most travelers is to fly into Tahiti's international airport and taking the ferry ride into the neighboring island. Luckily for LA-dwellers like me, Air Tahiti Nui now offers a direct seven-hour flight right into Tahiti, making travel a breeze. The short sea journey into Moorea was equally feasible (there are frequent ferries as it's a main mode of transportation for Mooreans and other sister isles into the bustling and more metropolitan Tahiti), taking all of 30 minutes from dock to dock. Also, not for nothing, a rooftop or deck seat allows for an idyllic journey — the vibrant green mountain peaks of Moorea make for the perfect welcome committee.
My island haze intensified as we shuttled from the dock into the resort, with the winding road to the entrance lined with grass-roofed villas, towering palm trees, and small lily pad-filled ponds. I felt my body gradually relax from its perpetually clenched position as I took in the greenery and soothing sound of the nearby sea.
Sofitel's property consists of 109 bungalows, 38 overwater, 11 beachside, nine adjacent to the lagoon, 50 garden centered, and one luxury villa. Essentially, there are no bad views or accommodations no matter where you settle in, but I strongly suggest an overwater spot, especially for those who haven't experienced one. Mine included a bedroom, walk-in closet, bathroom with an additional outdoor shower, and seaside patio complete with a diving deck in the event I wanted to take a quick dip in the Pacific. Or, at the very least spend my mornings sipping coffee while greeting the schools of rainbow-colored fish that passed my living quarters.
As a travel editor, I've certainly stayed in some beautiful properties, but the natural splendor surrounding my little temporary home was truly breathtaking. I felt like I'd been plopped in the middle of a peaceful paradise, untouched from tourist traps and crowds.
Dining
The Sofitel has several restaurants on property that offer a range of dining experiences. I probably spent the most time in Pure, the hotel's terrace restaurant that's open for breakfast, lunch, and dinner. A mix of international cuisines, there's a bit of something for everyone, although I highly recommend Burger de Poisson for a filling lunch and the Crème brûlée à la vanille as a decadent dessert. On the shore there's a small Beach Bar that serves light snacks and standard cocktails or Vue Bar with more craft options to tide you over while you take in some sun.
And for a more elevated culinary experience, there's K, which happens to be the only fine dining experience on the island. Between the stunning cathedral ceilings and unique tasting courses and wine pairings, updated each month by Executive Chef Frédéric Gigou, a meal here is truly a can't-miss.
For off-property eats, try the locally-loved Le Lézard Jaune Café for an authentic Polynesian meal (the mahi-mahi is a fan favorite) or Le No Stress for French cuisine. For a fusion of both, swing by the Garden Cafe food truck, which serves an original — and revolving — menu of local fruits, vegetables, and seafood based on what's in season and available. This little treasure is a must for vegetarians, vegans, and gluten-free diets!
Activities
While Moorea (and the Sofitel resort) is certainly a place to spend long days happily doing nothing on the beach, there's also plenty of adventure to be had both by land and by sea. For the former, ATV tours are available to canvas the island and take in some magnificent views. A scenic rainforest hike is also up for the taking.
Although I'm sure there are plenty of islanders who are ready and able to lead one, I suggest booking an afternoon with local legend Yvette Leon of Moorea VIP Tours for an unforgettable experience. I hiked with the guide to the iconic Afareaitu waterfall, and swam in the dark blue water while the natural wonder poured over me — I'll never forget it. Leon also led us in a cooking class where we learned how to marinate fresh local tuna for a fresh poke bowl. Later, the learning continued with a flower crown-making course.
For more water play, book a wave runner tour of Moorea's various lagoons and reefs, where you'll become acquainted with the region's local sea dwellers. Yes, be prepared to be approached by the local stingrays, tiger sharks, dolphins, and sea turtles who are very friendly and have no issues introducing themselves. Non-scripted fun is also at your fingertips as the Sofitel offers snorkeling rentals to explore the beach at your leisure. In fact, there's plenty of stunning coral reefs and colorful sea life to view right outside the water bungalows.
After four magical days, I fell fully under the spell of the alluring Moorea. I now understand why the under-the-radar island is loved by honeymooning couples and travelers seeking some peace and tranquil solitude. So next time you find yourself in French Polynesia, make a left at Tahiti and be sure to pay Moorea a visit. You won't be sorry.