Beauty Editors Keep This One Product On Hand During The Summer
Sunscreen sticks are MVPs.
@livetinted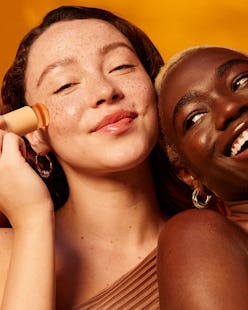 We may receive a portion of sales if you purchase a product through a link in this article.
Sorry to break it to you, but your prescription retinoid, peptide-infused moisturizer, and in-office laser treatments are a giant waste of money if you aren't wearing sunscreen every day. Yes, throughout the course of your life, your mom and/or your dermatologist have probably reminded you of the importance of wearing SPF regardless of whether you're spending the day horizontal on your couch or at the beach. But while slathering on your sunblock of choice in the morning is easy enough, maintaining an adequate level of protection during the day is another story. That's where sunscreen sticks come into play.
These compact solid sunscreens take the mess out of reapplication, which Dr. Hadley King, M.D., F.A.A.D., a board-certified dermatologist in New York City, says is key. "As with any form of sunscreen, it should be reapplied at least every two hours and [shortly] after swimming or sweating," she shares.
As for initial application, Dr. Christina Lee Chung, M.D., F.A.A.D., a board-certified dermatologist at Schweiger Dermatology Group in Philadelphia, PA, suggests doing four passes on a single area of the skin with a sunscreen stick to ensure it's fully covered. "Then make sure to rub it in," she says. "...it can be your primary form of SPF sun protection, but I personally apply and recommend my patients do a first coat of sunscreen with a thick layer of lotion or a cream." Thanks to the portability and convenience of the stick, Dr. King adds that they're great for "small exposed areas like the backs of the hands and ankles."
With these tips in mind, TZR has compiled the best sunscreen sticks to stash in all of your summer bags. Keep scrolling for both physical and chemical SPF options, along with formulas that offer added skin care benefits.