September Weather Is Tricky To Dress For, But These Looks Make It Easy
@loisopoku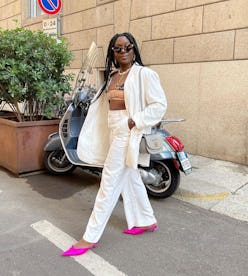 We may receive a portion of sales if you purchase a product through a link in this article.
Let's cut right to it: September deserves more hype than it tends to get. Despite the fact that it marks the end of summer (cries), the month also offers unlimited opportunities to tap into our inner autumn girl desires. It's a time when it's totally acceptable to stock up on pumpkin-flavored treats at Trader Joe's, and unironically take in lush foliage with your friends and family. Then, best of all, there's the chance to wear all those early fall outfit ideas you have saved to your mood board. Wait, what? You don't have any? Luckily, TZR has you covered: Our team has gathered just the 30 looks to see you through the next several weeks.
The fashion formulas compiled below are well-suited to September's fickle weather: you'll notice many are well-suited to chilly mornings and sweltering afternoons (cue the hot face emoji). A flowy white blouse and striped boxer shorts combo, for example, is an excellent idea in this case. And when the temps do finally begin to drop, we also have plenty of inspiring ways to wear chilly-weather closet MVPs, like lightweight puffer vests, leather midi skirts, and knit scarves. Scroll ahead for a host of autumn-appropriate looks — and if you're feeling particularly captivated by any of them, shop the accompanying pieces to re-create the style.
On The Run
In your jogging era? Hit the streets in fun biker shorts and bright sneakers. If you bump into a neighbor during the workout, you'll at least look cute while sweating.
Beautiful Baubles
If your colorful seashell-adorned bauble feels too summery for September, opt for a unique beaded necklace for that similar wow factor.
Comfy & Casual
Take a hoodie from the couch to the street, by teaming it with a printed skirt. It says, "I tried, but not too hard" — thereby coming across as an effortless look.
Happy Hiking
Why not get your steps in on the picturesque trails this September? Your Apple Watch would approve. As for what to wear on said journey, a durable hiking boot will (hopefully) forestall blisters.
A Knack For Knits
Sweater weather is drawing near, fashion folks. But before you pull out your snuggly cashmere turtlenecks, reach for a breathable crochet knit when the temps are still high.
Brilliant Basics
If you do need to default to the white tee and jeans look (we're not judging!), drape a colorful sweatshirt or sweater over your shoulders. This is a fashion editor-approved move to make any outfit feel chicer.
Flashy Footwear
You needn't suffer through an evening in sky-high stilettos when luxe flats are an option. Go for a metallic pair that's as shiny as the disco ball above you.
Luxe Leather
Your HR department probably won't approve of your WFH sweatpants once you return to the office two to three days a week. But look at it this way — you'll have a reason to wear your leather midi skirt again. Might we recommend styling it with luxe knee-high boots?
Best Vest
When it's too hot for a leather jacket yet too chilly for no coat at all, a lightweight puffer vest is the ultimate middle-ground option. And surprisingly enough, the piece pairs well with a romantic floral dress.
Shine On
Glitzy earrings are a staple for New Year's Eve and black-tie weddings, so it's never a bad idea to add a pair to your wardrobe. (Hey, a girl always has to be prepared!)
All-Day PJs
Don't sleep on the opportunity to step out in your boxer shorts while you still can. Chunky loafers and a leather tote take the pajamas trend in an outdoor-appropriate direction.
Business Casual
For those who rewatch Gossip Girl every fall (the Thanksgiving episodes get us every time), take a page out of Serena van der Woodsen's prep-school playbook by adopting 2023's tie trend. The Upper East Sider famously teamed her accent with a white button-down (although a casual tee works, too).
Wild West
The cowboy boots trend shows no signs of losing steam this fall, so try a pair in a rich autumn color palette. (Horseback riding is optional, but highly encouraged.)
Cardi Party
If your cardigan is giving twee vibes — and that's not what you want — simply spice things up with a crop top underneath.
When In Doubt, Accessorize
We're here to inform you the skinny scarf is back. You can channel Ashley Tisdale on the Disney Channel red carpet for a little throwback moment, or rock it with a sharp blazer and relaxed denim for a 2023 fashion approach.
Matchy Matchy
In search of a no-fuss number? A knit mini dress is your answer. Layer a matching cardigan over the piece, and your outfit is complete. (Yes, it's as easy as that.)
Hit The Town
Your Friday nights are quickly filling up with birthday get-togethers (those Virgos in your life love a good gathering, after all) and girls' night outings. Shake up your party style by way of a slinky blouse and sparkly earrings.
Cue The Color
Black tights underneath skirts and dresses is expected for fall, so why not go down a different route with a pair of bright tights? We suggest red, as the color is in vogue for the season.
A+ Athleisure
Play with proportions by balancing your high-waisted legging with a little cropped half-zip jacket.
Short & Sweet
You may not be in school anymore, but that doesn't mean you have to give up the clothes. Embrace the vibe with a preppy miniskirt, socks, and loafers outfit.
Sweater Weather
Rory Gilmore, is that you? Channel your favorite early '00s bookworm in a chunky cable knit sweater.
Feeling Moody
The trick to wearing all black, and not feeling like you're about to head into the law office, is to play with the shade in various intensity. Try a darker black tee with a pair of pants in a lighter color.
Rugby, But Make It Runway
This season, the humble rugby shirt is going high-style. Dress up the sporty top with a fiery red bag or black and white pumps.
Next-Level Neutrals
For a black and white outfit that feels elegant, sleek, and cool, team a leather dress with boots of the same material.
Yes To Hardware
Allow us to introduce you to the LBB — aka little black bag. Much like its cousin, the little black dress, this classic accent infuses every outfit with a sense of sophistication. Maximalists, take note: metallic hardware levels up the look.
All About Texture
Fact: Corduroy is synonymous with fall. Once the temperatures drop to the low 60s, get in the autumn spirit by styling the look with a soft sweater and fuzzy mules.
No Shade
Just because the forecast is growing cooler doesn't mean your sunglasses (or SPF!) should be packed away this month. We'd recommend keeping your versatile tortoiseshell frames in an easy-to-reach spot.
So Spacious
As alluring as they may be, teeny-tiny bags aren't always the most practical choice, especially on errand-filled afternoons. In that case, a roomy, Mary Poppins-like tote is the way to go.
Style Home Run
Is your unruly hair refusing to cooperate, no matter how much product you apply? Enter a baseball cap. Not only is the accent a lifesaver in the mornings, but it's also become a fixture in many celebrities' looks (see: Kendall Jenner and Rihanna).
Updated Denim
Denim midi skirts are everywhere right now — and we're into it. Couple your piece with a playful sweater and lavish leather accents this season.
Light Leather
Itching to whip out a leather topper this month? Here's a foolproof tip: try something in a lighter and less expected shade.