I Bought These Shoes For Hiking, But They Work With My Whole Wardrobe
Here's how I wear them with everything I own.
Alison Syrett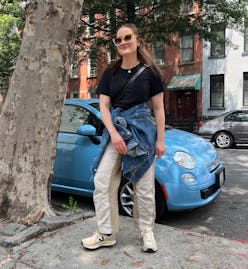 We may receive a portion of sales if you purchase a product through a link in this article.
I've always had a thing for hiking shoes. I like their sturdy, puffed up shapes and the way that bulk invariably makes my legs look a little longer and leaner. I like their playful, retro-leaning colors and patterns. And I love how comfortable and supportive they are as I traverse my way through nature — and, more recently, my everyday life. Really! Blame it on the "Wrong Shoe Theory" or the thrill I get from breaking a pointless rule, but lately I'm been wearing my current gorpcore footwear of choice (which is Veja's sneaker-like Fitz Roy Trek Shell, btw) with both activewear and my everyday wardrobe.
Multipurpose trail kicks track with my general shopping ethos. I deeply dislike acquiring clothing that will only serve a specific function in my life, and will happily shell out for an extra-special item — luxe pregnancy-friendly cashmere dresses, party flats I can stomp around the subway in — if it can be stretched to more than one occasion. My biggest criteria to buy anything? Every purchase must be something that feels authentic to my personal style, even if it serves a practical purpose.
To wit, my sleek, sneaker-like Vejas, which are not a far cry from the vibes of old school track cleats, fit right in with my personal '90s Little Leaguer-cum-quirky art teacher aesthetic. Below, see how I styled them with what I already own, both for woodsy outings and around my Brooklyn neighborhood — and feel free to tweak the formula for yourself based on your own preferences. I promise once you get the building blocks of each combination down, the possibilities are endless.
With A Workout Onesie
While the majority of my early morning yoga practices do not happen in the scenic Catskills (the locale of this particular picture), I am frequently running late to most of them — and swear by supportive shoes as I sleepily run-walk my way to the studio at dawn. This vintage-esque pair gets the job done, and makes all my workout clothes look more purposely pulled together than straight up gym shoes would.
With Sporty Shorts
Hiking but make it fashion, because my footwear felt too cute for straight up bike shorts and a T-shirt! So I leaned into the retro angle by layering in nylon track shorts (my exact Halfdays pair is sold out, but watch this space for a restock) and a coordinating baseball cap.
With Knitwear
While I took this picture over a long weekend getaway (shout out to my camera's self-timer function), I could easily see myself reaching for this combination on a crisp October Saturday. IMO a chunky sweater + track pants + hiking sneaks = cozy fall perfection. (Just maybe layer a T-shirt underneath because the weather is weird these days, and it's nice to have options.)
With A Breezy Dress
While this floaty black maxi pairs perfectly fine with sweet little Mary Janes or a kitten heel, I love the unexpected factor these casual kicks add. For even more personality, opt for a playful pair of sunglasses like my beige aviators — a quirky impulse purchase from a Copenhagen boutique.
With Utility Pants
There's something inherently sensible about hiking shoes, no matter how souped up they are — so it just makes sense that they'd play nicely with workwear-inspired pieces. To make this rather simple mash-up more fun, I threw in some color-blocked shades (shop my exact ones here).