This Indie Sleaze Staple Is Back For Round Two
It's giving Kate Moss circa 2003.
The Garment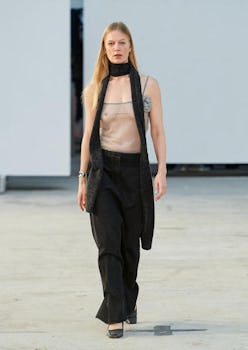 When you hear the phrase "indie sleaze," what immediately comes to mind, sartorially speaking? Perhaps Sienna Miller's hipster-looking wide-brim fedoras, or maybe Mary-Kate Olsen's grungy ripped tights? For me, it's easily Kate Moss' polarizing skinny scarf moments. A style icon spanning decades, the supermodel wore various itty bitty iterations of the accessory during its heyday. Sure, was the sliver of fabric somewhat, uh, unnecessary? Yes. But did it make every look Moss wore instantly cooler? Also yes. If you're on board with the Y2K-favorite accent too, you'll be happy to hear the style is back for round two (or perhaps, three?), according to the Copenhagen Fall/Winter 2023 runways.
Before we dive into the catwalks, here's a SparkNotes version of the evolution of the skinny scarf. In the '60s, sought-after musicians like Keith Richards and Rolling Stone's Mick Jagger popularized — and rocked, pun intended — the look. (Indeed, the Scandi-approved accessory has moves like jagger.) Fast forward to the early '00s, and Moss wasn't the only A-lister who adopted the accessory. On the opposite end of the sartorial spectrum, Disney Channel darlings like Hilary Duff and Ashley Tisdale gave skinny scarves a spin on the red carpet (in tandem with Ugg boots, of course). Suffice to say, the somewhat controversial accessory doesn't just sit under one fashion aesthetic — really, anyone can wear one.
Dave M. Benett/Getty Images Entertainment
Clive Limpkin/Hulton Archive
As for this week in the capital of Denmark, there's been a bevy of ultra-slim scarves making their way down the runways. For starters, Copenhagen-based label (di)vision exhibited a cozy, crafty-looking knit style. Though slim in shape, the super-long yellow and orange scarf was layered multiple times, giving it a slightly chunky appearance. Completely covering the model's neck, this was perhaps the most practical take on the accessory.
Meanwhile, Aeron took a more understated approach to the indie sleaze staple. In fact, its skinny scarves were almost unrecognizable. Appearing to be built-in to the ankle-grazing maxi, the checkerboard-printed piece of fabric gracefully rested on the model's right side as she strolled down the runway.
And at The Garment, a Scandi label founded by influencer and stylist Sophia Roe, skinny scarves appeared again, but in a more minimal, refined way. Here, a model sports a sleek, super-long black iteration alongside a see-through tank and slouchy trousers. (Note: If Roe co-signs a trend, it's guaranteed to be everywhere soon.)
And with more shows on the docket over the next few days, who's to say skinny scarves won't continue to dominate CPHFW? Regardless, if you happened to hold on to yours from 2005, a slew of Scandi designers encourage you to pull it back out. Just wait — you won't be the only one rocking the somewhat impractical (albeit stylish, IMO) look next fall.